Fun Factory is back with a new range of pulsators, Fun Factory Stronic G is the first model. I asked Kitty if she wanted to try it and she, of course, responded positively. At the same time, who would not want to say "Yes"? So it's after Fun Factory Stronic Drei, Zwei and Eins that Fun Factory Stronic G was born.
Then there was a second wave with the fusion of two models, the Fun Factory Bi Stronic Fusion. A curious mix between the Stronic Drei and the Fun Factory Miss Bi. It is therefore with great pleasure that I will talk about Fun Factory Stronic G and its German quality! Dedicated to G-Spot, we will see if this pulsator will succeed in satisfying Kitty! Its curves will surely leave her speechless and she will only have one desire, try it! Here is the Fun Factory Stronic G review!
Fun Factory Stronic G packaging
At Fun Factory, packaging has almost never changed in years. Of course, there are some visual changes that occur, but overall, we stay on the same system. A golden box with a cardboard sheath.
Inside, we find the Fun Factory Stronic G pulsator, accompanied by a small booklet and a USB charging cable. This is what we can found every time in a Fun Factory product. In addition, here is a warning notice about pacemaker users, considering that the internal system works with magnets. So there is no storage pouch, but the box is still practical enough to store the product.
Fun Factory Stronic G physical details
We find ourselves again with a design that looks like the previous pulsators at Fun Factory. It is a second-generation pulsator, with a straight shaft and a rigid curved end at almost 45° to stimulate the G-Spot. Moreover, its name speaks for itself. However, if it is adapted to G-Spot, it should also be adapted to P-Spot. Its weight is 315 grams, which is explained by the presence of magnets in the engine. You can find it in blue (Pool blue), but also in pink or purple. Three buttons are present, on the handle, a button "+", a button "-" and a button "Fun".
Stronic G size
Now let's talk about the toy size. The Fun Factory Stronic G is rather imposing. It is not too big, but it is also far from small. It measures 20.8 centimeters of total length (8.15″) for 14.6 cm insertable (5.75″). The diameter changes from 3.6 cm at the shaft (a bit less than 1.50″), up to 4.2 cm at the G-Spot end (more than 1.50″).
Other visual details on the Stronic G
It is therefore a thinner version  than the previous models and better studied in its curves. It is much more discreet than other models in the series. When compared to the Fun Factory Drei, we realize that the Stronic G does not try to be seen as much as the Drei. There is also on this model, a charge indicator and a warning when the battery becomes weak. Like that, we know it's time to recharge it.
Fun Factory Stronic G materials
Back to the basics! Fun Factory Stronic G is made of medical grade silicone. A soft material, healthy for the body, phthalate-free and hypoallergenic. It attracts dust a little, but I think it is less the case on this Stronic than the Big Boss G5 vibrator for example. If I compare it to the Fun Factory Wicked Wings, I feel like it's the same on the dust magnet side.
Fun Factory Stronic G usage
Attention, here is the great moment to see how this Stronic G works. Before saying that this sex toy doesn't work, know that the Stronic G uses the Travel Lock system present on many Fun Factory sex toys. This allows you to not accidentally turn on the engine by pressing a single button. It's the travel mode.
To unlock it, you have to press the "Fun" and "+" button for 0.5 seconds at the same time. And to reactivate it, you have to press the "Fun" and "-" buttons at the same time, always for half a second. Another point, it is a pulsator. It is not a vibrator. Fun Factory Stronic G pulses but does not vibrate. We'll see a little further why it's so different.
How to charge the Stronic G ?
To load the Fun Factory Stronic G, it takes a lot of time! Indeed, it is one of the longest sex toys to load that I know. To charge it, use the USB cable supplied with the product. This is a system with magnetic induction. It must be put in the right direction for the magnets to cling. Then, we connect the USB part to a computer. The charging time is 8 hours, but for 45 hours of operation. The battery capacity seems quite important.
How to handle the Stronic G ?
You have three usual buttons at Fun Factory. A "-" button, a "+" button and a "Fun" button. By pressing the "Fun" button for 1 second, the Stronic G starts in "Perfect start" mode. If you press the Fun button again for 1 second, the Stronic G will go off. And this, whatever the mode used at the time of the operation. At startup, in the "Perfect Start" mode, by pressing the "-" button, one falls into the three algorithmic modes. And on the contrary, by pressing the "+" button, we discover the constant and dynamic modes.
What are the modes on the Stronic G?
The Fun Factory Stronic G has 10 pulse modes. Three algorithmic modes and 7 constant / dynamic modes. In order to give you a little more detail on these 10 modes, here is a diagram of Fun Factory on this subject! In addition, it is very well done, why not use it?

Here is the written list! Be aware that the Stronic G does not loop in the modes. Once the last mode is reached, we do not return to the first one. Be aware that there is a memory mode that allows it to keep the last mode used before turning it off.
Perfect Start
Samba
Rumble
Quicky
Roller Ball
Vienna Waltz
Rumba
Dirty Dancing
Gallop
Rattle
So you have everything! Light mode to start. Constant mode is always nice and indispensable, then alternative and even algorithmic modes. You will find a mode that suits you in this list.
How to clean the Stronic G ?
Very easily. Knowing that Fun Factory Stronic G is 100% waterproof, it will not be difficult to clean it. A little warm water and a shot of a toy cleaner afterwards to disinfect it.
Which lube to use with ?
Stronic G is a silicone sex toy. Therefore, it is recommended to use a water-based lubricant. Those often recommended on the website are Sliquid H2O lubricant, Pjur Aqua or YES WB. You have many water-based lubricants on the market. You can also use Sliquid Organics Sensation or Sliquid Satin if you like!
Safety instructions
Fun Factory Stronic G is a pulsator that works with a powerful magnet system. Pacemaker users, be careful, it is still advisable to not use it. It's better to opt for a toy without any danger for you. For others, you can go there with your eyes closed.
Fun Factory Stronic G efficiency
This is the moment to give you my great feedback on this toy that promises a lot of things on paper! This is the opportunity for me to tell you what I think, if I enjoyed with it and if it really deserves it! Follow me to my little G-Spot lab!
Stronic G in free hand mode
The big advantage of Fun Factory Stronic G is to be able to use it without the hands! Yes, incredible, no? It's the same as for the Lelo Wave range. Of course, not all Lelo wave models were great. Everyone remembers the Lelo Mona Wave. Instead of moving to stimulate the G-spot, the handle was moving. Here, then, the Stronic G works very well without touching it. It is placed just behind the pubic bone and fits very well. Phew, because when you will read more of my feedback, you will understand why.
Is G-spot stimulation effective?
Oh yes ! But not that much. Let me explain a little bit. Already, its shape is thinner and it is lighter than the Fun Factory Stronic Drei that i could use to compare. On the other hand, it is much less textured. But above all, it does not really move back and forth like the previous models. Indeed, rather than making a back and forth movement , it is rather a up and down movement it proposes. And that changes a lot when you talk about G-spot stimulation.
The success of its ability to stimulate the G-spot comes from this so particular movement  but also in its curvature studied for the G-spot, as well as its hard and flat end. It is clearly a sextoy shape very appreciated by the connoisseurs. With its movements from top to bottom, we feel that the Stronic bounces and taps our G-Spot. This, coupled with the curve intensity that it presents and its constancy of its movements, it stimulates very well my G-Spot. I often find myself very wet, it flows a lot.
Squirt or not squirt?
This is the big question! Being efficient on G-Spot, can we squirt with? Well, I will say yes, but under certain conditions. Indeed, my G-Spot is well stimulated, I find myself soaked and all this in hands free mode. However, that's not enough to make me squirt. I hope that one day, I'll be able to squirt. I find myself at the edge, but I do not explode. On the other hand, if I manage to turn off the engine and use it as a classic G-spot stimulator in manual mode, making quick back and forth movement, there I'm sure you can squirt a lot.
Others important things about Stronic G
Finally, I have several points to mention. Even without a motor, if its not working anymore, its shape and its curve will always be of good use. The powerful modes present are not bad at all. I noticed that the slowest rhythms are those where the pulsations are stronger. I like the fast constant mode, but I must admit that some alternative modes are really not bad. There is some work on this side.
Depending on the moment, if you are more or less G-Spot sensitive, the Stronic G can be a bit uncomfortable. Some modes are sometimes a little too powerful, as if someone pressed too firmly on my G-spot or made movements too fast. It's very good, but we want to slow down. This is clearly a sex toy for those who know their G-Spot.
If you are not accustomed to or quickly overwhelmed by the sensations caused by the G-spot massage, it will not necessarily be a first choice. Start with a toy more suitable for beginners, like the Lelo Ella. But if you are a regular, then the Stronic G will surprise you.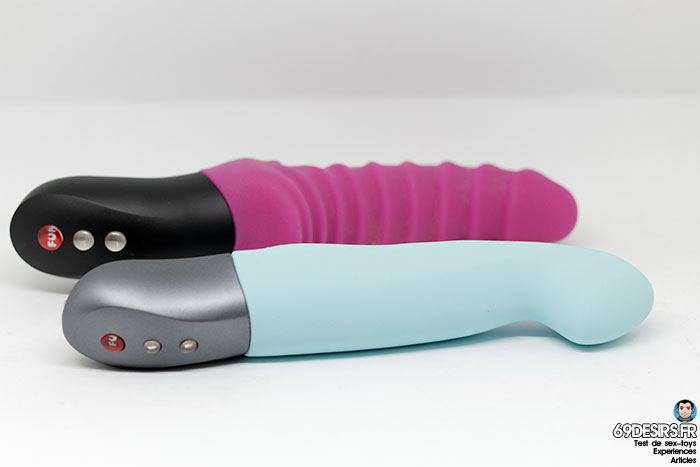 Fun Factory Stronic G final thoughts
In the end, Fun Factory Stronic G is a very nice novelty! It is not there for nothing and it has its place on the market offered by Fun Factory. Yes, the Stronic G will not be as effective as your fingers. Nobody can compete with fingers. However, this toy is close enough to this sensation. And above all, without using our hands! So it's a successful bet for Fun Factory! The Bi Stronic Fusion is an old nightmare that we can forget.
Fun Factory Stronic G redefines effortless G-spot female masturbation and hands free. Usually, you have to do a lot of work to stimulate your G-spot and there, it's simple and effective. In short, for those who love the G-spot stimulation, the Stronic G is clearly to be considered.
Pros
Hand free mode that works
Little effort to do
Usable without motor and stays fine
Oriented for those who already know their G-Spot
Good modes and curvatures
Inconvénients
Not for beginners
Not easy to squirt with
A little dust on the silicone
Summary
Reviewer
Review Date
Reviewed Item
Author Rating





Product Name