Here it is, this famous vibrating finger Fun Factory Be One that I had been offered since its release. It's been quite a long time since Fun Factory had released a new product and a new concept. Lately, we have been reviewing the Fun Factory Stronic G, dedicated to the G spot, but also the Stronic Surf, more oriented to the overall vaginal stimulation! But we haven't had any Fun Factory sex toys since then!
Of course, a little earlier, the Laya 2 and the Manta from Fun Factory made their appearance, but this is starting to date. It is therefore with great pleasure that we are going to offer you the Fun Factory Be One vibrating finger review! I hope it will be better than the Fukuoku glove or the Hello Touch X, two accessories that play a bit on the same principle, but were not as good as expected. So let's hope this famous Fun Factory Be One is a success! Here is our review!
Fun Factory Be One packaging
Careful, nothing goes right anymore, everything changes! Or almost! Indeed, the Fun Factory Be One has a modified packaging. It is no longer the same design that we have known for a long time at Fun Factory. There's finally some change! We still have the right to a cardboard box, but here it's square. The product can be found on the front of the box. The color of the box is still the same.
On the other hand, when you open the box, you find things that are not so usual. Already, inside the box sleeve, you have questions, a kind of form to find out what you want to do with the Be One and some ideas. Then, inside the box, you discover the vibrator, housed in a plastic and transparent protective shell. You also have a small user manual and a Click 'n Charge magnetic charging cable. Here, a little novelty, the magnetic part is shaped like a ball, which allows a better contact on the magnetic part.
Fun Factory Be One physical details
Frankly, it's not easy to describe this product to you! It looks like something between a Bluetooth handfree receiver and a hand antenna. Yes, I know, it doesn't really exist, but that's what it might look like if one day we were to put an antenna in our hands to pick up stuff. Anyway, instead of talking science fiction, let's talk about the look of Fun Factory's Be One. You see it like I do in the pictures, it's a kind of magic sixth finger!
There is a curved part, which allows the Be One to be placed between the index and middle fingers. Then there is a stimulating, thin shaft part, which looks a bit like a finger. The shaft is also a bit curved, like a half extended finger with the Fun button from Fun Factory on top, as we have known it for several years now. You can also see the two magnetic contact points above this button in order to charge it via its power cable. I even feel like saying that depending on the angle you look at it, you might think it's a mini elephant trunk. I don't know if you'll see the same thing as I do, but that's how I see this Be One!
The dimensions of the Be One
In terms of dimensions, this Be One is small. I saw it bigger in the pictures, but it's actually a small stimulator. The protective case is 8.8 cm long (3.46″), 4.9 wide (1.92″) and 4,5 (1.77″) high. Concerning the stimulator, it is 7.4 cm long (2.91″) and 2 cm wide maximum (0.78″). The tip of the Be One is 0.8 cm wide (0.31″). So you might as well say that it is really small.
Other details about it
There's not much more to tell you. The only things I haven't told you about it yet are the colours available and its weight. For the choice of color, unfortunately, you only have the choice to take the Be One in black. And as for the weight of the Fun Factory Be One, it weighs only 28 grams. We'll see if it's enough or not to have it between your fingers, without being too heavy or too light.
Fun Factory Be One materials
At Fun Factory, the two most commonly used materials are ABS plastic and silicone. At the same time, these are the two most used materials for making sextoys. So we find ABS plastic at the part in contact with the fingers, but also the "Fun" button. Then, the rest is made of silicone. Whether ABS plastic or silicone, they are two healthy materials for the body, containing neither latex nor phthalates. On the other hand, has the famous Fun Factory dust-catching silicone changed?
Yeah, a little bit. I'd even say pretty good, because the texture of silicone is a little sticky, catchy. Might as well tell you that hair and dust will not be welcome.
Fun Factory Be One use
For once, I don't have to justify myself on this paragraph! Indeed, with a vibrating finger like the Fun Factory Be One, there are several things to know about it. It's not really a conventional sextoy, slightly innovative, without being too innovative, so there are several points to see together!
How do I charge the Fun Factory Be One?
Since the existence of Fun Factory's "Click n Charge" system, this concept has always been present, even on new products! Indeed, we find the same method of charging as on the old products like the Big Boss G5 Black Line for example. You have on the Be One, two contact points that will allow you to clip the Fun Factory charging cable.
Recharging the Be One's built-in battery will take two hours of charging time for an average usage time of one hour. This is not a very good ratio between charging time and usage time. You'll have to make do with it. Fortunately, the charging time is not double, so four hours, because that would be prohibitive compared to its autonomy, especially for a sextoy like this one.
How to handle the Be One?
Already, before even talking about functions, placement, and so on, you'll have to unlock the Be One. Indeed, it has the "Travel-Lock" function to prevent it from being switched on during transport.
Then you have one button to use the Be One. So it's not complicated. So you have to hold the button down for 2 seconds to start the Be One. Then, to change modes, you have to press the button once. Finally, to turn off the Be One, just hold the button down for 2 seconds. Of course, to use it, you will have to place the Fun Factory Be One between the middle finger and the index finger, in order to naturally hold it thanks to its shape which adapts to this area of the hand. We'll see later in the review if it's really as practical as Fun Factory says it is! To unlock the travel mode, press the "Fun" button for 4 seconds. Obviously, you will have to do the same thing to reactivate it.
What can you do with that finger?
The Fun Factory Be One is advertised as an ideal sextoy for couples and precisely during foreplay. But what exactly can you do with it? Here, I'll say it's up to you! It can be used to stimulate the clitoris, the nipples or even the perineum of the man. It can be used during caresses to add vibration. In short, it is an accessory that will allow you to add extra stimulation and even during penetration. It can also be used alone, without hands, directly between the lips of the vulva.
What vibration modes are present?
With two motors, one in the tip of the finger and the other under the part to place it between the middle finger and the index finger, it's not bad at all! Moreover, the two motors are synchronized, to have vibrations from both motors at the same time. Concerning the present modes, you actually have 4 levels of intensity for the continuous vibrations, then once the four levels are passed, you fall on a more random mode, less predictive! Besides, this mode is not a loop mode. All in all, it is only after 5 minutes that this mode will start to loop. This means that the model of this mode will be random for at least 5 minutes, before looping on itself to start again! 5 minutes in random, it's really not bad at all! This is the "Flirt" mode at Fun Factory.
Which lubricant to use with?
Logically, you won't really need lubricant to use it. But if you do, you'll need to use a water-based lubricant. You can use UnisX Vegan lubricant, Sliquid H2O or Satin, but also Pjur Aqua or Sliquid Buck Angel's! But you can also take your favorite water-based lubricant!
How do I clean the Be One?
Since the Fun Factory Be One is waterproof, it will be easy to clean. You can wash it in warm water with a little soap. But you can also use a sextoys cleaner, such as Sliquid Shine. Then just rinse it with clear water. No big deal.
Fun Factory Be One efficiency
It's time to tell you if this alien vibrating finger (a bit like the E.T. finger) is an interesting product and what it really brings to the game! For that, you know very well that I reviewed the Be One with Kitty in order to offer you both our feedback! So we're going to tell you everything about this sextoy ! Here is our feedback on the Fun Factory Be One !
Ergonomics
I am satisfied and at the same time a little disappointed. Indeed, the Fun Factory Be One is perfectly designed to fit between two fingers, right in the fingers hollow. You can feel that the German company has made an effort on this part so that their stimulator fits everyone. I must admit that it holds very well in place, whether you use it one way or the other. All in all, if you just use the tip (the concave shaped shaft) to slide it over the lips and clitoris or upside down, the convex shaped tip, to insert into the vagina and stimulate the G spot.
However, the first thing I find a bit of a shame is not having a slightly longer shaft to facilitate this last form of use, but more importantly, the placement of the button. It's really a mistake from Fun Factory. Indeed, the button is located above the finger. If you place the Be One between your index and middle fingers, it is impossible to reach the button with your thumb. Whereas if it was placed under the finger, my thumb can very easily reach this area. Why didn't you place it here? That's quite a mystery. Fortunately, that's its only big flaw. So you have to press the button with your other hand, remove it from its place, press the button, and then put it back on. That's not so good.
The vibrations
Now that's a success! Such a small object making so many vibrations, it's really powerful. Already, the first level is not bad at all, but when we go to the second, then third and fourth, it's powerful, we feel well the two engines act and these vibrations are rather deep and spread well. I was a bit afraid of finding myself facing a stimulator that was rather weak in terms of vibrations, but I forgot that it was a Fun Factory stimulator, which has never been disappointing in this area.
As for the last available mode, it's really great! It's really a well-programmed mode, which creates waiting, bursts, passages more powerful than others and over a rather long duration. I think that the pattern of this mode must be on a duration of 45 seconds minimum, before looping. An excellent mode that we should have more often on vibrating sextoys.
Review of its use with Kitty
So now it's a jackpot! This vibrating little finger is quite magical! When I tested it on Kitty, it felt like a little bomb. Already, it's going unnoticed. You can take it with you without showing it to your partner and easily create the effect of surprise. Indeed, before it started vibrating on her clitoris, Kitty hadn't seen that I had the Fun Factory Be One hanging on my two fingers.
I started by licking her pussy and then, once wet, I slid the Be One over her lips and clitoris, using the first vibration mode. It didn't take long before her pussy dripped even more. Then I alternated my tongue and the Be One, sometimes both at the same time, before turning my hand 180° to insert the shaft into her vagina, pointing upwards at her G-spot. From there, her pussy started flowing even more, then I switched to the third and fourth mode to show her how powerful this little stimulator was. Kitty had her pussy soaking wet, so wet that the Be One was starting to have a hard time holding between my two fingers.
What more can I say about it?
It's a very good stimulator! Fun Factory regularly manages to innovate and this is the case here. It's a real shame that the button is not placed under the vibrating finger, but the efficiency is there and it works very well! What's more, with its shell, it's plain enough not to attract attention. Kitty even thought it was a kind of computer mouse, when the Be One is stored in its shell.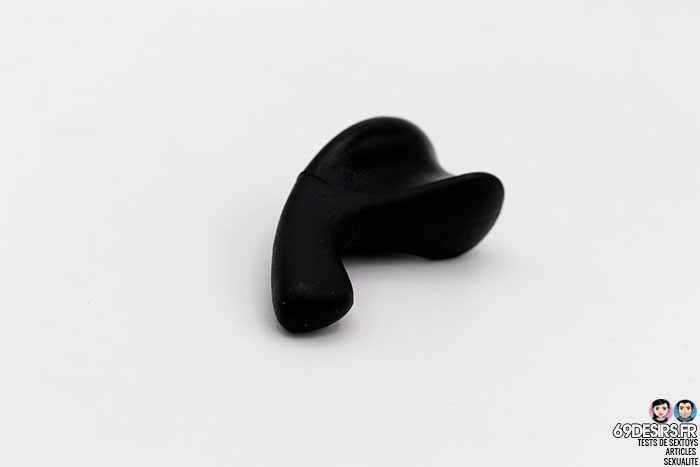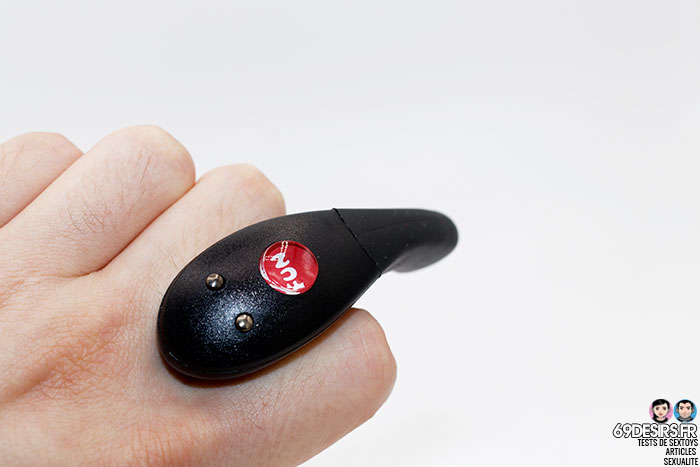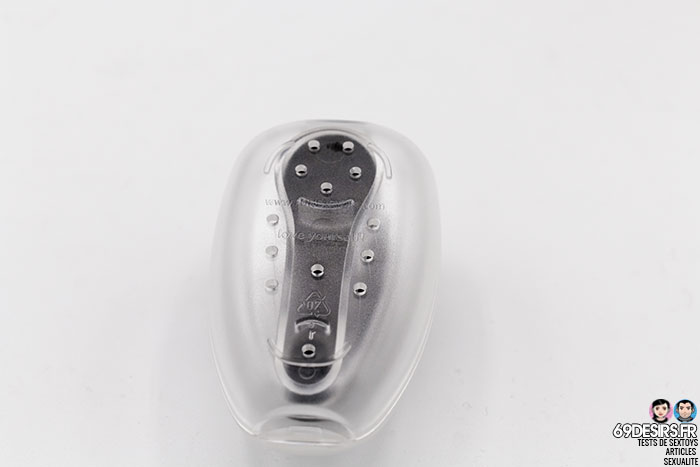 Fun Factory Be One final thoughts
Fun Factory tries here to propose a new concept of sextoy! It's always a difficult exercise! Indeed, it's a bit like cinema or video games. Releasing a second opus or a recipe that already works well, it's simple and without risk. On the other hand, making a new feature film or creating a new universe for a video game is much less obvious. Here, Fun Factory is trying a new approach with a sextoy that seeks to be more natural, more fusional with the person using it. And it's a success! The only big criticism it gets is the placement of the button. And why not a shaft a little bit longer and even thicker. But this is really to have a second model, which will be perfect. We recommend it to you without any problem, it's really a very good sextoy.
Pros
The right size
Fits perfectly between the index and middle fingers.
High vibrations
The fifth mode!
Very effective!
Quite unnoticed sextoy
Inconvénients
Control button not in the right place
The shaft could be a little longer
Summary
Reviewer
Review Date
Reviewed Item
Author Rating





Product Name