Today, I come back with a masturbator that tells me something, it's the Satisfyer Men Vibration +! I have to tell you that I am more than skeptical about this new sextoy. Indeed, the brand Satisfyer, which was at the beginning, quite interesting has become for me, a pale copy of what others do! Then certainly, it is a little commonplace in this field, but Satisfyer are surely those who take back the most their competitors. But I am not here for this reason, but for the Satisfyer Men Vibration + review.
So yes, you could already discover several products that are very close to this one. I'm obviously talking about the Satisfyer Men, the first masturbator of the brand which was for me, a real disappointment. Then, I reviewed another version, the Men Vibration, the previous version of this new version which was worse than the first model. Knowing that it is the "+" version that I will review, I sincerely hope that Satisfyer has seriously improved its product. And finally, I also reviewed the Satisfyer Men Heat Vibration, again, a disappointment. Logically, I should expect a sextoy that erases all the previous mistakes. But is it the case? That's a good question. Good news, I'm here to answer it and that's why I propose you the Satisfyer Men Vibration + review, because yes, the "+" is important here, we'll see why.
Satisfyer Men Vibration + packaging
Not to change our habits, we start once again with the product box! It is a more modern packaging than the old version. It is true that for some time, Satisfyer has opted for a more recent design with a slightly artistic side. Here, it is a rectangular box, cardboard and quite rigid. On the front, we have the product in picture, its name, the logo of the brand, a sticker indicating that it can work through an application and that it works through Bluetooth. Two colors are used, blue and black, a classic for this type of product.
On the edges, we have an information about the participation to the CES 2021 of the Satisfyer Men Vibration + and on the back, several details about this vibrating masturbator. By pulling the tab, we can access the contents, leaving us facing instructions inside the lid, and then a windowed part letting us see the product. Inside, we find the Satifyer Men Vibration + as well as a user manual and a USB magnetic charging cable.
Satisfyer Men Vibration + physical details
Visually, the Satisfyer Men Vibration + looks quite similar to the Men Vibration, the first of the name, but also, in a way, to the Cobra Libre II of Fun Factory! Logical, it is above all a massager of glans or vibrator of glans, we find ourselves with a rather similar form.
As you can see on the pictures, it's a kind of shell with an opening, but not really an internal tunnel. It's more like a cavity, in which we slide our glans. On one side of the shell, we have the Satisfyer logo and on the other, the same thing, but in abbreviated form (SF). We can also detect at one end, two magnetic points to recharge the internal battery via the cable provided. And at the same level, an area containing two buttons with horizontal brackets, two on one and three on the other. Of course, the silicone sheath is malleable, you can press it to put pressure on the glans during its use.
Size of the masturbator
Let's talk about the dimensions of the product. To tell the truth, it is quite small and compact! But as you have understood, it is not really a masturbator to make back and forth like a Fleshlight masturbator for example. Here, it is more a vibrating masturbator that is there to vibrate the glans while allowing light back and forth.
In its entirety, the Satisfyer Men Vibration + is 17 cm (6.69″) long, with an insertion length of 9 cm (3.54″). You understand that 9 cm (3.54″), it is not enough to push completely his penis inside. And in terms of insertion diameter, it is 3.5 cm (1.37″) with a narrowing inside for a narrower feel. This silicone part is still enlarging a little, we can pass 5 cm (1.96″) easy. In reality, the mouth is around 4.5 cm (1.77″) in diameter, but narrows to 3.5 cm (1.37″).
Other details
As you can see from the pictures, it is a black sextoy, completely black, with only the Satisfyer logo in white. We still have a slight distinction, because one part is made of black silicone and another part of shiny ABS plastic. And regarding its weight, it is rather light, even very light for a product like this. It weighs 335 grams.
Satisfyer Men Vibration + materials
Two materials are used for the realization! On the one hand, silicone for the internal part, but also, part of the external area. In particular, we find silicone at the level of the two buttons, but also, on the sheath integrated into the shell. And as you can imagine, the outer shell is made of ABS plastic. On the one hand, we have a rather matt silicone and on the other, shiny ABS plastic. Moreover, on arrival, the Satifyer Men Vibration + has a protective film to remove. In short, concerning the materials, nothing to complain about, it is classic and satisfactory.
Satisfyer Men Vibration + use
Big change compared to the previous versions, we have here a connectable model! I say connectable, because you can also use it without the application! It is rather a good thing to allow a use without having to take out each time its smartphone. To tell you more, here is what we can tell you about its overall use.
Charging the product
Before using the Satifyer Men Vibration +, you will first need to charge it properly. For that, you have a magnetic USB charging cable, which you will just have to clip on the product before placing the other part on a powered USB port or on a power adapter. Then, you have to wait 5 hours for an autonomy of one hour! Honestly, I find this abused! Do you realize the ratio of the waiting time to the time of use? It's really long for such a small autonomy. Fortunately, an LED blinks during the charging and remains fixed, once charged. That's something. Anyway, it will be a long time before you can use it.
How to use it manually?
On the product, you have two buttons, one with two horizontal brackets, the other with three horizontal brackets. Yes, it's a peculiar button. Why make it simple? To turn it on or off, you have to keep the button with 3 brackets pressed for 1 second. Then, to change the vibrating mode, you'll have to press once on the two parenthesis button, which allows you to navigate through the 14 modes present. Honestly, why did you make buttons like this? I think it's not very clear. I don't mind if Satisfyer tries to stand out, but this is not a good idea, in my opinion.
Use in connected mode
This new version can also be used in a connected way! It is the "+" in its name that changes the game. Well, that will also depend on whether you want to use it that way. To do so, you'll need to grab the Satisfyer Connect App from the Google Play or Apple Store. Then, once this is done, just launch it to start establishing the connection between the app and the masturbator. Here, you will have to press the triple bracketed button for 4 seconds so that it is ready to be linked to the app via Bluetooth.
But fortunately you can do a little more than that with the application. There are 5 modes of operation such as programmed playback, which corresponds to activate vibrating modes that can be combined with others to create sequences of vibration. A mode that allows you to control in real time the vibrations of the product. We also have a mode to control the vibrations using the ambient sound and another to make it vibrate according to the music, with Spotify for example.
And finally, a mode that allows you to have access to erotic news. And of course, you can also invite a remote person who also has the application, via an invitation system to make a vocal and visual connection (if desired) so that it controls your masturbator via its application.
What are the vibrating modes?
On this Satisfyer Men Vibration +, we have a total of 14 vibration modes engaged on two motors. This is a little more than on the Men Vibration, so it's already good, because it's still more than on the previous model. I like the constant mode the most, even if the alternative modes are still nice.
Which lubricant to choose with ?
By now you know as well as I do, since we have silicone in the penis insertion area, water-based lubricant is recommended. Depending on how you use the Satisfyer Men Vibration +, this is not a requirement. Indeed, if you just keep your glans inside to enjoy the vibrations, it is not essential. However, if you are also moving back and forth or pressing on the silicone part, it might be a good idea to use some.
How to clean this masturbator?
Advertised as 100% waterproof, cleaning will not be a chore. You can run it under warm water with a little mild soap or use a sextoy cleaner if you wish. You'll still need to drain the water inside the insertable part, especially if you've been cumming inside. Then you can let it air dry. I advise you to keep it upright, especially by having it held by another element, because it does not hold itself in place.
Satisfyer Men Vibration + efficiency
And here is the moment when I feel I will be disappointed! To be honest, I don't expect anything more from Satisfyer and this for some time. Indeed, the last sextoy of this brand that we reviewed on the website, it was the Satisfyer Multifun 3 which was a big disappointment. And before that, it was only a road of disappointment in disappointment. It is true that at the beginning, Satisfyer was doing things pretty well. Then something happened, I don't know what exactly, but everything went in all directions! Between the design copies of other products and the mediocrity of some creations, Satisfyer has become for me, a brand to avoid. Yes, it's a bit violent, but that's my point of view. However, I didn't start with a bad preconception, because maybe this new model will reconcile me with the brand. Suspense! Here is my opinion on this Satisfyer Men Vibration +!
First try, just to see
Even before using the application, I wanted to give it a try, just to see. Well, I must say that I was surprised! Indeed, I inserted the glans and a piece of my penis, because I remember that there is a little less than 9 cm (3.54″) of insertable length. So far, no worries, I have enough room to insert my glans, I am not compressed inside, everything is fine. I start to activate the vibrations, ok, it's nice and pleasant but nothing extraordinary.
However, in the end, in just 5 minutes, the Satisfyer Men Vibration + makes me cum inside, without me really seeing it coming! And all this without any other stimulation, physical or visual. Usually, I need at least some visual stimulation, but here, without expecting it, I got an orgasm, a very good one by the way.
General Handling
Despite the strange buttons, the grip is good. The shape of the Cobra Libre II makes it easy to handle. The buttons are well placed and it is true that there are no black spots at this level. And they are easily recognizable by the fact that they are bulging (the strange bracket system I mentioned earlier).
Vibration and stimulation
In this area, there is clearly an improvement compared to the previous versions. The level of stimulation is really good, well, because this is the fourth model in this field, after three disappointing models in my opinion. The vibrations are quite deep, which allows to correctly stimulate the glans and the brake of the penis. We can also turn a little this one to change a little the sensations. And when we band well, we realize that the cavity at the bottom of the masturbator allows to feel a sensation of suction, in particular when we try to withdraw it from the penis.
Here we have no internal ridges, it's all smooth and that's a good thing, because the vibrations spread better that way. Once again, I prefer the constant mode to the maximum and it allows me to enjoy easily. Finally, there is better, it is not too early! And above all, its sound level remains rather good and largely acceptable.
Feedback on the connected part
For the connected part, I have to say that I mostly did some tests, but not really an advanced use. The goal was to see the ergonomics of the application, its stability and its connection with the device. This one works well and it's a plus for those who want to use it that way. It's not essential, since you can use it without it, but it's a plus, for sure. We find ourselves with functions quite similar to those found in We-Vibe, including the ambient mode and the musical mode which are often fun.
Satisfyer Men Vibration + final thoughts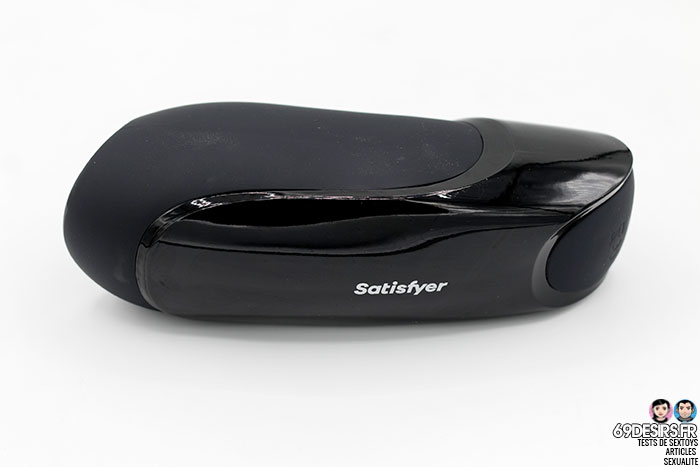 Finally, despite my doubts about the product, considering the previous versions, we have to believe that Satisfyer finally managed to offer us an ultimate version of their masturbator. This time, it is connected, which is always a plus, but does not necessarily need to be used that way. The packaging is nice, but still contains plastic, the application works well and above all, it is functional, stimulating and more than pleasant. However, the charging time compared to its autonomy is clearly to be reviewed. The two buttons, although they work well, are not really intuitive at first. In short, if you want to try the experience, there is little chance that you will be disappointed, especially if you have already tested one of the previous models.
Pros
The rather nice packaging
The connected application rather well done and functional
14 basic vibration modes available
A good level of vibration and depth for them
A possible and pleasant sucking effect
Finally, a successful Satisfyer Men
Cons
Huge charging time for small autonomy
Two buttons that are not intuitive to discover
Plastic in the packaging
Summary
Reviewer
Review Date
Reviewed Item
Satisfyer Men Vibration +
Author Rating





Product Name
Satisfyer Men Vibration +