This is the Lovense Hush! No, this is not the Lovense Lush, connected vibrating egg specially designed for the G-spot, a true marvel. You can read the Lush 2 review if you like. It's also not the Lovense Max, connected masturbator that I had the opportunity to present, but a connected butt plug from the same manufacturer! Since Lovense Lush was a very good surprise, I hope that the Lovense Hush butt plug will be on the same level. Let's discover and review together this new connected butt plug and see if it's worth the price!
Lovense Hush packaging
Quality packaging, that's what we got. We have a white cardboard box with some colors, in the same principle as the Lovense Lush box. We discover on the box, several information, like the product size, its functions and the compatibility with smartphones and devices.
We have inside, a product manual, a USB charging cable and… Oh no, nothing. I thought there was a storage case, but no. It is not very important, the box makes it easy to store the product. And then, I hope your future Lovense Hush will be a little more in your ass than in its box.
Lovense Hush physical details
It is big anyway! Well, I knew it, I choose the medium version. Finally, medium version, it still has good dimensions. 12.5 cm total length (5″) for 9.7 cm insertable (3.80″) with a maximum diameter of 4.5 cm (1.75″)! Yes, 4.5 cm (1.75″) for a medium size, it's not bad at all. In contrast, the "small" version has the same dimensions, except the diameter that goes from 1.75″ to 1.5″. As much to say that even the small version is not so small.
Otherwise, what is Hush? It's a butt plug, of course! As a result, it has a butt plug shape with a small tip for the perineum. This part is curved and seems to be a perineum tip to massage it. In reality, it is not that, but I will talk about it a little further.
The product details
Its shape is tapered to facilitate insertion, it is black (and exists only in this color) and has some ribs on its surface, but only the lower part. In fact, the part that only partially enters your buttocks. Utility of those ribs? Design, but also a little extra feeling when inserting it in your ass.
Otherwise, it still gives desire to try it! Although I must say that I'm a bit bored of the black color, which is the color of a large number of butt plugs on the market. It still lacks a little touch of color.
Lovense Hush materials
Here it's quite simple, since we have a real silicone quality! This is the same silicone quality as the Lovense Lush. A soft silicone, phthalate-free and hypoallergenic, in short, only quality! It takes a little dust, but not too much. We are far from the silicone vacuum cleaner from Fun Factory. Once again, it's quality, nothing to complain about!
Lovense Hush usage
Like all connected sex toys, you have two possibilities. The first is a simple use, just with the toy. The other is to use a smartphone as a remote control. But that's not all ! Because the Wearables application (Lovense app) allows you to use the Hush in local mode, or connecting to the Internet and use it remotely, either with someone you knew, or a stranger. Yes, it's a lot of possible situations!
Use in classic mode
Here it's simple, you only use the butt plug. No remote control, no internet connection, we remain in a very classic use, simply by using the button on the product. This is really not the most convenient mode, given the need to use the button that is not located in a strategic location since it is present below the butt plug base.
Use in local smartphone mode
Here you will need a compatible smartphone to use as a remote control. You need a smartphone that supports Bluetooth 4.0 and iOS or Android 4.3, and the application Wearables!
Use in Internet mode
Here is the same principle as the connection in local mode, but through an external connection in Wi-Fi / 3G / 4G. We find ourselves outside the local network. The user must then interconnect the Hush with a Bluetooth-enabled smartphone (such as local mode) and then link the local smartphone and the remote smartphone with the Wearables application. Obviously, this is the standard mode, because we can use the Internet mode with modules, which will allow show-camers, to vibrate the Hush with each token/tips received!
Other things to know
Let's talk about the other things because, as you know, there is more to it! Already, before having fun with it, it will need a battery recharge. Here, 90 minutes are needed to enjoy it for an hour and a half to two hours. The charging is done by USB cable. Of course, you can use an AC adapter to charge it even faster. For the remote control range level, count a few meters. In short, it is better to be in the same room for good connectivity.
How to clean the Lovense Hush ?
Announced as being 100% waterproof, it should be usable in the water. Personally, I do not like to use sex toys in the water. For cleaning, warm water and some soap or a toy cleaner will be needed.
The butt plug tip
Finally, I spoke earlier about the tail/tip on the back of the plug. This is not a perineum tip, but the Bluetooth antenna for connection to the smartphone. It will be necessary that this tip is positioned on your buttocks side and not on your perineum side.
Is there any vibrating modes ?
And to really close this part, at the modes available, we have quite a lot of things. In particular, a mode to vibrate the Hush with more or less intensity, depending on the noise picked up by the smartphone microphone. There is also a way to apply vibrations according to the music rhythm (a bit like We-Vibe Sync), but also the ability to create your own vibrating modes. It's all well and good, but it might be time to tell you about the most important part of a sex toy review, efficiency!
Lovense Hush efficiency
It's all well and good, but it might be time to tell you about the most important part of a sex toy review, efficiency! So I cut into several parts this feedback to let you see each way of using and what I think about it.
Overall
Well, it is a very nice butt plug! It is big, certainly, but when we love that, it's a good thing! Finally, if, you do not have eyes bigger than your ass. For my part, I'm used to big sex toys, so it's not a problem. At the filling sensation, it's very good! With 4.5 cm (or 1.75″) in the buttocks, I can tell you that we feel the butt plug. It is make pressure on the anal walls and it is already very satisfying.
With vibrations, it's even better. Certainly, for the prostate stimulation, we will look for another sex toy. Its shape is not made to stimulate this area, but the filling sensation coupled with the vibrations quite well done (but especially powerful) and spread quite well, it's still very nice! For the ribs, I must say that I did not really pay attention. Being focused on the filling pleasure, the ribs become almost superficial.
The microphone mode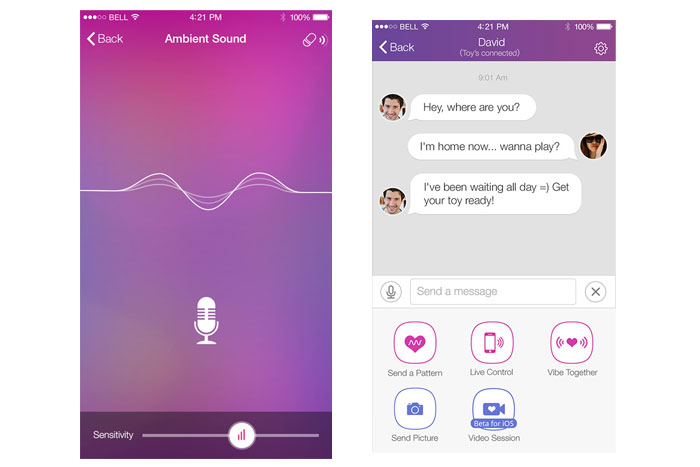 For the microphone mode, it's probably one of the most fun ones. Here, the Lovense Hush vibrates according to what the microphone picks up. It works very well, especially on the Game of Thrones credits, which does not lack power and variations. I find this mode fun, but not necessarily the most enjoyable modes available.
Why ? Simply because it is not easy to find the moment when the microphone will be more interesting than another mode. For me, this mode is mainly intended for outdoor use, in a movie theater or in a noisy place. The vibrations are not silent, we hear them all the same, so we must be in a room or a very loud place to not be noticed.
The music mode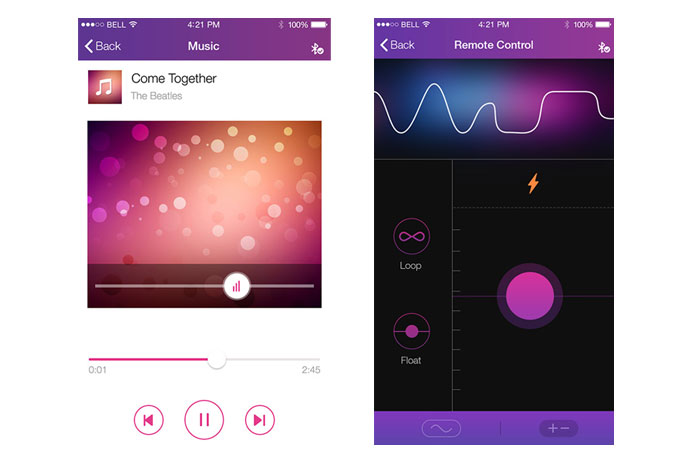 Very interesting mode, here, the vibrations are synchronized with the music! This is the kind of modes that I like. Indeed, music can play an important role in sexuality and above all, to relax the atmosphere or to excite, all depends on the desired effect. But when one is in symbiosis with the music and the pleasure extracted from the sex toy, it is still very nice!
It also makes me think of what is called synesthesia, the alchemy between emotions, music and the synchronization of movements. In short, this is a particularly interesting mode. It is this mode, also present on the We-Vibe Sync that has made its interest, the best We-Vibe for couples that we had the opportunity to review. In short, a very nice mode, full of possibilities.
The creation mode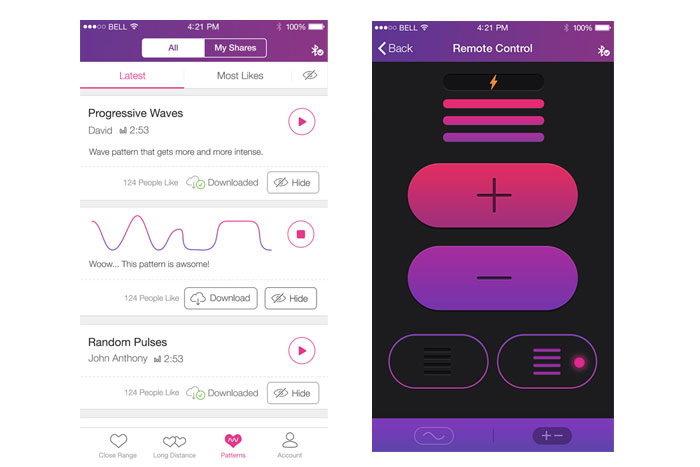 In the last mode, it is also nice, but a little less good than the others. Here we can simply create our own vibration modes, share them and download new ones. We can vote for modes proposed by users, it's fun, but we do not necessarily find interesting modes. I find that the musical mode is still more fun to use and especially allows to offer a wider range of possibilities.
Lovense Hush final thoughts
In conclusion, the Lovense Hush butt plug is a very good product. Unisex, it can suit both men and women, unlike Lovense Lush. This means that we can now find a product that is connected and clearly oriented for webcam use or in public, including its microphone mode. The reviewed version is the biggest and you need to have experience with your buttocks to be able to insert it and enjoy it.
Fortunately, a smaller version is available for those looking for something smaller. It is therefore a very good butt plug, connected, usable alone or in couple, locally or remotely, with programmed modes or create new from scratch. As much to say to you that it has many advantages! A great success for Lovense which marks, once again, its progress in the sector of connected sex toys.
Pros
Strong vibrations
The overall quality of the product
The micro and musical mode
The creations of vibrant modes
Quality silicone
The best for webcams!
Cons
A diameter too big for beginners
Summary
Reviewer
Review Date
Reviewed Item
Author Rating





Product Name