Warning, the SilexD dual density butt plug is not made for people who are new to using an anal sextoy! You are warned! Indeed, even it is a model in size S that I will review, you will see that it is not a small butt plug, quite the contrary! If you have been able to read several review of butt plugs lately, it's because we have launched a series of reviews with 16 different models!
The first plug was the Dream anal butt plug from Hidden Eden, then the Bootie from Fun Factory! Then, we went to glass with the Icicles n°78 butt plug and to metal with the Rich R19 butt plug ! Then, you had the review of the excellent Rosebuds Medium butt plug ! So this is the sixth butt plug we are reviewing now! Amateur and amateur of sensations, here is the review of the SilexD dual density butt plug in size S!
SilexD dual density butt plug packaging
For this butt plug, we end up with a cardboard box, white and a little brown gray. On the front part, we can discover the butt plug through a windowed part. Convenient to see what the butt plug looks like before buying, when it is present in a store. On this front part, we can read that it is a size S (but be careful) and that it is made in Silexpan, especially by the presence of a logo that underlines this particularity.
It is also indicated that this butt plug is thermo reactive! On the back, you can read several informations in various languages. Once you open the box from the top, you will discover a plastic mold with the SilexD butt plug inside. Too bad for the plastic and too bad for the missing storage pouch.
SilexD dual density butt plug physical details
No doubt about it, it's a big butt plug! With its ogive shape, the SilexD dual density butt plug starts to grow very quickly in width. Its imposing rounded head lets us imagine that we will have to be used to this diameter to use it. It's a smooth butt plug, with a small neck, but wide and a flat base. As you can see, it's black, it's quite usual for a butt plug! On the other hand, I could read that the base has a suction cup, but this is not the case. It stands upright, yes, but clearly, there is no suction cup. If it is the case, it doesn't work at all! In any case, for me, there is none!
The size of the butt plug
Don't trust appearances! Even if it is a model in size S, this butt plug is not small! Indeed, its total length is 9 cm (3.54′), for an insertion length of a little more than 8 cm (3.14′). Its maximum diameter is 5.2 cm (2.04′), the same for the brake. You might as well say that this butt plug is not a size S!
Know also that you have this SilexD dual density butt plug in size M and L! For the first one, it is 11 cm (4.33′) of total length for a maximum diameter of 6.2 cm (2.44′). And for the size L, it is 13 cm (5.11′) of total length for a maximum diameter of 7.2 cm (2.83′)! Yes, beside, the size S is small!
The other details
Finally, let's talk a bit about its weight. In spite of its size, it is a rather light butt plug ! I haven't been able to find its exact weight, but it certainly weighs less than 110 or 120 grams. In short, it's a light butt plug, you know everything now!
SilexD dual density butt plug materials
We arrive at one of the important points of this review, the texture and materials! As I told you, it's a big butt plug, but it uses the patented Silexpan material! It's not the first time we review a sextoy in silexpan! Indeed, we have already reviewed the Pinky dildo which was also made in silexpan!
Silexpan is a filling material, it is a "filler", which means that we have first a silicone layer, then a silexpan core! The advantage of silexpan is to be less expensive than silicone, to offer bigger products, without becoming too heavy or too expensive! Moreover, the silexpan is thermo-reactive and has a kind of shape memory! When you press with your finger on the butt plug, you can see that the material sinks in and gently takes back its shape!
So it's quite special and I think it's a very good choice for a butt plug, especially for this template! This butt plug remains hypoallergenic, without latex or phthalates!
SilexD dual density butt plug use
As I told you, the SilexD dual density butt plug is not a butt plug for beginners! This is not totally true, because its material makes some things easier, but all the same, it is a butt plug with a diameter of 5.2 cm (2.04′)! I can tell you that you already have to be used to insert something in your buttocks to use it easily. Here's what you need to know about this butt plug!
What can be done with it?
I already mentioned what you can do with a butt plug, but it's always good to remember it, it can give you ideas! Of course, it's an anal plug, so it will mainly go in the buttocks! It can be used to add extra stimulation during vaginal penetration. The vagina will be tighter and the butt plug will be able to stimulate the anus but also the vagina by compression. It is also possible that the person who penetrates the other, is the wearer, which also adds stimulation during the back and forth. One can also use it to prepare oneself for a sodomy, it allows to get used to the anus to remain open.
Here, the particularity of this butt plug is that it is also thermo-reactive! This means that we can pass it under hot water for example so that it can react to heat and become more malleable! It's the Silexpan material that makes it possible to offer this function! But that's not all, because we can also do the opposite, put it in the refrigerator so that it can be colder, more rigid with a harder core.
Which lubricant to choose with?
Knowing that Silexpan is a material that "fills", so we have a layer of silicone and silexpan inside. Therefore, in order not to take any risk in terms of the compatibility of the butt plug with the lubricant, we will have to choose a water-based lubricant. During my tests, I used the Tyo from Motsutoys which I still have in quantity, but also the UnisX anal lubricant which does the job very well! You can also choose the Pjur Back Door Aqua lubricant! In any case, use a water-based lubricant, it's the most important!
How to clean it?
For the cleaning part, it's quite simple! Just pass it under warm water with a little mild soap. You can also clean it with a sextoys cleaner or sterilize it with Puresan!
SilexD dual density butt plug efficiency
Here is a butt plug that I really wanted to try! Of course, I always want to try a sextoy that just arrived! However, we all have our preferences! And you know that we like big calibers! Finally, I like big calibers for anal and Kitty likes big calibers for vaginal penetration (or to put them in her mouth). Given the size of this butt plug, I wanted to see if my buttocks would appreciate it and I can tell you right now that this butt plug satisfies my ass! Here's what I think about it during my different tests on this SilexD dual density butt plug!
Inserting the monster
Yes, despite its size S, the SilexD dual density butt plug is a little monster in its size! I recall that it is a butt plug in size S with a maximum diameter of 5.2 cm (2.04′) and I do not even mention the version in size L and its 7.2 cm (2.83′) diameter! Obviously, the insertion will not be as simple as with the Njoy small butt plug for example or the Fun Factory Bootie!
However, despite its size, I didn't find the insertion complicated! Indeed, if you pass it under hot water or even hold it in the palm of your hand, well closed for a few minutes, it will become more malleable! As a result, it can be inserted a little more easily, because the material will take the shape of the anus! Be careful anyway, the diameter evolves very quickly on this butt plug, it will be necessary to insert it quietly with lubricant, but it is not as complicated as with a steel butt plug for example, which has a rigid and firm material.
On the other hand, I find that the neck of the brake is a bit too flexible, which doesn't help the insertion. But all in all, it's a pretty easy to insert butt plug, even if you still have to accept to get a certain caliber in the ass!
Wear and comfort
Here too, I must say that I am surprised! Once in place, I find it comfortable, despite its imposing dimensions. You can feel that the rectal walls are squeezed by the space the butt plug occupies, which makes it easy to adapt to it, but also to keep it in place. Its flat and imposing brake allows a good security and it is not unpleasant. Standing or sitting, it is also comfortable, once again, its flat and thin base facilitates the positions. On the other hand, I won't wear it for hours because it stimulates a lot and you really feel it pressing on the anal walls.
Butt plug stimulation
I really like this butt plug! Indeed, once it was inserted, I immediately felt it pressing on my anal walls, creating a very good filling sensation. As soon as I put pressure with my rectal muscles on the butt plug, I had the walls pressing down on it, causing its shape to change before regaining its orginal shape, bringing pressure back on the anal walls! When I wear it, I get excited, I feel more and more like jerking off or taking it out to insert a big dildo. Yes, it's a butt plug that makes me want to get my ass fucked!
On the other hand, I am less fan of its texture when it is cold. Its density becomes harder and I find that it becomes less pleasant, especially for insertion. For me, its malleable side when warm is a very good point!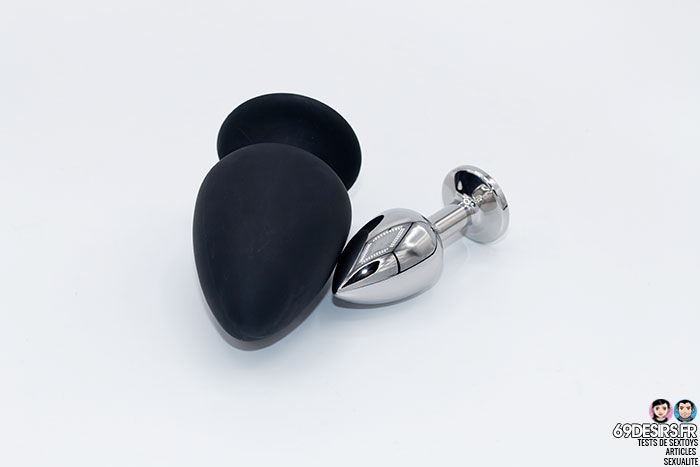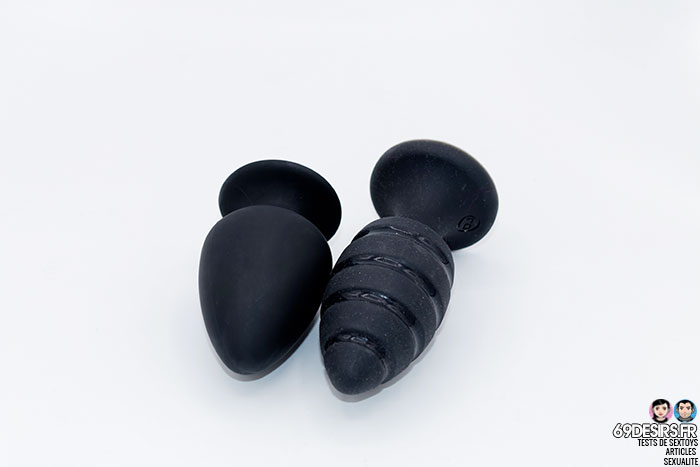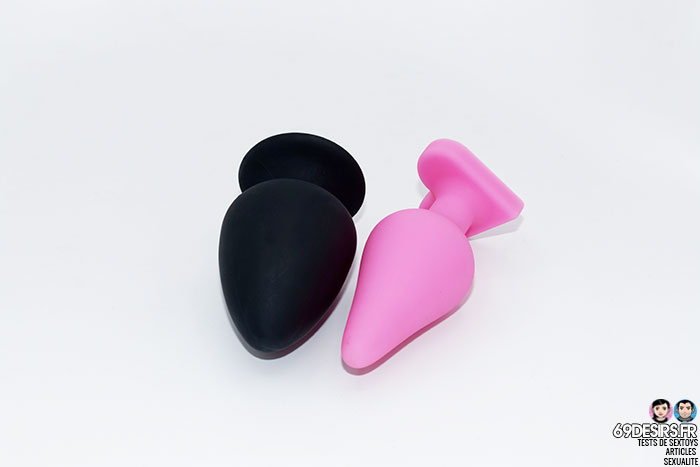 SilexD dual density butt plug final thoughts
To conclude, here is a butt plug that I like! Imposing, but malleable with its silexpan material, it is thermo-reactive and allows to adapt to the morphology easily. Despite its size, it remains quite simple to use, but I prefer to advise it to people who like big calibers and who are already used to this kind of dimensions! The only small negative point, but which is not really one, is its texture when it is cold.
I find it much more interesting when it's a bit warmed up or even warmed up, because the anus is a quite warm place in the end, which allows the butt plug to become malleable. It offers a very good filling sensation and as a result, it makes me want to try the size L with its 7.2 cm (2.83′) diameter! Yes, I'm greedy! If you're like me, try the SilexD butt plug experience, especially since it is very affordable!
Pros
A big butt plug
Malleable material
Thermo reactive
It filled very well
Comfortable
It makes you want more
Cons
No storage pouch
Not suitable for beginners or be careful with it
Its suction cup base that does not suck
The neck of the brake a little soft
Summary
Reviewer
Review Date
Reviewed Item
SilexD Dual Density Butt Plug
Author Rating





Product Name
SilexD Dual Density Butt Plug