Here is the NS Novelties Butt plug medium! This is the eighth butt plug of the series of reviews we started with a first model, the Dream anal butt plug from Hidden Eden! Indeed, for some time now, you could see arriving on the website, several butt plug reviews, initiated by our partner to help you find the butt plug you need! I also reviewed the Fun Factory Bootie, but also the Icicles n°78 butt plug !
And that's not all, because I also reviewed the Rich R19 butt plug, the Rosebuds medium butt plug and then the SilexD butt plug. And finally, you could already read the review of the Galileo butt plug. Concerning NS Novelties, it's not a brand that we reviewed a lot on the website! Except for the Pleasure Colours dildo, a big pink dildo, we can't say that we know this brand very well. So this is the opportunity to look at what it offers! Here is the review of the NS Novelties butt plug !
NS Novelties Butt Plug packaging
First thing we observe is the box of this butt plug! It is a white box, cardboard, with on the front face the butt plug in photo which leaves no doubt about the content! On the back side, we find again a part with the butt plug, but this time under a windowed area, so we can see what it looks like! And, it's no surprise that it looks like the photo on the other side of the box.
On the slice, we discover some summary information about the butt plug and NS Novelties. Finally, on the other side, we can see an "F" logo, which indicates that it is a firm silicone butt plug. It's not bad to have this information, because you can know about the density of the butt plug you buy without touching it.
Once we open the box, we discover a plastic mold in which the NS Novelties butt plug is installed and unfortunately we don't have a storage pouch available.
NS Novelties butt plug physical details
I don't know how to explain this to you, but I think it looks like a carrot! I will even say more, a carrot in a bunch of carrots! Don't ask me why, I think it comes from the orange color present. Anyway, it's a butt plug, with its conical shape, its slightly rounded tip and its brake.
We find the colors of the rainbow type, for others, the colors of pride, of the LGBTQ! They are moreover the same colors in the same order (logical) as the Thick Rick dildo from Pride Dildo or the Fun with Flags dildo from SelfDelve! The brake is quite thick, hard, but with a thinner and more flexible neck. However, the brake has a suction cup part, which works quite well!
The dimensions of the butt plug
Regarding the size of the NS Novelties butt plug medium, it measures 13.3 cm (5.23 inches) in total length for an insertion length of about 11.8 cm (4.64 inches). Its maximum diameter will be 4 cm (1.57 inch), while its base has a diameter of 5.7 cm (2.24 inches). This is for size M! But, you also have this plug in size S and mini!
For the S version, the total length of the butt plug is 11 cm (4.33 inches) for a maximum diameter of 3 cm (1.18 inch). Here, the base will be 4.5 cm wide (1.77 inch)! And for the mini size, the total length is 8.9 cm (3.50 inches) for a diameter of 2.5 cm (0.98 inch) and a wide base of 4.6 cm (1.81 inch)!
The other details
Once again, I've gone around the subject, but I didn't talk about the weight of this butt plug! By going directly to the manufacturer's website, I was able to find the information! It weighs 185 grams in all! It seems a lot to me, but at the same time, the butt plug is quite long! In any case, it remains light overall!
NSNovelties butt plug materials
As often, silicone is used for the realization of this butt plug! Silicone is a very good material when it comes to sextoys! It is healthy for the body, hypoallergenic, without latex or phthalates. Here, silicone is quite soft, but not too much either. It catches a little bit the dust and it is rather firm! Indeed, it is already indicated on the box! So we have a dense butt plug at the head, more flexible at the neck and more rigid for the brake.
NS Novelties butt plug use
I know very well that using a butt plug is not complicated, just like a dildo! But if you buy your first sextoy, it's another story! Here's what you need to know about using this butt plug!
What can be done with it?
As with the other butt plugs, you can do a lot of things with it! First of all, you can think you're a rabbit! Yes, I stayed on the resemblance of the butt plug with a carrot. More seriously, a buttplug, it is a sextoy which is used in the buttocks! It can be used for the preparation of a sodomy, to embellish your buttocks while stimulating you or to add stimulation during a vaginal intercourse! Indeed, the butt plug will press on the anal walls which will make the vagina narrow! You can also use it to move on to something bigger afterwards!
Which lubricant to choose with?
Once again, the NS Novelties butt plug is a silicone product! And you know very well what to take as a lubricant so as not to damage it. For new people arriving on this review by chance, be aware that you will have to use water-based lubricant. You have hundreds of lubricants on the market, to say the least, so the choice is not necessarily easy. For my part, I often recommend the Sliquid range, not cheap, but their lubricants are simply perfect! You also have the range from Pjur!
How to clean this butt plug?
It is a basic silicone butt plug, so you can completely clean it with lukewarm water and mild soap. You can also use a sextoys cleaner like Sliquid Shine! Or you can also sterilize it with PureSan!
NS Novelties butt plug efficiency
Now is the time to tell you what it feels like to shove a carrot up your ass! Ah yes, that's right, it's a butt plug and not a carrot! At the same time, when you've already tried a cucumber dildo or a cactus dildo in the buttocks, you're ready for anything! It's once again my buttocks which took the trouble to try this butt plug! Here is what I can tell you about it after a few uses!
Inserting the carrot butt plug
No need to think you're a rabbit to insert it! Already, it's pretty good. On the other hand, using lubricant helps! Indeed, it's not really a small butt plug! Dry, it's a bit of a sport! For my part, when I used this butt plug, I chose to use Motsutoys' Tyo lubricant, which I find very versatile!
Then, inserting it is not as easy as with smaller models or slippery materials. Already, the brake twists quite easily, which doesn't help to use it to get it in. It is therefore preferable to adopt a position that makes insertion easier, such as the crouching position.
The insertion itself takes a little time, especially since there is length! It is therefore a task that takes a little more time than usual, but not a quarter of an hour either, so don't exaggerate.
Comfort and wear are pleasant?
There, it's half-tone! As much as the brake itself is not disturbing, nor unpleasant, as much as the length of the butt plug can be. Indeed, I find it too long! The diameter is not a problem, but it's true that for me, the length is a problem. I feel that it goes a little too far and seems to touch the prostate, but not in a way that I appreciate. It looks like it is slightly pressed by a hard and sharp element, this is the tip of the butt plug. Also, since the texture is firm, the pressure exerted is stronger than a softer butt plug and I found that it still feels good, which doesn't help to keep it for long, or to wear it in a sitting position for example.
What does this butt plug do in the ass?
As I was telling you, I'm not a fan of the stimulation its trying to do on my prostate. Certainly, the filling effect is present, without being too much so, but I don't really like what it is trying to do with my prostate. I sincerely think that for people who have a prostate, this butt plug will be more comfortable and pleasant in size S. For others, you probably won't have that problem. The good thing about this butt plug is that it has a suctioned base that works well and allows you to use it without your hands. If you don't have a prostate, why not, but if you do, I'm not sure you'll be satisfied with it!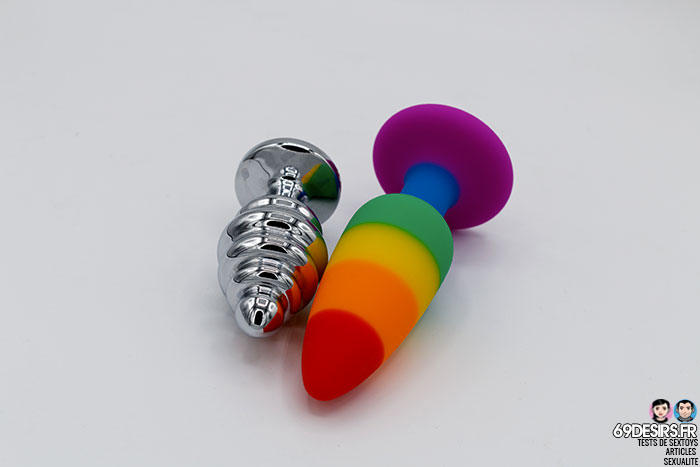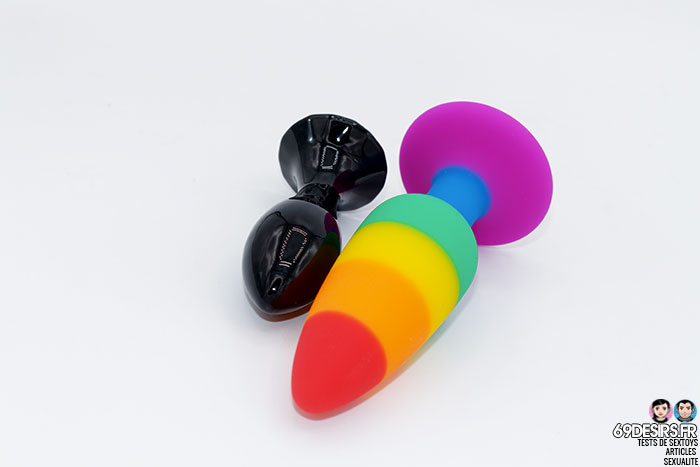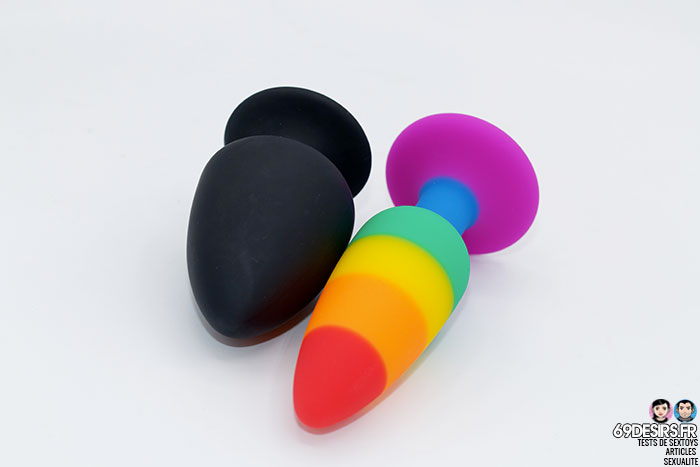 NS Novelties butt plug final thoughts
In the end, I was not a fan of this butt plug! It's quite personal, because depending on whether you have a prostate or not, you won't necessarily have the problem I described. I must say that the S version would have been more judicious. Fortunately, you have several sizes available! In any case, it's a colorful butt plug, with a suctioned and firm silicone base! There is an audience for this kind of butt plug, but I'm not one of them. It's up to you to see according to what I indicated, because I can't tell you that it's a bad butt plug either, even if I find it a bit long in size M!
Pros
A colorful butt plug
Thick base and flexible neck
The brake have a suction cup
Available in several sizes
Firm silicone
Cons
Butt Plug length too long
No storage pouch
Insertion less obvious than other butt plugs
Neck a little too flexible
Summary
Reviewer
Review Date
Reviewed Item
Author Rating





Product Name
NS Novelties Butt Plug Pride Edition