He's back, I'm talking about the new model of the popular Pleasure Air clitoral stimulator, the Womanizer Premium! Yes, another new Womanizer on the market! It has become a habit now. Each year, the firm offers two new models. Lately it has been the Womanizer InsideOut with its vagina rod. And a little before, the Womanizer Starlet, the smallest model of the manufacturer.
But Womanizer is not at his first attempt. Indeed, it all started with the Womanizer w100. At the time, it was a real innovation, a blow to the sex toys market for women. Then there was the excellent Womanizer W500, more powerful than the previous model. And later, the Womanizer Pro 40, the first completely waterproof model.
Then, Womanizer decided to release a model in the form of lipstick, the Womanizer 2GO, which was still disappointing. And finally, the Womanizer + Size, a larger model, larger and above all, even more powerful. But today, I'm going to tell you about their latest model, which features several new innovations in the Womanizer sex toys collection. This is the Womanizer Premium! I hope you've already read the Womanizer Duo and Womanizer Liberty reviews.
Womanizer Premium packaging
As you can see in the pictures, I received the Womanizer Premium in a simple cardboard box. This is not the official packaging, but a box for the sample copies. So you will not have a simple box with nothing on it, but an official packaging as you are used to having on other models.
As far as I could read, the packaging will contain a Womanizer Premium, of course, but also a storage pouch. There will also be a magnetic USB charging cable, which I received. And finally, a user manual and two stimulation heads. The smallest is already clipped on the sex toy. The other will be apart. As you can see, I received the Womanizer Premium in a plastic bag with its USB charging cord, difficult for me to give my opinion on this part. And for the Eco-Friendly part of the box, it's better to not talked about it. Fortunately, this is not the most important in a sex toy review.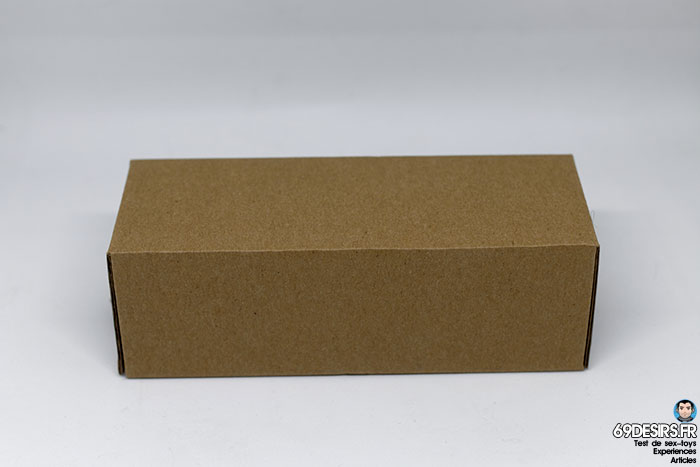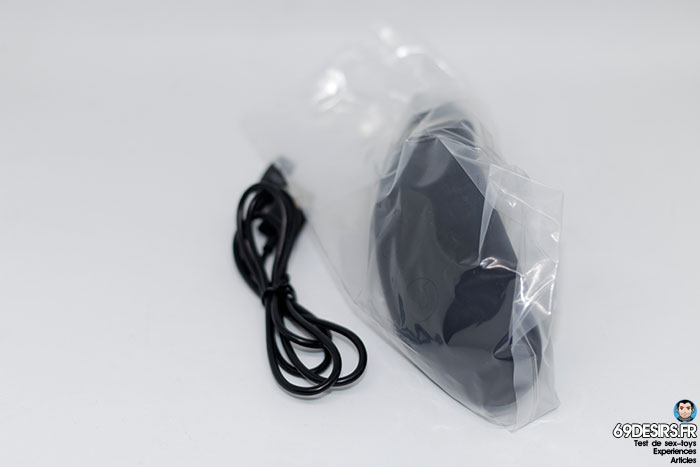 Womanizer Premium Physical details
No suspense for me, I find this Womanizer Premium really nice. As soon as I saw it, I immediately thought of a mix of several models of the manufacturer. It is almost the same size as the Womanizer Pro 40. However, it has a more curved shape, like a Womanizer + Size. And finally, its finish, feel and texture remind me of the Womanizer Inside Out. It's really well thought out and I must say it's a faultless design. There are no mistakes of taste either, as on the Womanizer 2GO and its false lipstick shape.
Womanizer Premium size
As I said a little earlier, the Womanizer Premium is not very impressive. This is not the smallest Pleasure Air clitoral stimulator model, but it is not the biggest either. Indeed, it is almost equivalent to the Womanizer Pro 40 in terms of length and width, but is smaller than the + Size and more imposing than the Womanizer Starlet. It measures 15.5 cm long (nearly 6 inches) and 5 cm wide (2 inches) at the most for a thickness of 3.5 cm (a bit more than 1.25 inches). All for a weight of 135 grams. It is relatively small, without being too big.
Other visual elements on the Womanizer Premium
As you can see in the photos, the model I received is the model in black and gold. These are the same colors as the Womanizer I & O, which does not disappoint me. Be aware though that there is also a white and silver version. A bit like the white and chrome version of the Womanizer W500. But you can also find it in red and gold, if you want more shimmering colors. Me, I like the black version, but it's a matter of taste.
There are also two buttons next to the Womanizer logo on the toy. There is a "+" button and a "-" button. As for the Womanizer Inside Out, the "+" button is too closed to the "-" button and it is also bigger and slightly curved. It seems like a gadget, but it's a great idea to differentiate between them when it's dark. It also avoids looking at the Womanizer to find the right button when you are using it. Another element of detail is the two magnetic contact points for magnetic induction charging.
You also have a "Power" button to turn it on, but also a "~" button that will probably serve to activate the autopilot mode! Yes, without hands! But I'll talk about it a little further.
Womanizer Premium materials
The Womanizer Premium shows off its luxurious side, as does the Womanizer Inside Out. Indeed, we find on this model, silicone and ABS plastic, both without phthalates. Here, we find the same materials as the model previously mentioned. You have soft silicone, silky and hypoallergenic on almost all the toy. This makes it pleasant to the touch, in contact with the skin and gives it a luxurious side that we do not have on the Womanizer mainly made of ABS plastic.
There are still some touches of plastic, especially inside the suction area, but also on the golden edges. It is therefore solid, robust, soft and flawless materials. It's really classy and it's a no-fault.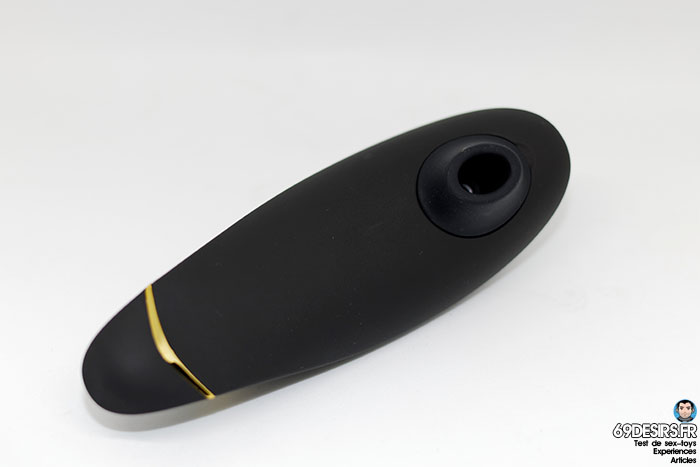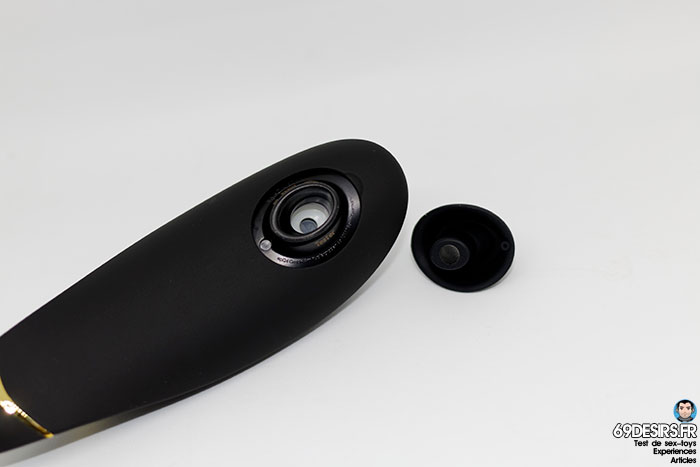 Womanizer Premium usage

It's time to tell you how this Womanizer Premium works. Do not worry, it's not complicated. However, there are some novelties that deserve explanation. We start, as usual, by charging the product.
How to charge the Womanizer Premium?
To get orgasms with the Womanizer Premium, it must already be charged. This is the basis. Here you have a rechargeable Lithium-Ion battery built into the toy. Yes, a battery. He would not fail to end up with a battery-powered Womanizer. To charge it, you have a magnetic charging cable, that it will be enough to clip it on the back of the sex toy to start the charge. It takes 120 minutes of charging time for 240 minutes of battery life, which is a very good ratio between the charging time and its average usage time. When you put it in charge, you have an LED display up to the two magnetic points, with three levels to indicate its progress. Once charged, the three small LEDs will be lit continuously.
How to use the Womanizer Premium ?
The Womanizer Premium is a contact-less clitoral stimulator that works with micro-suctions called "Pleasure Air" at Womanizer. You have two "+" and "-" buttons that will allow you to increase or decrease the stimulation intensity level. But that's in manual mode. Yes, the manual mode. This means that there is now an automatic mode. Indeed, once you turn on the Womanizer Premium using the "Power" button, you can press the "~" button to activate the autopilot mode. I'll tell you about it right after. Otherwise, by letting the "Power" button rest for two seconds, it will turn off the stimulator.
The Womanizer Premium autopilot mode
In this new model, you have two new things, but especially one that concerns its pure operating system. Indeed, the big news is its "autopilot" mode. Usually, when you use a vibrating sex toy, you press a button to increase or decrease the intensity of the stimulation, or vibration modes. It's easy and convenient, but you still need to focus on this action so you do not change modes instead of intensity or increase instead of decrease. It can break your concentration that you have for your pleasure.
Here, with the autopilot mode, it will be enough to activate this mode (with the "~" button) to no longer manage the increase of the micro-suctions intensity. Indeed, this mode will gradually increase the intensity to let you focus on the sensations you will feel. In addition to leaving your hands free, you will also have the surprise of rising intensity, without knowing when it will be done. Of course, you can always resume the intensity level control in manual mode. You should know that the AutoPilot mode is unique to each use, we will see if it is really the case during its use.
The Smart Silence mode on the Womanizer Premium
The second innovation is the "Smart Silence" mode coupled with noise reduction compared to other models. Yes, the Womanizer Premium is even quieter than previous versions. Already, its "Smart Silence" technology allows it to power up only when the Womanizer is close to the body and clitoris. So, it will not make a lawn mower sound when it turns in a vacuum. In addition, it will please those who like to be quiet and may be disturbed by the sound of this toy. Here, the motor will trigger only when the silicone tip is a few millimeters from your clitoris. So you will not hear anything until you start using it. And this is played to the nearest mini meter. We will also see this point during its use.
Another improvement in noise, the Womanizer Premium engine also generated only 40 dB against 42 dB on the previous generation with the W500 but also the + Size. As powerful, but less noisy, this is the bet of this Womanizer Premium.
What are the stimulation modes of the Womanizer Premium?
If the Womanizer W500 and Pro 40 have only 8 stimulation modes, here the Womanizer Premium up to 12 modes! These are also the same modes as the Womanizer + Size and the Womanizer Inside Out. it is therefore 4 more modes compared to the Womanizer Classic. Yes, the Womanizer Classic, yet another Womanizer I'll talk about shortly in another review.
So it's 12 intensity levels that we have on the Womanizer Premium model. There are two softer levels and two more intense levels. This will make it easier to adapt to those who want a softer or stronger stimulation. Indeed, there is a mode "Super Soft" (level 1), which will be perfect to start very slowly. Especially for users who have a very sensitive clitoris. And you have the 12th level, which is the "Super Power" mode, to take off in no time. So it's a powerful model.
Which lube to use with the Womanizer Premium ?
Since the Womanizer Premium is almost entirely made of silicone, especially its stimulating head, care should be taken not to use silicone-based lubricant. Indeed, it is quite possible that the two silicone elements mix with each other and causes damage to your stimulator. So, it is important, if you need it, to use water-based lubricant. To guide you, I recommend using Sliquid H20 lubricant or YES Bio water-based lubricant. But you also have many others like YES WB or Pjur Aqua.
How to clean the Womanizer Premium ?
First thing, the Womanizer Premium is 100% waterproof, meeting the strict IPX7 standard. So you can use it underwater. Moreover, the stimulation is even stronger using it under these conditions, because the micro-suctions propagation is more important. And secondly, it makes cleaning much easier. So you can put it in warm water with a little soap to clean it. It will also be enough to remove the silicone stimulating head to clean it well before putting it back once dry. You can also use a toy cleaner, such as the YES Cleanse or the Pjur Woman Toy Cleaner.
Womanizer Premium efficiency

This is the moment that everyone expects in a sex toy review: "is it effective your sex toy or not"? Because yes, that's all the interest of a sex toy. If a toy is beautiful, but does not provide pleasure, it is a trinket or a piece of decoration. If it is really powerful, but it is not easy to use, it will do a flop. But if it's ugly, but it makes you climb the curtain and get orgasms, it's better. Here we will see if the Womanizer Premium is as effective for its stimulation as it is for its design and ergonomics.
I really wanted to use this Womanizer Premium on my dear and tender Kitty. Indeed, the Womanizer Inside Out had pleased her, even if her favorite of the moment remains the Satisfyer Pro Traveler. With the arrival of this new Womanizer and its "AutoPilot" and "Smart Silence" functions, I was eager to see the result in action. Here is my feedback and that of Kitty that I transcribe below.
My feedback and Kitty opinions on the Womanizer Premium
We took advantage of our Sunday to have fun, but also, to try the Womanizer Premium and the Womanizer Classic. Here we will talk about the Womanizer Premium. In the next review, you will find the Womanizer Classic with a comparison of the Premium version.
First meeting with the Premium Womanizer
The first impressions we have felt from this Premium version is that it is qualitative. Indeed, we find a soft and silky silicone texture, which immediately gives a luxurious impression. The finishes are good, in short, nothing to report on the aesthetic side of this model. The buttons are also well placed and are easy to access. Indeed, since we can recognize the button "+" or "-" depending on the size of the latter, it is much easier to navigate. Whether it was me or Kitty, we had a good first impression.
What to say about the "Smart Silence" mode?
It works very well! When you turn on the Womanizer Premium, it does not start directly. It really has to be 2 or 3 millimeters from the clitoris or the skin to trigger. The sensor works very well, there is no detection problem, it works really well. This is also pretty bluffing. For Kitty, noise is not a problem, so this novelty is not necessary. However, for those whose noise is disturbing, you are happy to discover this mode. Moreover, the sound level, we note that it is also less noisy. Kitty reported it to me fairly quickly after trying the Satisfyer Pro Traveler a few weeks ago.
And AutoPilot mode, it works well?
So for the autopilot mode that is activated with the "~" button, it also works. However, small con on this point. If you like strong stimulation, you will be disappointed. Indeed, the automatic mode works well, however, we cannot adjust it. It starts slowly, on the first mode and it takes a lot of time to change the intensity level.
So, with Kitty, who prefer strong stimulation, the autopilot mode is not very interesting. It starts far too weakly and takes too long to climb. As a result, Kitty prefers to return to manual mode quickly enough to increase the intensity level. So this is a mode that will be more suitable for those who like a slow climb and who are not used to this kind of stimulator. It can also be used without hands, by wedging between her thighs, but that's not everything.
But finally, the AutoPilot is not bad
Indeed, Passage du Desir (which send me the toy), after reading my review (in French), have contacted Womanizer for more details on this AutoPilot mode. And it turns out that this mode is more complex than it seems. By default, it works over the entire intensity range. In fact, there are three modes for the AutoPilot. When activated, the "Soft" mode is on the way. It evolves from level 1 to 4. The first LED will be lit to signal it.
If the "+" button is pressed, the Medium mode that activates operates in range intensity from 1 to 8. And the middle LED will light up. If you press the "+" button again, it is the Intense mode that is activated for the AutoPilot, with stimulation from the intensity range 1 to 12. And the third LED will be lit. We can optimize AutoPilot mode to suit the person who uses it.
The Premium Womanizer, Powerful and Orgasmic?
Oh yeah ! At this point, nothing to complain about. The Womanizer Premium has been always so powerful. It is the same level as the + Size. For Kitty, it does not take more than a minute for her to get an orgasm with. And this very easily. Since the clitoris is not numbed by stimulation, it can very easily restart a few seconds later to get an orgasm again. In short, on this level, the Womanizer Premium is always as powerful and enjoyable.
Womanizer Premium final thoughts

In the end, this new version that offers Womanizer of its contact-less clitoral stimulator is a good thing in the absolute. Powerful, practical to use, efficient and elegant, it has everything to please. It can be used underwater, clean easily and it makes less noise than before. Its "Smart Silence" mode is really well done. The only downside for us is the autopilot mode, which is not powerful enough at first and will not please everyone. But you've seen it, we can configure it to fit a little more to our desires. In short, if it's your first Womanizer, this mode can please you. If you're used to it, you probably will not use manual mode unless you use AutoPilot mode to your liking.
Pros
Silicone for 99% of the toy
Luxurious product
A new successful design
Smart Silence mode
Configurable AutoPilot mode
12 intensity levels
Cons
Autopilot mode that starts too weakly
Summary
Reviewer
Review Date
Reviewed Item
Author Rating





Product Name