Finally, here it is, I'm talking about the second product made by a manufacturer that we almost don't present anymore, I'm talking about the Arcwave Voy masturbator! If Arcwave doesn't tell you much, it's because you may not know that it's the Womanizer range for penises! And the first one I had the opportunity to review was the Arcwave Ion, which left me with a very good impression, even if some people thought it was overrated. Me, I liked it and I will even say, I find it very good. But this time, it is another model that I will review for you.
Here we have a product that reminds me of a Fleshlight Quickshot Riley Reid for example, or the Kyo Capsule, that is to say, a kind of thick donut with two lids, one on each side. But as it is an Arcwave product, I still expect a little more than the two products I just mentioned. I was looking forward to testing this Arcwave Voy and now that it's done, I'll be able to give you my verdict! Here is the review of the Arcwave Voy masturbator!
Arcwave Voy packaging
To begin, let's talk about the packaging! Well, I must say that on this side, the work done by Arcwave on this last one is well there! Indeed, we have a packaging made with a beautiful and solid cardboard box, surrounded by a sleeve that presents and protects the box. We see on it, the product in picture, the logo of the manufacturer and the name of the product. Sober and effective. We can also see that the box has two stickers, seals to indicate that the box has not yet been opened. On the back, we have a presentation of the Arcwave Voy, as well as the characteristics of the latter.
Once the sleeve is removed, we have access to this box, which opens from the top by lifting one side of the lid. This is how we discover the masturbator, housed in a foam mold, accompanied by a sample of Arcwave lubricant by Pjur and then a small black cardboard pouch that contains the user manual, safety and a small brochure about the lubricant. Inside this box, we also have Quick-Start explanations to quickly make use of the product. Honestly, the packaging is really well done, it's a shame not to have a small storage pouch, but given that the Voy is already pretty well protected, it's not a big deal.
Arcwave Voy physical details
New generation portable Bluetooth speaker? That's what you might think when you see the Arcwave Voy for the first time! There, we can say that it is a "passe-partout" sextoy! You really need to know that it is a masturbator. As you can see, it is a kind of small black cylinder, which is composed in four parts.
On both sides of the masturbator, we have lids. These lids can be unscrewed (with a small rotating movement) in order to have access to the inside of the masturbator. We can also see that both lids have ventilation. Then, in the third part, we have the sleeve, black, which is maintained in a the  specific system to the product, which will bring a more or less tight effect of this sleeve. And that's all! We have here, no button, no motor, it is a manual masturbator, which is surprising when we know Arcwave and Wow Tech in general.
On this cylinder, we have the Arcwave logo, but also a small circle present under a rotating ring, which will allow to adjust the sleeve at the level of its internal diameter. This ring has a different texture from the rest of the product. This one has very small stripes in order to spot it easily, even in the dark. Obviously, if we have two covers, it is because we have a sleeve with two holes, one on each side and of different size.
Product dimensions
To convince you that it is a small masturbator, nothing better than its dimensions! When the Arcwave Voy is placed vertically, it measures 11.5 cm (4.52″) in length for a width of 8.5 cm (3.34″). But when we look at it more closely and especially inside, we can see that the diameter of the opening of the sleeve is 3.2 cm (1.25″) on one side, while the other side of it has a diameter of 2.3 cm (0.90″). The sleeve is expandable, but it is also important to realize that this one is not very thick and is close to the plastic shell. For my part, I have no problem using it, my penis fits perfectly inside and on both sides. Once you tighten the ring to the maximum, the internal diameter reduces to about 2.5 cm (0.98″), but it's not really a round sleeve when you use the ring.
Other details
Finally, you could see that the Arcwave Voy is black, with two shades, a lighter one for the shell and a darker one for the ring and the internal sleeve. By the way, let's talk about this sleeve. We have two bulging parts to absorb the shocks a little and a tighter area in the center. Inside this sleeve, we can see that there are large striations that will bring relief and of course, additional stimulation. And to finish this part, you should know that the Arcwave Voy weighs 358 grams, which is half as much as a Fleshlight masturbator like the Autumn Falls Peaches for example.
Arcwave Voy materials
It's a masturbator, there must be some TPE/TPR inside! Well, no! It's a surprise, because I can tell you that masturbators with a silicone sleeve are really very rare. The only masturbators I own that have a silicone sleeve can be counted on the fingers of one hand! I have the Janine masturbator from Bad Dragon, the Horse Arizona masturbator and from Goliate, the Insider masturbator and the Adonis. But be careful, here, it is a silicone developed by Arcwave, it is CleanTech silicone!
So what is it? It's silicone, which looks a bit like liquid silicone, softer, but not as dense as TPE. The touch is rather soft, even if I found that the material sticks a little bit and marks easily. However, the silicone would be durable. I'm a bit dubious on this point, given that it marks easily, but for now, it's still operational and with Wow Tech behind it, you can expect a durable sleeve. As for the rest of the product, it's mostly ABS plastic.
Arcwave Voy use
Will it be difficult to use the Arcwave Voy? Or on the contrary, can it be used very easily, anywhere (or almost), alone, with several people or in pairs? This is what we will see together in this part of the test.
How do I charge the Arcwave Voy?
Simply, by not doing it! Don't look for it, the Arcwave Voy masturbator is actually a manual masturbator! No motor, no battery is present inside! And I must say that it is a good surprise! In fact, it's quite confusing, because Arcwave or Womanizer, they are two ranges that use each time, a motor, buttons and a battery. Here, it's really a first! At least, there is no risk of finding yourself with a Out-of-service product because the battery has died.
How to use the Arcwave Voy?
If there are no buttons or motors inside, you already know that it will be rather simple to use! And you are right! Indeed, it is as simple to use the Voy as a Fleshlight masturbator, with only a few differences. Indeed, you just have to detach the two protective covers by making them rotate. Then, you apply a little lubricant on your penis and you slide it inside the Voy's sleeve. Then, to adjust the pressure on your penis, just turn the adjustment ring! That's it! Nothing complicated. And it can be used on both sides.
What modes are present?
Again, none! As I mentioned, there is no motor in the product! Everything is manual! However, I did tell you about a ring that adjusts the intensity of the inner sleeve to provide more pressure on the penis. This is the TAS (Tightness Adjustment System) technology that targets the receptors in the epidermis. These are the Merkel-Ranvier sensory receptors. So what are these? If you don't know, Merkel cells (or Merkel-Ranvier) are cells of the diffuse neuroendocrine system. They are the fourth cell type of the epidermis.
In short, on this ring, you can adjust the pressure on the penis to be as close as possible to the size of your penis and play with the 8 settings available to have a more or less intense effect.
What lubricant to use with it?
Here, we might as well start with the Arcwave lubricant sample (made by Pjur, part of the WowTech group) that comes in the box. But after that, a water-based lubricant will be needed. You don't have to use a specific one, any water-based lube will do.
How to clean it?
To clean the Arcwave Voy, you won't really have a problem, since it is waterproof! This means that you can put it in water without any risk, but also use it under water, in your bath for example. So I advise you to put it in warm water, then clean the inside with a sextoy cleaner or a soft soap. Then, simply put one of the two covers in place and hold it upright so the water can flow down. You can also remove the entire inner sleeve in order to clean it, I'm talking about the inner sleeve.
On this point, I must say that I am a little disappointed. Indeed, to remove the sleeve, it is not as obvious as with a Fleshlight. And to put it back on, it's even more complicated. It's possible, as shown in the test, but you have to be careful not to damage it while doing so. Clearly, it is better to clean it without removing the sleeve. In short, the Voy is easily cleanable and that's a good thing, except for extracting and replacing the sleeve.
It's time to tell you more about the Arcwave Voy! Again, I was very curious to try it, simply because the first Arcwave was really good in my opinion. So, I also hope that this Voy model will be as good or even better! But considering the price of the Voy, I have to admit that I expect something less good than the Ion. However, even if the Voy is cheaper and does not offer the same thing, it can be as good as the Ion. And to find out, I invite you to read the rest of this review!
Handling and ergonomics
For once, Kitty was in control of the Voy! She wanted to try it on me, rather than me using it alone. For the grip, there is not really a problem. It's not too big, so it can be held in one hand while going back and forth. To use the ring, again, it is very simple. Just turn it and stop at the desired notch. Each time you turn the ring, you hear a noise indicating that you have moved to the next tightening level, which is very convenient. But I would have liked a quieter and smoother passage.
Indeed, when we change level, we have a system of notch, which emits noise, but which does not allow fluid transitions. I would have liked to be able to turn the ring at the same time as a back and forth, in order to reduce the sleeve and enlarge it again with each back and forth. Kind of like a two-handed hand job with both hands twisting with each back and forth.
On my side, I also tried the Arcwave Voy by taking it in hand. You can hold it with both hands, like a Fleshlight, its weight is not very annoying, even if on longer sessions, you can feel your arm getting tired after a while. It is possible to change hands easily. In short, on the ergonomics and the grip, it is rather good, but I would have liked some small additions as indicated.
The system for adjusting the pressure exerted
This is the most interesting part and what differs from a more classic masturbator! I'm talking about the ring that allows you to apply 8 levels of pressure in order to have a more or less tight sleeve. As I said, it's pretty well done. Just turn the ring to add an extra notch on the pressure applied. As I mentioned, I would have liked a "smoother" system so that I could move from one notch to another more quickly and quietly, but you can't have everything.
On this adjustment system, you can see that the inside of the Arcwave Voy retracts and forms a more triangular area, bringing the famous pressure points. And the tightening part is not completely centered, which allows you to have different sensations when using it on one side or the other. In terms of the 8 possibilities, I must say that you can really feel the difference between the first and last level. Moreover, when I reach the level 7 and 8, I need to have a hard one strongly, because we feel well the resistance of the sleeve and the penetration is really more difficult, in the good sense of the word.
Arcwave Voy stimulation with Kitty
In order to test the stimulation offered by the Arcwave Voy, I had to do several tests! This is the basis of a sextoy review, it is logical. Already, during the first use, Kitty was at the controls! At first, she had fun lubricating my penis with her saliva! She simply didn't want to use lube because she wanted to suck me off at the same time, and it's true that it's better not to use lube in this context. We simply avoid "licking" lube that might not be edible.
While Kitty was moving the Arcwave Voy up and down, Kitty was able to work the top of my penis to give me double the stimulation. Then I took control of the Voy to do some quick back and forth with it. In the end, I didn't come like that, but I must say that I had already ejaculated during the day and with the tiredness, it didn't work for this time. However, the stimulation was good, pleasant, nothing to complain about.
The Voy, alone
When I used the Voy on other occasions, it was alone. Here, with lubricant, notably Sliquid Organics Natural, the glide is much better, even if this lubricant is not the most suitable. It evaporates quite quickly with the silicone of the sleeve. I had to put more than usual. Here, I had fun with slower back and forth and preferred to have an open sleeve, without tightening the ring. The two sides of the Voy are different, with one narrower than the other, bringing a little constriction, either at the base of the penis or under the glans, all depending on which way you use the masturbator.
It is true that silicone changes from TPE/TPR, with a rather soft material, which rubs slightly all the same. You can feel the internal ridges when the glans passes through too. When I squeeze the ring, it applies a strong pressure, with a difficulty to penetrate the Voy which is well present. This is not what I preferred, because with this type of sex toy, I prefer to have fun playing with the edging phase and milking at the last moment, without going back and forth at full speed which saturates the glans quite quickly.
It also depends on the size of your dick, but for me, the fact of tightening the wave brings very quickly, from the second level, a sleeve more difficult to penetrate, which will certainly please many people, but less on my side. I use it sparingly. Here, I ejaculated with the Voy without worry and I must say that the orgasm is quite strong, especially at the time of ejaculation where the slightest additional movement can add an additional "squirt" to the orgasm!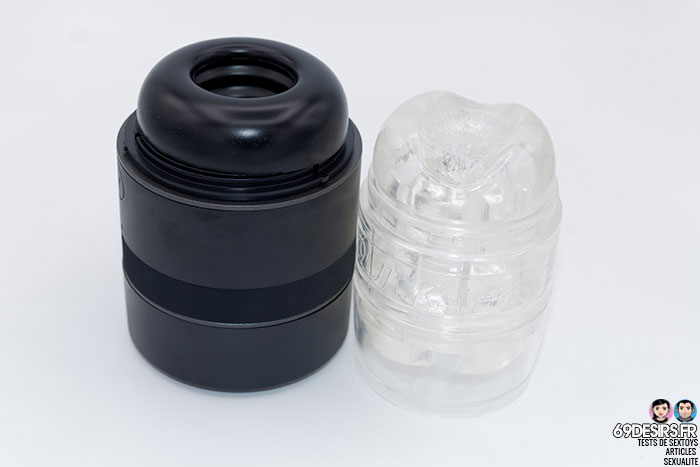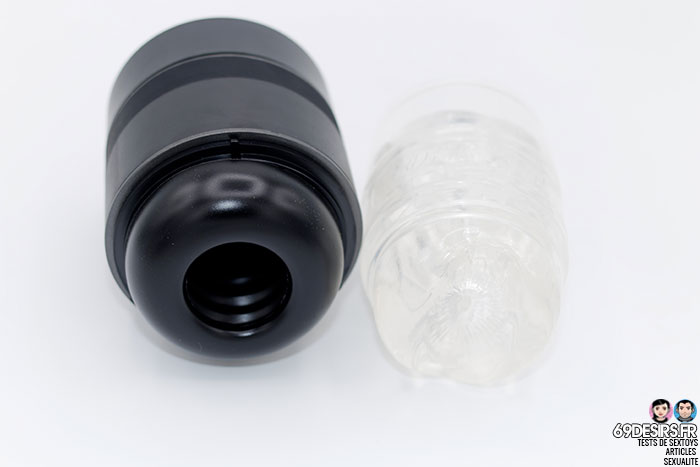 Arcwave Voy final thoughts
To conclude, Arcwave offers us here a product that goes against its habits. Here, we have no motor, nor button, it is a very classic masturbator in a sense. We could compare it to a Fleshlight Quickshot, but bigger, with a silicone sleeve and especially the possibility to get a more or less tight sleeve, with a good stimulation on the back and forth. Following my tests, I find that it is more adapted to a slow masturbation, on the duration, to play with the phase of edging. Because on a more energetic session, with fast back and forth, I found that we obtained a kind of saturation of the glans, a bit like vibrations on a clitoris which comes to numb it. So it's clearly a masturbator that allows you to play with your penis, to take your time in order to reach the point of no return!
Is it perfect? No, the Arcwave Voy is not! The cleaning part of the sleeve (to remove and put it back in place) is not practical and the silicone marks quite easily. Apart from that, it is indeed a very good product and a nice advance from Arcwave in penile pleasure. The main difference is the possibility to apply pressure on 8 levels, which really adds something compared to a more classic sleeve. Will you give it a try? You tell us! But in the end, this Arcwave Voy is a success, for sure.
Pros
A complete and classy packaging
Voy's all-purpose design
Easy to use
Perfect for the "Edging & Milking" part
Stimulating (without motor)
A silicone sleeve
You can feel the internal ridges
You can really play with the pressure exerted
An open or very tight sleeve on demand
Cons
Removing and reinstalling the sleeve
The silicone material that marks easily
The ring that works by notch (but it is not a defect)
Lacks a bit of ergonomics for the grip
Consumes more lubricant than TPE/TPR
Summary
Reviewer
Review Date
Reviewed Item
Author Rating





Product Name