The Rosebuds butt plug is ultra known! Each time we talk about the choice of an anal plug, the Rosebuds often comes back in the choices! It has almost become a type of butt plug, when in reality, it is a French brand of butt plugs! It is thus the continuation of the series of reviews on more than ten butt plugs that I present to you with the Rosebuds butt plug Medium! Indeed, I started this series with the help of our partner espaceplaisir with a first model, the Dream anal plug from Hidden Eden! Then, I continued with the Fun Factory Bootie, a small butt plug to start.
Afterwards, we proposed you the review of the Icicles butt plug n°78. And to finish, the last review to date was the Rich R19 butt plug! Here, the RoseBuds butt plug that I'm going to present you is the basic plug, the most appreciated model I guess. So here is our review of the RoseBuds butt plug !
Rosebuds butt plug packaging
The Rosebuds Medium butt plug came to us in a tube shaped box! I must say it's not common, but I really like the idea. We end up with a small packaging, transportable, nice and which encloses the butt plug as well as a black velvet storage pouch packed in a plastic pocket. Then, we also have a small booklet that comes with it. On this tube, very solid, we find the Rosebuds logo, a crown, as well as some information that can be seen on a sticker underneath the tube. I really like this packaging, because it takes up very little space and it's a change from the rectangular boxes you see everywhere!
Rosebuds Butt plug physical details
It's really a nice jewel! Even if I'm not a fan of the color of the Swarovski crystal jewel, it's really a nice butt plug ! Its polished steel surface gives it a very nice shine! The brake is well made and has the same diameter as the butt plug at its maximum. On the stem of the brake, we can find the mention RoseBuds, engraved in the steel. Its ogive shape is perfect! It is once again a very nice butt plug and we can see right away that the quality is there! Moreover, we can also see that the crystal reflects according to the light, for sure, it is not a fake jewel.
Butt plug size
The Rosebuds butt plug is a model that is not very big. For my part, I would even say that it is a small model, even in medium. Indeed, this one measures 7.5 cm (2.95′) in total length for an insertion length of 6.1 cm (2.40′). Its diameter is 3 cm (1.18′), whether it is the brake or the rest of the butt plug body. However, you also have a small and a large version! In the small version, the Swarovski jewel measures only 1.6 cm (0.62′) for a total length of 5.5 cm (2.16′) and an insertable length of 4.3 cm (1.69′) while the diameter is 2.5 cm (0.98′). For the large version, the jewel measures 2.7 cm (1.06′), but its total length is 8.5 cm (3.34′) for an insertion length of 7.5 cm (2.95′). And at the level of the diameter, this one is 3,5 cm (1.37′)!
Other details
One of the strong points of the RoseBuds brand is to offer a large number of choices in terms of colors! Indeed, you can choose which color will be your 2.7 cm (1.06′) Swarovski jewel! You can choose crystal, yellow (the version we received), pink, green, black, blue, red, silver or gold! This still leaves you a wide choice to find the version you like the most.
Its weight is 170 grams in medium version, but as I mentioned, you also have a small and large version. The small version weighs 93 grams, while the large version weighs 310 grams!
Rosebuds butt plug materials
No doubt, this Rosebuds butt plug is well made with 303 stainless steel, quite close to 304 stainless steel! The 303 allows to be easily machined, hence the choice of this version. I can tell you that the steel is really good quality, it looks like it is polished, soft, it glides perfectly! In short, you can feel that we really have quality! It must be said that RoseBuds butt plugs are made in France, in the Alps in Haute-Savoie, that's also French quality!
Then, we have a jewel made with a multifaceted Swarovski stone that changes from plastic, glass or other fake jewelry! Here, we can see that we have a real stone and that gives immediately a more luxurious side to the product! Honestly, nothing to say about the chosen materials, it's quality and it's nice to know that we have a butt plug made in France!
Rosebuds butt plug use
To use a butt plug in your buttocks, you must already have buttocks! Good news, every human being on the planet has one! This means that everyone can use an anal butt plug! Yes, it's not just for female butts! Asses with prostate can also enjoy it! It's simply universal an anal butt plug! But let's take a look at the tips for use.
What can be done with this butt plug?
Even though the Rosebuds butt plug is beautiful, that's no reason to watch it for hours! I can tell you that it will be more efficient by being in your buttocks. Using a butt plug can allow several things. First of all, I think it's a great way to prepare for sodomy! Indeed, nobody wants to undergo a painful sodomy! The butt plug allows to relax a little bit the muscles of the anus and the fact that it is made of steel can also play in your favor! Why is that? Simply because it can be heated or cooled for temperature play! Plus, the warmth can help your muscles relax!
It is also possible to put a butt plug in the buttocks to look nice! Yes, it's really nice a butt with a plug that ends with a jewel! Then, one can also use it during a vaginal penetration to bring a double stimulation! And even the person who penetrates will be able to use it to stimulate his ass at the same time!
Which lubricant should I choose?
The good thing about stainless steel is that you can use the wrong lubricant! Whether it's a water, silicone, oil or plant-based lubricant, anything is possible! For my part, I don't use any lubricant for this type of butt plug. Indeed, I find that it already slides very well, especially this one that fits very easily in the buttocks. It's up to you to see if you need it, you won't get bad points if you use a small amount of lubricant.
How do I clean it?
When you're done playing with it, you'll need to clean it. For this butt plug, I simply rinse it with clear water by rubbing a little on it, but delicately. Then, I use an efficient sextoys cleaner like Sliquid Shine before rinsing it again. Then, I air dry it and rub it a little with a non-abrasive cloth. There is nothing difficult to take care of your Rosebuds butt plug!
Rosebuds butt plug efficiency
As I told you, Rosebuds is one of the top tenors in the field! It's a bit like Frigidaire, which was originally a General Motors brand and has become the term that defines a refrigerator. Indeed, sometimes I can read on the networks and on the Internet: Here, I'm going to buy myself a rosebud, to say a "butt plug"! Does this world-renowned brand offer good butt plugs? I won't hide it from you, this Rosebuds Medium butt plug is a very good butt plug! Here is what I think about it and my feedback on its use!
It slides, like butter
When I inserted the Rosebuds butt plug in my butt, I can tell you that it's been a long time since I've seen a butt plug that slides so well in my butt! That's when you realize the quality of the stainless steel used. I didn't need any preparation, lubricant, or anything! It's like putting a coin in an arcade terminal slot! I must admit that I'm surprised, because you can feel the difference with other butt plugs that use steel, metal or other materials. Here, I had the impression that the butt plug went in like butter.
A pleasure to wear
Once it is inserted, it is perfect! It fits perfectly in the anus, the brake comes between the two buttocks and does not hinder in any way. It can be used sitting, standing, squatting, in all circumstances, it holds in place and does not disturb in any way. It is one of the butt plugs that I find comfortable in this area! It's a pleasure, because sometimes a butt plug can be a bit awkward to wear over time or depending on the activities.
Here, the Rosebuds is discreet and almost imperceptible. On the other hand, the brake is at the same diameter as the butt plug at the top and it's quite strange. Indeed, when I was sitting with it, I sometimes had the impression that the butt plug was going completely into my anus. However, every time I checked and the brake was still there doing its job. It shows that it fits perfectly until I can't feel it anymore and it's very nice, I think.
The Rosebuds butt plug and its stimulation
Quality steel, comfortable, all that was missing was the stimulation it offers and here too, it's a success! This butt plug is so discreet that we sometimes forget that we wear it, on the other hand, we feel well that it is there as soon as we play with it! Indeed, we have here a small butt plug, but with a certain weight, which is very pleasant in terms of balance. I really like the feeling I get by simply wearing it. As soon as I start playing with my sphincter muscles, I can feel the pressure gently on my prostate! I must say that it's been a long time since I've tested such a high quality butt plug! It's true that Rosebuds offers very good butt plugs, I'm now certain of it!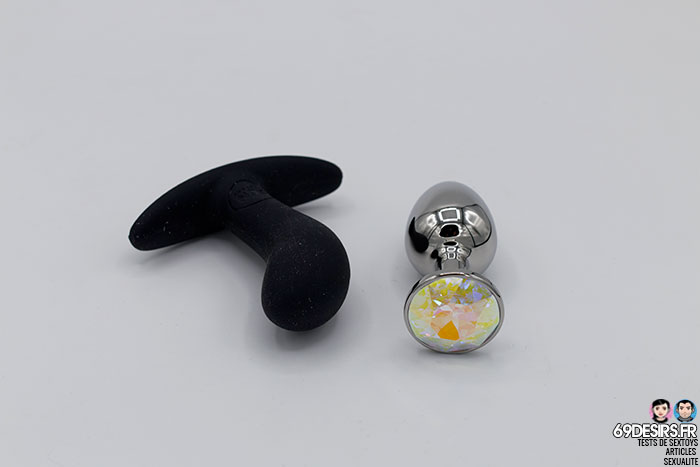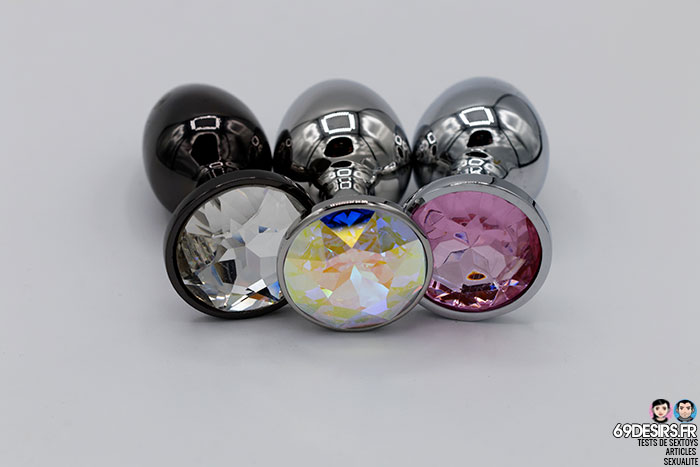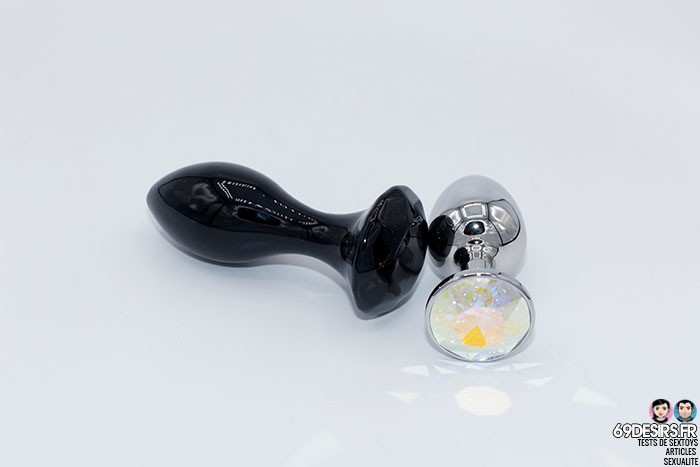 Rosebuds butt plug final thoughts
In the end, Rosebuds deserves its title! It's an excellent butt plug, balanced, nice, qualitative, with the right weight and on top of that, very comfortable and stimulating. We have a nice cover, a nice packaging, what more could we ask for? I simply have no reproach to make to this butt plug, if it is not the color of the Swarovski jewel, but that is a detail! And it's also the random side of the sextoys reviews ! You never know what color you will receive from the next toy that comes out! In short, if you always hesitated to acquire a Rosebuds butt plug, you can let yourself be tempted without any worry! It's really a great butt plug!
Pros
Storage pocket
The quality of stainless steel
Really easy to insert
Perfect for beginners and more
A real Swarovski jewel
The weight, its shape, its stimulation
Really comfortable
Cons
I want to try a bigger one now!
Summary
Reviewer
Review Date
Reviewed Item
Rosebuds Medium Butt Plug
Author Rating





Product Name