Here it is, finally, I speak, of course, about the Autoblow AI blowjob machine, a new model that replaces the previous one with novelties that look pretty good on paper. Indeed, there was the Autoblow 2 that I reviewed at the time (in French website), then a slightly different version of the same model. But now, a new model has been rethinks about the blowjob masturbator concept with the Autoblow AI Blowjob Machine.
For those who know this AI term, you understand that it was a masturbator with artificial intelligence. Is it a masturbator that can act on its own? Or ss there really an A.I inside this new Autoblow? I'm sure this intrigues you, because myself, I was pretty skeptical about the announcement of this AI model. I will offer you a complete review of the Autoblow AI to tell you what I think, before, during and after use!
Autoblow AI packaging
As on the Autoblow 2, the Autoblow AI packaging remains minimalist. This is a big cardboard box with a lot of indications on it. A sort of technology showcase to show the masturbator and its ability on all cardboard sides. Once we open this one, we discover quite a few things. You can see, of course, the Autoblow AI blowjob machine, maintained by two plastic wedges and itself surrounded by flexible plastic.
Further, we can also discover the power supply. You also have a small booklet to help you use the masturbator without any problem. And last thing, there is a kind of plastic wand that makes it easier to put the sleeve back inside the product. It's easier to use than to do it by hand.
Autoblow AI physical details
Frankly, when I saw what the Autoblow AI looked like, I wondered what had gone through the product managers heads. Sincerely, it does look like a Next-Gen video game console to masturbate? A kind of kinky Xbox 360! It's really disturbing and as much to say it, it's not really sexy. At the same time, I'm used to automatic masturbators, they are often very high-tech, with little resemblance to humans, but especially manual masturbators that rely on this point. Here, it looks like a video game console, no more, no less, with a hole that keeps a mouth-shaped sleeve in place.
So we find the buttons on the front, with an on / off button and control buttons. You can also see the sleeve, well inserted into the masturbator. And last point, a kind of OLED screen indicating the power level of the current stimulation mode.
Autoblow AI size
Now let's talk about the size of this blowjob machine! Already, Autoblow AI looked like a white Xbox 360, that's one thing. But it's almost as big as a real Xbox 360. Well, I exaggerate a little, but not that much in the end. Indeed, this high-tech masturbator measures 22 cm total length (8.66′) for 21.5 cm insertable (8.46′). Yes, it's a little strange, but there is little room between the end of the sleeve and the plastic shape of the Autoblow AI. At the width level, it is necessary to count 18 cm (7.08′) and for its height, one is between 10 and 12 cm (3.93′ to 4.72′). So it's a beautiful beast.
The sleeve diameter, by default, is 1 cm (0.39′), it is a hole in the mouth. But it is a sleeve that stretches all the same, to be compatible with all sizes penis. Finally, of all sizes, it will be necessary to verify it. As you will see, the sleeve canal is not so imposing as that. For my part, I think we can fit a penis of 5 to 6 cm (1.96′ to 2.36′) in maximum diameter. And that's the maximum in my opinion.
Other details about the masturbator
To give you a little more information about this masturbator, as you can see, it is mainly blue and white with a little silvery touch. The sleeve is flesh-colored or beige as indicated on the manufacturer's website. But know that there are other sleeves available. Of course, not free delivered with it. These are extra sleeves. The default is the oral sleeve, but there is also a vaginal and anal sleeve. Similarly, you also have these sleeves in beige version as here or in brown.



Autoblow AI materials
For this masturbator, we have the right to two different materials for its realization. In fact, a little more, because we must also count the materials used for the engine, but I will not go that far. Be aware that the entire outer part is made of ABS plastic. It's a tough, quality ABS plastic that does not contain phthalates or latex. It is a healthy material for the body.
For the other part, that is to say, the inner sleeve, it is a material called "Artificial Skin". In reality, it is a kind of soft silicone, which resembles what is found on masturbators today to give a skin effect to the product. True, it never really looks like real skin, but it's close to it. It's a soft texture, but not too much either. So it is very correct on the chosen materials. I admit that I am surprised to find silicone here, but why not, it works too!
Autoblow AI use

A masturbator with artificial intelligence inside, it must be complicated to use! This is a bit of what we can say by discovering the Autoblow AI capabilities. But in reality, it's quite simple to use. It's not because there is a microchip inside and four sensors present to control the action, that it complicates things.
Be aware, however, before you go further, you have to know that the artificial intelligence present inside has studied about 1000 hours of blowjob video to create the modes and contact points with the penis on more than 250 zones. Yes, it is an I.A that was programmed to analyze the head, hand, mouth and others movements in video to reconstruct the most realistic, habitual movements of a blowjob and propose us 10 really different modes. We will see all this in details!
How to charge it?
Nothing special, since here the Autoblow AI is powered directly to a power outlet! Yes, you do not need to charge it for hours, just plug it and use it directly! It's a bit like some wands! Notably, this is the case with the Doxy Die Cast, Doxy Number 3, the Europe Magic Wand or the Fairy Black Exceed! The power is on 110 – 240 volts and the power cable is 3 meters (118′). It's a fair one, but it's enough for most situations! The manufacturer has announced that the engine life is scheduled for more than 500 hours of use, which leaves much to have fun for a long time.
Howto use it?
To use it, it's simple. On the other hand, how to use it easily is something else. It can be used standing up, holding the Autoblow AI in place, inserted on the penis. It's not the best. It is also possible to use it while sitting, keeping the masturbator vertically. We can also block it between the thighs, in short, you understand, it will need some tests to realize it and we'll see that later in this review.
How to handle it?
To use this intelligent masturbator, if we can say so, it will need to be connected to AC power. Then, it will need to switch the button "On / Off" to start it. But also to stop it before unplugging it, it makes sense. Then you have four buttons at your disposal. The first is the "Play" button that allows you to launch the first mode. By pressing again, you can cycle through the different modes.
After, you have the "-" button which reduces the stimulation intensity, while the "+" button takes care of increasing the intensity level. Finally, you have a "pause" button, which allows you to pause the Autoblow AI at any time. I'll talk a little later about this button, nice enough when we know how to use it. In short, nothing to complicate in the end.
What functions and modes are available?
So here's the moment to tell you more about the specifics of this Autoblow AI! Indeed, it must be known that it has 10 different intensity levels. I'm talking about the intensity of the blowjob performed by the Autoblow AI. Then you have 10 blowjob modes! And here it is really well done. I was skeptical at first about the available modes, created from the I.A analysis, but I must admit that the modes are really not bad at all, or even very good. But that, I'll talk about it later on the efficiency part. I will still list the 10 modes with a stimulation diagram proposed to give you a more precise idea of ​​them.
Full Stroke
Intense Edge
Fast Edge
Teasing Slow Stroke
Top Stroke
Bottom Stroke
Top & Bottom Stroke
Masterstroke 1
Masterstroke 2
Full A.I. Experience
I let you imagine what each mode corresponds to! I would echo each mode a little further in the review to tell you what I think of each mode offered on the Autoblow AI! And there is to say!

Which lube to use with it?
With a silicone sleeve, we take no risk! In fact, with a masturbator, it's simple, we use each time a water-based lubricant to avoid damaging the sleeve and the material. So you can take the lubricant you want, but if you want some advice, for my part, I really like the Sliquid H20. Here, it is a lubricant for masturbation, so you can also use the Pussy Juicy Onatsuyu, the Motsutoys Tyo lubricant or the Peace from Rends.
How to clean it?
This is the least practical part in my opinion. Indeed, to clean the sleeve, it must be taken out of the Autoblow AI and especially afterwards, put it back. Sincerely, I get there without problems, but for a novice, we must be careful to put it back correctly, as indicated in the small booklet that accompanies the masturbator. Once the sleeve is removed, you can put it in warm water with a little soap. Clean the inside with a small brush to remove residue and voila!
Now, let's talk more about Autoblow AI! I have reviewed this new masturbator, including the 10 modes available to give you a full feedback of what it can offer you. I used the masturbator alone. Here is my feedback on the ​​Autoblow AI blowjob machine!
The look
I'll start with this point, I'm talking about the Autoblow AI look. Frankly, the design is too high-tech, too "computerized", too "machine", so to speak. I feel like I'm being sucked by an Xbox 360! It's not very sexy. So yes, the sleeve shows a mouth on it, not too badly done, but still! I hold a game console in the hands to suck me. We saw better in this field.
Handiness
It was obvious from seeing the shape and weight of the ​​Autoblow AI! I speak about handling that isn't practical. In fact, the masturbator has on one side its motor and on the other the sleeve. And this difference in weight is felt when you hold it in your hand. You can't hold it in one hand, in any case, it's not at all practical. The grip is correct, without being good. It's really not handy to use.
Attention, we can still use it without worry. It's just that the ergonomics could have been better. The buttons are easily accessible, it works well, but the grip could be improved. A tube shape is more practical than a rectangular shape like a game console.
I found that it was simpler, when used alone, to hold against you in a sitting position, especially against your stomach, well pressed against the pubis. It can also be held by hand well plated. To move it back and forth is not very interesting. It is more stimulating when you let the machine work!
The masturbator noise
There is one point I want to mention, it's the Autoblow AI sound. It is reported to be half as noisy as Autoblow 2, but is it the case? I will say yes and no. On the noise generated by the engine, I agree, there is a noticeable improvement. By cons, now, with the power it delivers, its engine heats and aeration starts easily. For my part, I feel that my Playstation 4 serves me as a masturbator. There are some cooling fans that make some noise that are not so great.
For those who have a Playstation 3 or 4, FAT versions, you will understand what I'm referring to when I talk about "blower" or "airplane taking off". It must be done. For my part, it's okay, I do not care a bit, but you had to know that it is not a discreet masturbator.
The sleeve size
I could read that the Autoblow AI sleeve could fit all penis sizes. Yes and no. Finally say that for me, I had a little trouble to penetrate my penis inside. The hole is small enough, narrow and there is little room to insert your penis along the sleeve length. I often felt a narrower area that did not facilitate passage. I had to go several times to have my dick fully inside and especially well lied in the sleeve.
This is an important point to insert your penis properly in the sleeve to use the most of the stimulation offered by the Autoblow AI. My penis is not huge either, it must be between 5 and 6 cm wide (1.96 to 2.36′) and 15/16 cm long (5.90 to 6.29′). I say must be, because it's been a while since I have not calculated my dick size and it also depends on the moments.
The stimulation modes
So here is the moment that interests me the most in this review, tell you what I think of each mode presents on the Autoblow AI. As a reminder, there are 10 modes, including 9 that are programmed and 1 more intelligent mode. Regarding the latter, here is what I can tell you! You had to know, anyway, that there are some rather mild modes, others rather brutal, like a good big blowjob, there is something to play with!
Full Stroke mode
The first is the "Full Stroke" mode that sucks your cock all the way through the sleeve, without any intensity variation. This is a nice mode, which looks like a handjob on all penis length, but not surprising. It's a bit like it's a constant mode.
Intense Edge mode
There, we begin to find modes that are not usual. Indeed, the "Intense Edge" mode is the first "edging" mode of the Autoblow AI. If you do not know what is edging, it's jerking off a penis (or stimulating it) and stopping all stimulation at once, before starting again.
This "Intense Edge" mode performs a "Full Stroke" for 8 seconds, before stopping any activity for 3 seconds. Then, it resumes its activity. It's really a nice mode, to start quietly with edging.
Fast Edge mode
Here is the same concept as the previous mode, except that here, the "Full Stroke" part lasts for 20 seconds, before stopping its activity for 5 seconds. Then it resumes its work. Here is a mode that works well, which makes the fun rise easily, but not too fast and really offers a satisfactory "Edge" mode!
Teasing slow stroke
For this fourth mode, we begin to vary the speed, doing quick and slow back and forth. It's a mix of both, alternating from one to the other. Not a bad mode at all, but it's not the one I preferred.
Top Stroke
Here is a preset that does not suit me, but may however be suitable for you. Indeed, this mode performs back and forth on the upper part of the sleeve (close to the mouth), but not on the entire length. In fact, it is a very good mode for those who have a small penis, because the penis head can be more easily stimulated. But for me, this mode is especially stimulating the bottom of the shaft and it is not what is better.
Bottom Stroke mode
I like it more because it's the opposite of the "Top Stroke" mode. Instead of doing a back-and-forth stimulation on the upper part of the sleeve, here it is the lower part of it that is stimulated. This is the part where the penis head is, in any case, for those who have a long dick. It is therefore a very good mode for those who have a long penis. In my case, this mode stimulates much more the penis head than the rest and I must say that it works well.
Top & Bottom Stroke
Here, you are surely smart enough to understand what this mode is doing. It is an alternation between the "Top Stroke" and "Bottom Stroke". Again, this is not the mode that I prefer, although I must admit that it is not bad at all. It's good, but not one of my favorite ones.
"Masterstroke One" mode
There, we begin to get into the more stuffy modes. Indeed, this mode is a multi-mode experience, which combines the "Top Stroke", "Bottom Stroke" and "Full Stroke" modes. So it's a more responsive, more surprising, more unpredictable mode that works well. A mode that I particularly like.
"Masterstroke Two" mode
Second mode interesting and second mode of the "Masterstroke" range, it takes the first "Masterstroke" mode, but adding speed variation of back and forth movement. It is even more unpredictable than the first "Masterstroke" mode and therefore, I prefer even more to the first "Masterstroke" mode.
"Full A.I Experience" mode
So this is the mode that I prefer, although I also like the "Masterstroke 1 and 2" mode, the Intense Edge or Fast Edge mode. Here is a little crazy mode, one that provides nothing and combines all the techniques of the previous modes and the speed variations for a blowjob, each time different. It performs different ways of sucking, with different speeds and different stimulation type. In short, it is the intelligent mode, so to speak.
Engine blocking
Having used the Autoblow AI several times, I noticed a few things. For example, and this is my case, depending on the penis size, especially in width, the engine can stop working. This is not a defect, but a logical operating system thing. If this happens to you, I advise you to increase the stimulation intensity. For my part, I have to put at least level 8 on some modes so it can continue to move. Thus, it does not hang in all circumstances. So think of increasing the intensity if it is your case.
The power of the machine
Autoblow AI is indicated as being three times more powerful than the previous model. So, I do not know if it is the case, but clearly, we feel the difference between Autoblow 2 and the Autoblow AI. The latter is more powerful, but is it really three times more the case than on the first Autoblow? I do not know. In any case, it is powerful enough to stimulate the penis effectively.
The "Pause" button
It may be a button that does not seem to serve much like that, and yet it's a great feature. At first you might think it's a button that pauses the masturbator, when you get a phone call, or someone rings at your doorbell.
In fact, it's the "Edging" button. Both "Intense Edge" and "Fast Edge" use the pause button to play with your penis, so here, in any mode, you can press this button to pause the stimulation and restart it at the end of a few seconds, according to your will. And that's really good. It would be even better with a wireless remote control, so that another person can control the modes and intensity changes, but also, have fun with the "Pause" button.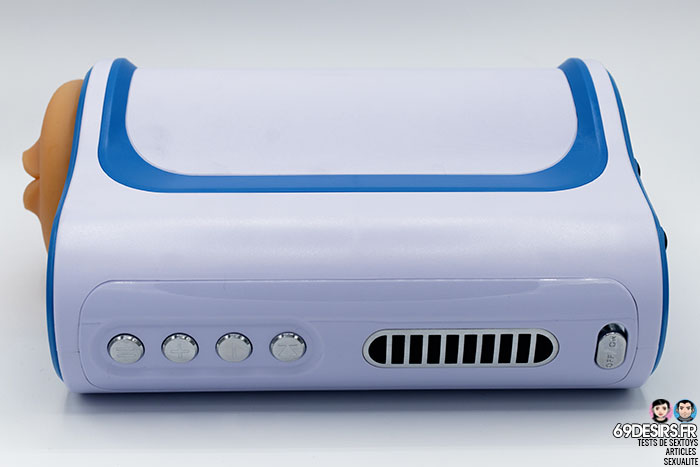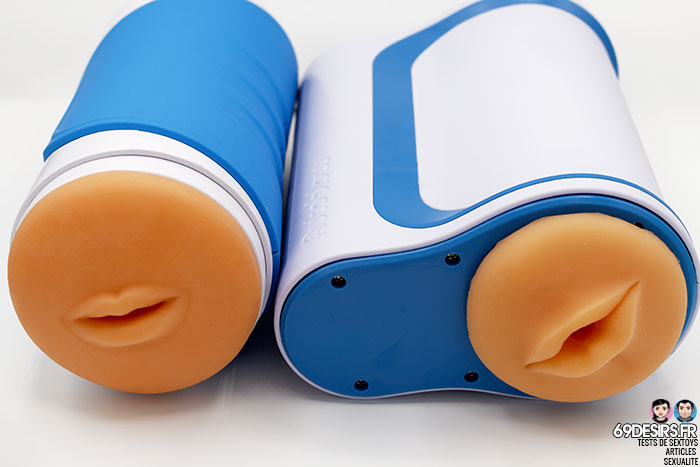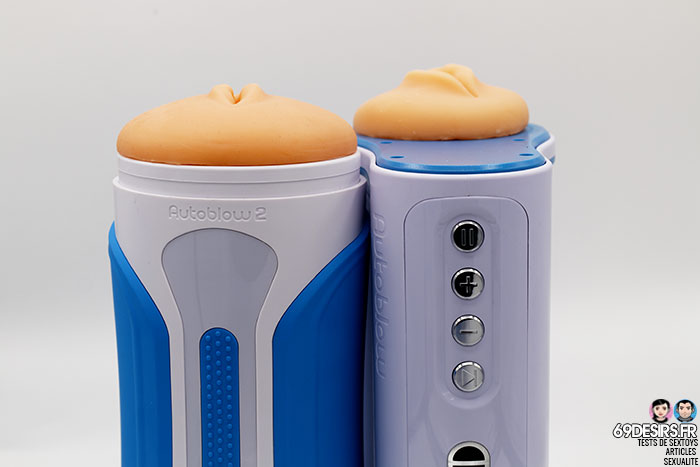 Autoblow AI final thoughts

To conclude, I must say that the Autoblow AI is really not bad at all! I was really skeptical, because anything new can be a little scary. One always wonders if it is effective and not only on the marketing side, but on the user side. The Autoblow AI is a nice evolution of the Autoblow 2, more successful, more stimulating, more innovative, even if the ergonomics and handling could be better, this new model succeeds in fulfilling its functions.
Certainly, it looks like a video game console, not really sexy, but it is able to offer a very good stimulation, varied and sometimes even surprising. I was rather surprised in this area, while I reviewed sex toys and masturbators for already several years. Clearly, it is a sex toy that will make you enjoy, quickly or less, depending on how you use it. There is still some progress to be made, but the Autoblow AI is much more successful than the Autoblow 2 in its day!
Pros
10 well-designed blowjob modes
The "Pause" button to have fun with the edging
Really good modes
It stimulates very well in the end
10 intensity levels
A power supply directly plugged on the wall
We can change the sleeve (anal and vaginal)
Cons
A video game console look
Need to Improved the Autoblow AI handle
We can't grab the sleeve as before
The Autoblow AI overall size
The fact that it blows air during use
Some very large penises will have difficulty using them
Summary
Reviewer
Review Date
Reviewed Item
Author Rating





Product Name