New on the website, here is the review of the Blush Novelties Avant D14 dildo! Why am I talking about novelties? Simply because it is the first product of the Blush Novelties brand that we are reviewing on our website! I had already seen several dildos of the brand, without testing one, even if I have to say that I find the Avant range of Blush Novelties very interesting! There are many models of dildos, colorful and with different shapes! There's something for every taste! It's when I was looking for new sextoys for G spot that I saw this Blush Novelties Avant D14 dildo and asked my partner to send it to us in order to propose you a review of it.
It's a done deal, since the dildo is standing right next to me while I'm writing the review! So we'll see if we're dealing with a good dildo or not. Blush Novelties offers products for moderate budgets, but the dildos have to be of good quality. It's time for us to discover Blush Novelties so here is our review of the Avant D14 dildo !
Blush Novelties Avant D14 packaging
We start with the box of the dildo, quite nice from the outside by the way. It is a white box, cardboard and rather rigid. We can see that the front part has a plasticized area to see the dildo without opening the box. On the edge of the box, we can see information about this dildo, in the form of thumbnails.
On the front it also reads "Platinum cured silicone dildo", which suggests that it should not catch dust. On the sides of the box, we also have the colors of the dildo that are repeated, with purple, yellow and blue. Once the box is opened by drawer effect, we discover the dildo, installed in a plastic mold. So there is no manual, lubricant sample or even a storage pouch.
Blush Novelties Avant D14 physical details
We end up with a colored dildo, which uses parma, sky blue and a little yellow! That makes me think of other colored dildos like the Fun With Flags, the Thick Rick or the Long Dong of Pride Dildo! However, the shape differs a lot between the Avant D14 dildo and the ones I just mentioned. Already, it is a handcrafted dildo! For my part, I suppose that it was hand carved, to form the mold, then this mold is used to make other copies of the same model!
But yes, it is a handcrafted dildo that has a curved shape, with a flat and slightly rounded head. It's the perfect kind of head for the G spot! Moreover, it makes me think of the Lelo Ella, the Laid D2 or the Le Wand Arch dildo! We can also see that the shaft has particular curves leading to changes in diameter over the length. Its base is quite wide, has a suction cup and will be compatible with the harnesses. I admit that it is rather beautiful, even if I am not a fan of this color scheme, I can't say it is ugly, quite the contrary.
Dildo size
The Avant D14 dildo is not very big, nor very long, it is of medium size. But as this is not enough to allow you to realize its dimensions, we have to give you some information! In terms of its total length, this one measures 15.24 cm (6 inches)! You have 13.33 cm insertable length (or 5.24 inches) with a maximum diameter of 3.5 cm (1.37 inch). But as I like to get to the bottom of things, I have calculated a few extra dimensions to give you!
For its diameter, it is indeed 3.3 cm (1.29 inch) at the widest, but it evolves a lot! Indeed, at its lowest point, it measures 1.9 cm (0.74 inch), while the majority, on the shaft, the diameter will be 3.17 cm (1.24 inch). The suction cup is 6 cm (2.36 inches) in diameter and 1 cm (0.39 inch) thick. Frankly, it is small, not very big, but perfect for beginners looking for a small model!
Other details
As I told you, this dildo is part of a whole range called "Avant"! The model I chose is number 14, but there are many other models! For example, you have the D1 Hot N Cool, the D2 Purple Rain, the D3 Summer Fling, the D5 Sin City or the D16 Purple Haze! And this is only a small part of their collection! For information, the D14 model is called "Heart of Gold"! If the color of the D14 doesn't suit you, you also have the P1 and P2 of the Pride range which has the same shape but with different colors. The first one is in the colors of the rainbow, the second one uses the colors of the transgender flag! And to finish this part, you should also know that this dildo weighs 119 grams, so it's very light, which will be perfect to attach it to a harness!
Blush Novelties Avant D14 materials
You already know it, it's a silicone dildo! At the same time, we only review silicone dildos, at least 95% of the time! This is a high quality platinum silicone! Its texture is soft and slightly satin. Obviously, it is a silicone without latex or phthalate and 100% hypoallergenic! This silicone does not catch dust, this is the advantage of platinum silicone! On the other hand, beware, it is a dildo that has a fairly flexible texture, it is not rigid! It is also quite soft, which is very good to start with and especially for anal use! Let us say that one can go there more frankly than a more rigid silicone dildo!
Blush Novelties Avant D14 use
Now that we've seen the basics about this dildo, let's move on to its use! Once again, a dildo is a very easy to use sextoy, but some dildos are more interesting than others depending on the use we make of them! We are going to see what we can do with it and in which way!
What can be done with it?
With a dildo, you can do a lot of things! But it sometimes depends on its shape, design and several parameters. Here, one thing is sure, you can use it to stimulate the G-spot! Its head is really sculpted for that. We can also use it to stimulate the vaginal or anal walls and even the P-spot! In any case, one thing is also sure, it can be used for pegging and strap-on practice, since it has a base compatible with a harness. It can be used with the Theo and Joque harnesses from SpareParts. But also other models such as the Bella, Sasha, Tomboi, the vegan Fun Factory harness or the Lovehoney panty harness! You will have to check that the O-ring of your harness is big enough to accept the D14 dildo!
Which lubricant to use with?
That's the 100-point question! As usual, we don't take the headache! When you have a silicone product, you must use water-based lubricant to avoid mixing materials. As for the lubricant to use, it will also depend on the activity you are going to do with this dildo. Why with the Sliquid Organics Natural or Satin, the Pjur Aqua or the Pjur Back Door Aqua!
How to clean the dildo?
To clean this dildo, you have several possibilities! According to Blush Novelties, it would be possible to boil the dildo in water to sterilize it. I confess that I prefer to do this for steel sextoys mainly and for the others, I use Puresan. Otherwise, most of the time, I pass the dildo under warm water with a little soap. Or I use a sextoy cleaner. This is the easiest and fastest way.
Blush Novelties Avant D14 efficiency
Now, let's get down to business! We're going to talk to you about its efficiency in action! To do so, I tried this dildo in anal, alone, quiet to give you my feedback on it! Then, we used it with Kitty, with me at the controls of the dildo! That way, you will have as much feedback in vaginal as in anal use! What we can tell you before going any further is that this is clearly a dildo that will be suitable for beginners, who are looking for a first dildo, not intimidating and rather well made for anal use and with a harness. But it's not bad for vaginal use either! In short, we will tell you everything in detail! Here is our opinion on the Blush Novelties Avant D14 dildo!
Insertion and handling
Let's start with the first thing that will happen between our body and the dildo, that is, the insertion of the dildo. First thing, the insertion will not be as obvious in the vagina as in your buttocks. For the insertion in the vagina, it's child's play! If the vagina is minimally lubricated, the head and shaft of the dildo will be easy to insert. For an anal penetration, I will speak to you about it below, it is less obvious. For the catch in hand, same thing, with its feather weight, its small size and the presence of a suction cup, it is enough to catch this last one in the hand palm and to make back and forth, nothing easier!
In vaginal penetration and G-spot stimulation
As I said, it's a small dildo. I tried it with Kitty during the aperitif, the insertion was really simple, you can easily insert it, it fits very well inside, but it must be said, it fills only very little. For the G-spot, the shape of the dildo makes it easy to find, but you can't really put pressure on it. The shaft is curved, but more importantly, the density of the dildo is too low to apply pressure. This is not a Pure Wand, the Hoop or a wooden G-spot stimulator, it is very low density silicone! On the other hand, if you are looking for a dildo to stimulate the G-spot in a very soft way and without strong pressure, it is a dildo that will be up to the task. Mine of nothing, Kitty was still very wet.
On the other hand, what is good is that we can use it in a straightforward way! I didn't go to death on Kitty! Whether it was fast, slow, at the entrance of the vagina or deeper, at no time did it slip out of my hands and at no time did Kitty indicate any discomfort! Since it is also small and discreet, you can couple this dildo to a clitoral stimulator! For example the Doxy Die Cast 3R, a Womanizer Starlet 2 or the We-Vibe Tango!
Quality of the suction cup
For the suction cup, it holds very well, whether on a horizontal or vertical surface. I fixed it to the bathroom wall and 10 minutes later, the dildo was still in place. When I went back and forth with my buttocks, same thing, it didn't come off. And to take it off, it comes off quite well. It's a good suction cup, it's fun, because it's not the case for all dildos.
Feedback in anal use
To go further in this review, I used this dildo in anal, alone. You can't test all the dildos you receive in all situations either. But before telling you about my opinion in anal, know that it will be perfect for pegging and especially for beginners. Already, because it is rather small, thin and not very dense. It folds easily, it's soft, everything you need to start with a small dildo when it's your first time.
For example, for pegging, the fact that it is so soft, light and small allows you to take your partner without worrying about hurting him, because here you can do what you want, he always fits very well! For it to be painful or in any case, uncomfortable, you really have to want it! On my side, when I stuck it to the bathroom wall to try it, I tested it at best, going slowly then more strongly or quickly and at no time I felt it go to a place that it shouldn't!
Returning to the subject of anal stimulation, this Blush Novelties dildo manages to touch my prostate, particularly by its shape and flat head, but it gently stimulates it. It's not like with a rigid silicone dildo, at least not as rigid, where you can manage to put pressure on the prostate with the glans or part of the shaft.
There, even when I try to squeeze my buttocks and work on my sphincters, I can't really put pressure on my prostate. Every back and forth caresses the prostate, but just caresses it. Be careful, as the dildo is quite soft, for insertion, you'll have to be careful not to bend the dildo too much. On the other hand, once inserted, you can go without any problem! The suction cup works very well and I can totally use it without hands!
Blush Novelties Avant D14 final thoughts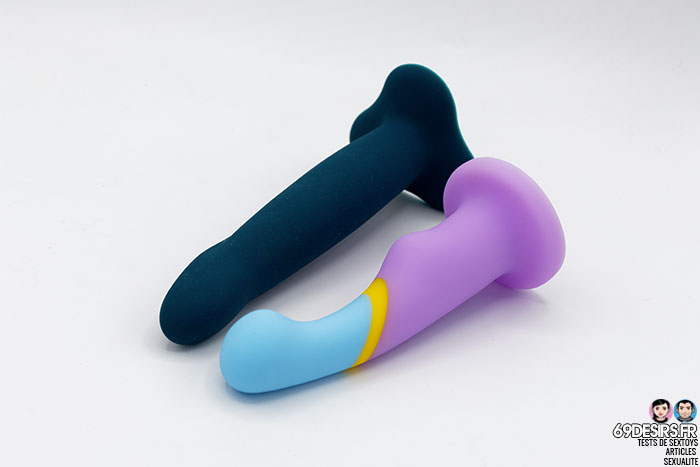 Yes, this Blush Novelties Avant D14 dildo is not an extraordinary dildo! It's not very big, doesn't really allow to put pressure on the G or P spot, but it still has good points, especially for people looking for a simple, soft, flexible and pegging-friendly dildo ! It is true that I find it a little small, besides, when I discovered it the first time, I saw it bigger than that. But for its price, it is difficult to find or to do better in this field! We can say that it is really affordable!
For me, it is really a dildo for couple, a first dildo, or even a second one, which will be able to make you discover subtly the stimulation of the G, P spot and especially, to use it in a harness without risk of hurting your partner! Sometimes, depending on the length, the shape or the diameter, you have to be used to it and experienced, but there, you can use it like a brute, without any risk! In short, a good product, not suitable for everyone, that's for sure, but you need one for everyone! Beginners will be delighted to find a dildo like this one at this price!
Pros
A very flexible silicone
Does not attract dust
Compatible with harnesses
Suction cup that hangs well
Very affordable
Gentle stimulation of the G and P spot
Very good to start
Cons
A little small for the regulars
A little too soft depending on the situation
Not much pressure possible for the P and G spot
Summary
Reviewer
Review Date
Reviewed Item
Blush Novelties Avant D14
Author Rating





Product Name
Blush Novelties Avant D14