Following my article on espaceplaisir's blog, I received the Fleshlight Dillion Harper Crush in order to review it on the website! Indeed, I proposed 10 products for Christmas, mostly products that we tested on the website but this Fleshlight Dillion Harper Crush is one of the products that I hadn't reviewed yet! However, I knew it was a very good model and I will finally be able to check it in this review!
I don't really know the actress Dillion Harper, I just know that she is an American actress, who looks quite young, but I don't really know much more. So this will be the opportunity to discover her a little through this review! Of course, I've already reviewed a lot of Fleshlight sex toys, especially masturbators. Recently, I had the opportunity to review the Mia Malkova Lvl Up, the Lisa Ann Savage or the Adriana Chechik Empress model! But this time, it's the turn of the Fleshlight Dillion Harper Crush to be reviewed!
Fleshlight Dillion Harper Crush packaging
I reviewed a Fleshlight masturbator a few weeks ago, you can imagine that the box hasn't changed in the meantime! It's still a cardboard and rectangular, white and grey box with a windowed area to see the masturbator before opening it. On one side you can see the actress Dillion Harper holding her own masturbator, but also, on the slice, information about the product and the porn actress! You can read her measurements and other interesting information.
On the other slice, it is the sleeve that is uncovered and in the form of a cut! This already allows us to imagine what the sleeve will do on our penis. At the top of the box, we still have the Fleshlight seals and good news, the closing system of the box is less boring than before, there are no more small tabs to put back in the holes!
Once the box is opened, we have the masturbator held by a piece of cardboard. Once removed, we have access to the product, a small promotional booklet and a sample of Fleshlube lubricant.
Fleshlight Dillion Harper Crush physical details
Needless to say that there is a change, once again, it's the same concept of masturbator! Fleshlight now offers for many years the same concept that works, because to this day, it is always the same principle that is applied! Except that today, they are signature models, with a exclusive sleeve to the actress, a concept that I particularly appreciate.
So we have a masturbator in the form of a plastic flashlight. It has a beautiful pearly white shell, with a lid on one side and a cap on the other. You can also see on the outer shell, a part with ripples and the Fleshlight logo which is the place where the grip will be the best.
Once the lid is lifted, we can finally see the actress' intimacy, it is mainly the external part that is molded on the actress in order to offer a certain realism of the orifice in question. Here, the Crush version is a vagina version! The sleeve therefore is an exclusive one and on the side, a signature engraved on the material of the actress Dillion Harper! A sort of autograph!
Last but not least, do not forget the presence of a transparent white plastic tube inside the sleeve that protects it from sticking to itself. Personally, I don't keep this tube afterwards, I prefer to throw it away.
Dimensions of the masturbator
As you know, if nothing has changed between the model for Emily Willis and this one, it's because the masturbator still has the same dimensions. Of course, at Fleshlight, you have smaller and more compact models, like the Torque, the Go Surge or the latest one, the Quickshot Riley Reid!
Here, the Crush model is standard size, with 25 cm total length (9.84 inches) for a maximum penetration of 22 cm (8.66 inches)! You might as well say that you have more than enough to push your penis to the bottom of the shaft. For the shell, its maximum diameter is 9.5 cm (3.74 inches) for a 6 cm diameter sleeve (2.36 inches). The hole is 1.5 cm in diameter (0.59 inch), but of course the material expands to make room for your penis.
Other details
To conclude on this part, even if I'm going to talk to you right after about the actress, you also have an anus model for Dillion Harper called Crave. And this masturbator still weighs about 800 grams.
A word about Dillion Harper
Let's discover Dillion Harper! She's a pornographic American actress, everybody knows that already. She was born in 1991 in Florida and started her career in porn at the age of 18 while studying to become a dentist. It's in 2012 that her career takes off, working for big studios like BangBros, Mofos, Reality Kings, Brazzers and of course Naughty America.
If it is known, it is also for its physical, typically "Teen" and its natural beauty! Despite her height of 1 meter and 65 centimeters, she is 90D! She also won several awards, including an AVN, an Xbiz and XRCO awards!
Fleshlight Dillion Harper Crush materials
A surprise? Not even! At the same time, it's quite normal, Fleshlight stays on its good bases and always offers a masturbator in ABS plastic and with a Real Feel Superskin sleeve!
Real Feel Superskin and ABS plastic
As I was saying just before, these are two materials that make up this masturbator! You have on one side the plastic and on the other side the patented material of Fleshlight. This material is close to the skin effect, with a very low density and therefore a soft texture. This material is healthy for the body, without latex or phthalates, but it is a porous material. Basically, it is a masturbator that only you should use! For ABS plastic, it is a rigid material, but healthy for the body, in short, everything is fine for this part!
The Crush sleeve
To tell you a little more about this sleeve, let's take a look at its construction! As you can see, this exclusive sleeve consists of three chambers, the first chamber being the most stimulating in my opinion and therefore perfectly suitable for penises that are rather short in length. Then you have a second, smaller chamber and finally a third chamber! Considering the construction, it seems really not bad with again, the first chamber being the most interesting and the most stimulating! But we will see that a little later.

Fleshlight Dillion Harper Crush use
You've seen what a Fleshlight masturbator looks like and how it's built! But you still need to know how to use it! Yes, for sure, anyone can understand how to use it, it's more than simple. But as always, I'm going to do a little overview of what you can and cannot do with it!
How to use this masturbator?
Yes, it's not complicated, but knowing that there is no manual with this masturbator, you might as well have some information at your disposal to make good use of it. First of all, I advise you to clean the masturbator beforehand, for hygiene reasons, but also because there are often traces of powder that tend to dry a little when the masturbator reaches your home.
Then remove the lid and remove the plastic tube, if not already done. Then add a little bit of lubricant in the tube and on the glans of your penis and off you go! At the cap, you can unscrew it so that the air from the masturbator can more or less escape. You'll feel it as you go back and forth, with the cap open, penetration is easier.
What else can you do with it?
Of course, the principle will always be to masturbate with it! But instead of manipulating it yourself, your partner can have fun moving it for you to share a rather fun intimate moment, in addition to creating a surprise!
You can also use it with a porn video! That's what I sometimes do with the Fleshlight Launch which allows me to synchronize the movements of the Fleshlight with the actress of the video in question.
Which lubricant to choose with?
Already you have a lubricant sample at your disposal! I admit that, as a reviewer, I have a good number of lubricants at my disposal, but on your side, a sample is always what it takes to win! For the next step, you will have to choose a water-based lubricant. Currently, I use Sliquid Organics Natural and Sliquid Satin.
How to clean this masturbator?
Most of the time, I always proceed the same way! For a Fleshlight, once I need to clean it, I remove the sleeve from its shell and clean the inside well with warm water and a little mild soap.
Then I use a small stick to remove some of the water. Then I air dry the sleeve. For your information, I put the sleeve back in its shell, but not completely, with just the cap underneath so that the remaining water flows down to the bottom. And when it's dry, I close it again!
Fleshlight Dillion Harper Crush efficiency
When you have to go, you have to go! At the same time, I am rarely asked to review a Fleshlight masturbator! I'm always curious to discover a well constructed, stimulating, different sleeve too, but it depends on the case! As this model is rather famous, I hope that the exclusive sleeve will be to my taste! Here is my opinion about the Fleshlight Dillion Harper Crush!
A first part of a very stimulating sleeve
Before I tell you what I thought of this masturbator in its entirety, I will already tell you about the first room of this Fleshlight which adapts according to me very well to rather short penises! This first chamber is the largest of the three chambers that make up this sleeve since it is 12 cm long (4.72 inches)!
This is the room that brings the most stimulation in my opinion! Moreover, this room is composed of two parts. The first part is 7.5 cm long (2.95 inches) and consists of ribs and longitudinal bumps. And if we look closely, the ribs come out from the edges, where the chamber starts and its diameter is 2.5 cm (0.98 inch) at the widest.
The ribs are initially quite high and then flatten later with a channel diameter that widens to 3.5 cm (1.37 inch). Between the ribs, bumps fill the empty space, six bumps in all that change diameter as the ribs grow, ranging from 0.8 cm to 0.5 cm wide (0.31 to 0.19 inch).
The second part of the first chamber
It is once this part started that we arrive on a rather abrupt transition, with a second part made up of 5 staggered rings. Here again, the surface of the rings is higher on the side of the entrance of the sleeve while the other part is flattened. As a result, it looks like they have a wavy shape that resists the passage of the penis from the beginning and is less resistant at the end.
This second part also narrows, up to 1.5 cm (0.59 inch) in diameter. We end up with flat ramps that go up and down and end in a funnel shape. This part is really well built, I feel well that my penis is trapped while passing this zone and it is very pleasant to penetrate! But I'll tell you more about it later! Because the continuation is really not bad too!
A second chamber that sucks my penis then a third one in a spiral shape
Here is now the second chamber, which is 4.5 cm (1.77 inch) long. We can see that there are three large transverse ridges with a space between each. And despite what we can think, this part of the sleeve brings big air variations and increases the suction effect of the sleeve!
Then it is the arrival in the third chamber, with a huge reduction of the diameter of the channel to 1.5 cm (0.59 inch) that creates this funnel effect again. This chamber has a long transverse rib that extends in a spiral shape. And this spiral leads to a strong stimulation of the glans, if your penis is long enough for it.
What does this sleeve provide in terms of stimulation?
When I tested it, what I found is that the most interesting part is really the entrance and the first room. The stimulation is quite gentle, but very variable in terms of stimulation. Then you get a more intense and tighter stimulation at the end of the sleeve, which works very well overall! We quickly takes pleasure and we does not last very long in front of the back and forth that we can do with it!
Nevertheless, we always find ourselves with the same concern, it is the noise of the air coming out of the cap. I'm used to it, but it's always surprising and annoying the first time you discover it. It's part of the game as they say! All in all, it's a very stimulating masturbator delivering a very good level of orgasm! Even if I'm not a fan of the actress, her model of Fleshlight vagina is successful! Moreover, the cleaning is faster, especially on the drying.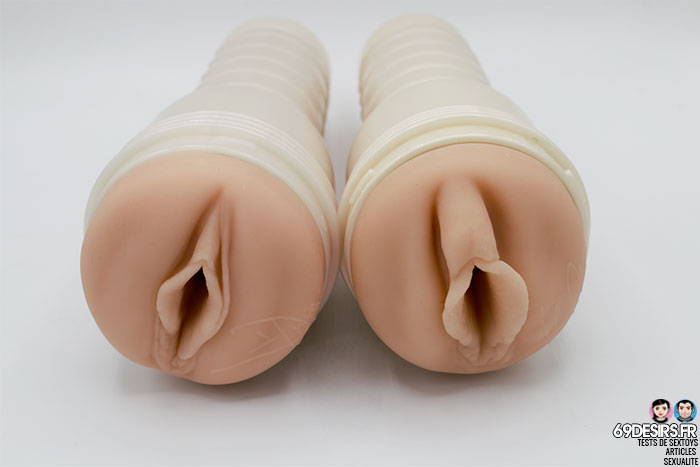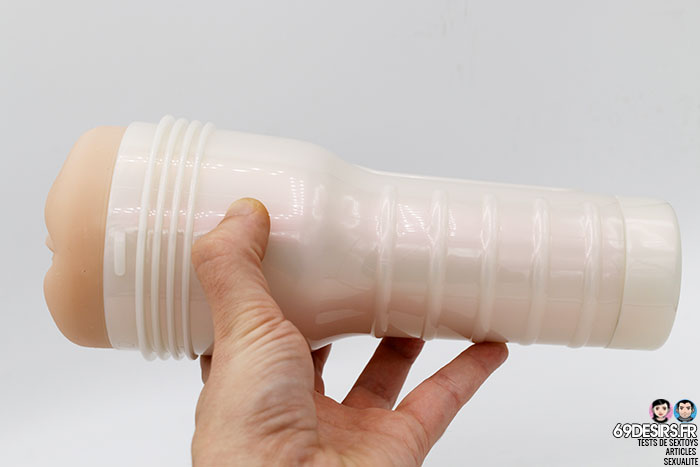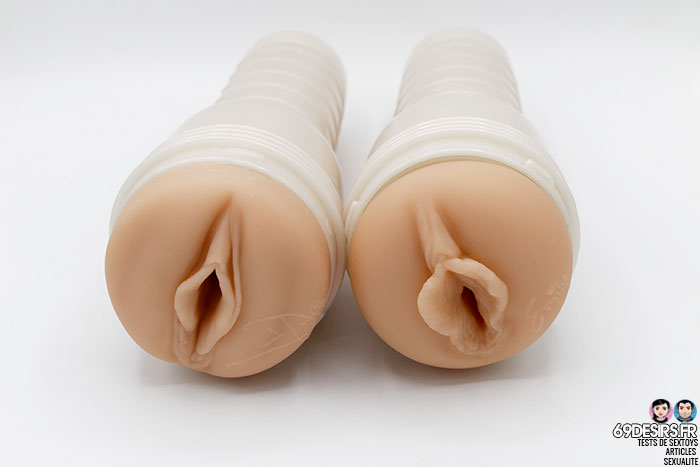 Fleshlight Dillion Harper final thoughts
The Fleshlights follow one another, but they are not the same, in any case, on the stimulation of the sleeve present inside! Here, the Dillion Harper Crush model is a success! Sometimes, I am less fan of some sleeves, but I must say that this model is really interesting! However, I'm not really a fan of Dillion Harper, but like what, it's not the star on it that lends the shape of her sex that makes the masturbator! Notice to the amateurs!
Pros
Quick cleaning
Very good variety and intensity of stimulation
A very good first part
Quality orgasms
A set that works
Cons
Air noise (present on almost all models)
Screw thread of the cap always a bit annoying
Summary
Reviewer
Review Date
Reviewed Item
Fleshlight Dillion Harper Crush
Author Rating





Product Name
Fleshlight Dillion Harper Crush