Today, I'm back with a new sex toy, the Lovense Osci! Yes, a new toy that was born a few months ago and I asked to review it to see if it was a new orgasm machine! Indeed, I am beginning to know the brand Lovense by offering you sex toys reviews for over 4 years on my french website.
There were Nora and Max, respectively, a rabbit and a connected masturbator. Then there was the Lush, the devilish connected egg that invaded the cam shows. You can read my Lush 2 review if you want. I then reviewed the Lovense Hush, a very nice connected butt plug. Lately, you could discover the Ambi, this very powerful little vibrator of the manufacturer. And finally, the prostate massager Lovense Edge, to please your prostate.
This time, the Lovense Osci also marks its difference, with a sex toy that distributes oscillations for your G-spot! If that's not good news for you, I don't what to say more. Lovense's reputation is second to none, so let's see if the Osci from Lovense is at the same level as the previous connected sex toys I told you about! Is Lovense's Osci a good G-spot sex toy? Is this a model to choose when you want to buy a first sex toy? This is the moment to tell the whole truth with the Lovense Osci review!
Lovense Osci packaging

At Lovense, they make beautiful boxes and this is the case for the Osci, of course. We find ourselves again with a rather hard white cardboard box. On the front, there is a picture of the Lovense Osci and in the back, the technical details on its functions. Once the lid is removed, we discover the Osci, lying in its foam mold. It is here and it is handsome.
Then, below, a small compartment is present, in which we find a USB charging cable. Then, removing the mold, we discover a user guide to learn some tips on the Osci operation. By cons, no storage pouch, it's a shame. However, the box is unobtrusive and will be perfect for storing your toy. Plus, it does not contain plastic, good news for the eco-friendly side. But there is still foam.
Lovense Osci physical details

How beautiful is this Lovense Osci! Do you not agree? As soon as we see it, we want to try it. Its shape is built an S shape with one side that will provide oscillations and the other, the control part with a control button. We realize directly that the Osci offers this curved design to stimulate the G-spot effectively. It reminds me in a certain way the Jopen Comet 2. We also note that on the head, a small hole is present, which will deliver the oscillations.
Lovense Osci size
In addition to its visual elements that can be detected at first glance, one can also realize that the Lovense Osci is not very imposing. Indeed, this one is quite compact. If it measures 19.8 cm in total length (or 7.79″), it is only 6 (2.36″) to 8 cm (3.15″) that will be insertable. At the same time, no more is needed to stimulate the G-Spot. On the diameter side, the Osci remains of average size. It is 3.7 cm wide (1.45″) at its stimulating head level.
Other details on the Lovense Osci
Regarding the Lovense Osci, we can also note that it is a bright pink. It's the same color as the Lush and Ambi of the same brand. We are used to. We also notice a silver part under the handle with a mirror effect. It is also what we had on sex toys like Lelo Ora or Ida. It's mostly cosmetic and it plays a little on the grip that will have in hand.
There is also on the handle side, a location to charge the toy. This is where we plug our charging cable. Then, we also notice that there is a button on the handle that plays light indicator role.
Lovense Osci materials

As with all the latest Lovense toys, we have the right to very good materials. On the one hand, you have medical grade silicone that occupies most of the toy. Silicone is, I remind you, a hypoallergenic material. It is healthy for the body and contains no latex or phthalates. This silicone is rather matte and soft. It takes very little dust. Beside that, you have an ABS plastic part at the neck. Here too, it is a healthy material for the body. Once again, it's perfect!
Lovense Osci use

Like all sex toys connected on the market, there are a lot of things to know to use your new G spot sex toy. Moreover, when there are novelties, it's always good to have some tips for a good start and not be disappointed. Indeed, the Lovense Osci has an oscillating mechanism, currently waiting for a patent to stimulate your G-Sport. So let's try to see more clearly!
How to charge the Lovense Osci ?
The first thing to do when you receive a sex toy containing a battery is to go through the charging process. For this, you have a USB cable available that will connect to a computer or AC adapter for faster charging. It will take about 2 hours to fully charge it which will allow you to enjoy it for 2 to 2.5 hours of continuous use depending on the chosen intensity levels.
When charging, a light will remain active throughout the charge to indicate good connectivity. Once the Lovense Osci is fully loaded, the red light will turn off. It is also advisable not to start the toy while it is charging.
Lovense Osci handling
To use the Osci, there are some points to know. Already, it will be necessary to pay attention to the curvature of the toy during the insertion. Indeed, it is advisable to insert it at about 45° so that it fits correctly. In addition, insert the Osci when it is off. You will turn it on once inside.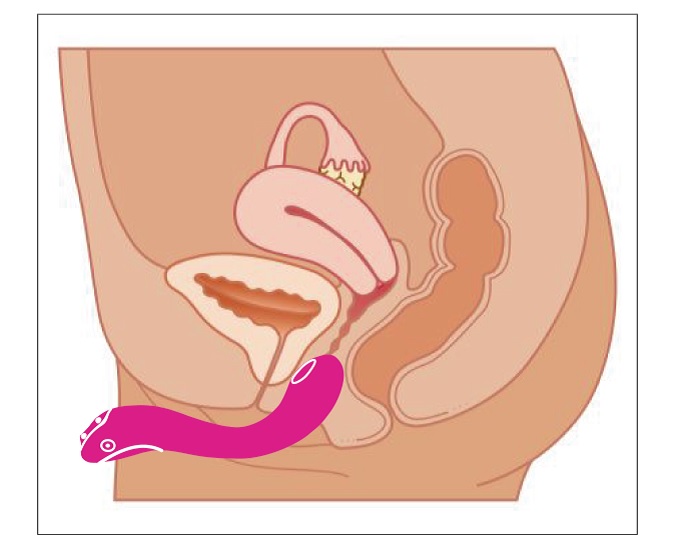 Vibration and oscillation modes of Lovense Osci
By default, you have three stable and continuous levels on the Osci with the possibility to integrate up to 10 models that will have to be programmed. Otherwise, with the application, the models are unlimited, just choose the one that suits you in existing ones or create your own. Here are the modes on the following pictures.

For programmable modes, it will take some manipulation in the application. Already, it will make the pairing between the Osci and your device that I explain a little further. Then, in the application, you have a button "Program" to activate. Then you have the option to adjust the levels for the first three modes. Then by clicking on "Add Template", you can add a predefined template to the Lovense Osci. Simple and efficient.
How to use the manual mode of Lovense Osci?
What I call the manual mode is the mode without a smartphone. In short, old-fashioned use. You have an "On / Off" button that must be maintained for 3 to 5 seconds to turn it on or off. Then, pressing it again will give you access to the three default modes present. The first level is low, then you have medium and fast mode.
What are the technical requirements for the application?
To use the Lovense Remote app, your device must already be compatible. Here, you will need an iPhone, iPad Air and Co. iOS version 9.0 or higher. For Android, you will need at least Android 4.3 with Bluetooth 4.0 enabled. While on Mac, the Bluetooth 4.0 protocol will be sufficient, while on PC, you will need the Lovense Bluetooth adapter. See if it works with a Bluetooth 4.0 dongle if you already have that available.
How to use the connected mode of Lovense Osci?
To use the connected mode with a smartphone, you need to connect your compatible device to your toy. To do this, turn on the toy and hold the "Power" button so that it is ready to pair. Then, in the application, click on the icon in the form of a chain or go to the menu "Account" then "My toys". Press the "+" button to scan the surroundings in Bluetooth, once the toy is found, click on finish. And your Osci should be connected.
You only have to do this once. Subsequently, the connection will be automatic. From there, you can use your smartphone as a remote control. Here is the local connected mode, because you will have to be in the same room as the Osci.
To use the long distance mode, your partner will need the Lovense Remote app. You can send an invitation and then generate a connection securely so that your partner can take control over the long distance via the Internet. Basically, your smartphone will be connected with Bluetooth with the Osci. Then your smartphone will be connected in 3G / 4G / Wi-Fi to the other device of your partner who will also be in 3G / 4G / Wi-Fi.
How to connect the Osci to your PC?
You can also pair the Osci with your PC. To do this, proceed as follows. Press the "Power" button and keep the button pressed. A small light will start to flash. Then you have to connect the Lovense Bluetooth adapter (delivered separately) to your computer. Then, in the application, it will be necessary to click on the icon in the form of "chain".
By pressing the "+" button, the Lovense Remote app will fetch the Osci. Once the toy is found, click on the "Finish" button on the application. The Osci LED will then stay on indicating that the connection is established. Then you just have to control your Osci with your smartphone.
What can be done with the application?
As with other products on the Lovense brand, we can do a lot of things with the dedicated application. We can program our vibration patterns, allowing unlimited possibilities of stimulation. You can also synchronize the Osci with music so that it oscillates according to it. It is also possible to make the Osci react to the ambient sound. Depending on what the microphone picks up, the stimulation will be adapted accordingly.
It is also possible to use functions such as text chat or video. You can also have the two Lovense toys interact with each other according to the compatibility. And finally, make the Osci react according to tips received during a show cam. So we can do a lot of things with this application that is one of the best in the market.
How to clean the Lovense Osci ?
Good news, the Osci is water resistant. To clean it, it makes things a little easier. It is advisable to clean the Osci before and after use. Just take a little warm water with a mild soap or a sex toy cleaner. You have the Yes Cleanse or the Pjur Toy Cleaner. Do not immerse your toy because it is not waterproof, but only splashproof. Once cleaned, dry the Osci in the open air.
Which lube to use with Lovense Osci ?
As usual, lubrication helps with insertion, but it is not an obligation. If you want to use a lubricant, I advise you to opt for a water-based lubricant. In fact, silicone-based lubricants with silicone toys could deteriorate the silicone envelope of the product. I recommend the Sliquid H20 or the Pjur Aqua. But you also have the Yes Bio or why not the Sliquid Organics Sensation to add a warm / cold effect for your session.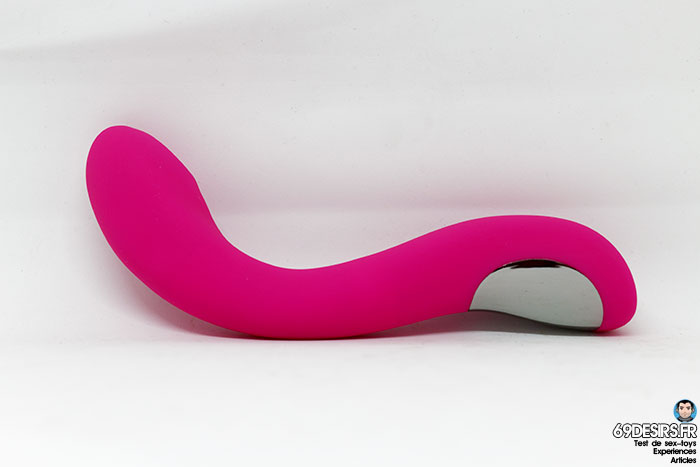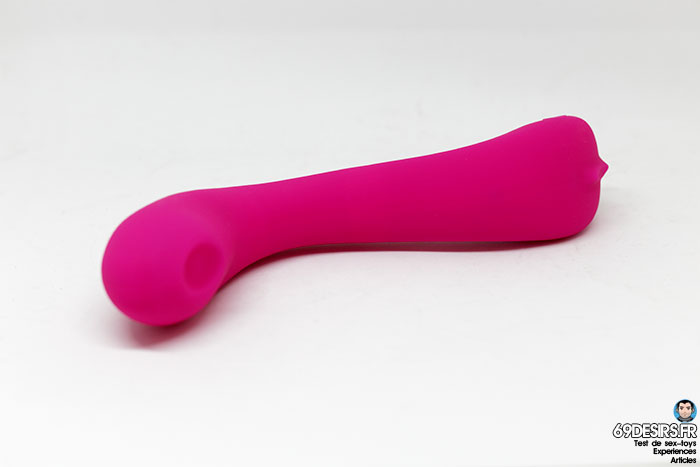 This is the fateful moment, when a sex toy can become the king of the night or finish its race in a box at the bottom of a closet! Yes, I want to talk about the efficiency part of the Osci! For that, I asked Kitty to give me her feedback to give you a report on this Lovense oscillating sex toy!
Oscillations and not vibrations
Yes clearly Osci is not like other clitoral stimulators or classic vibrators. Yes, the Osci is oscillating! At the same time, how could it be otherwise with a name like this? This is the same principle as other sex toys such as Zumio and Zumio Caress or Eroscillator 2. However, here, we clearly see the Osci head make these movements of oscillation. You really feel that up and down movement that the head hole makes. A bit like a kind of earthquake. This differs from the vibrations and it completely changes the stimulation it offers.
A sex toy for G-Spot ?
The Osci is advertised as being dedicated to G-Spot. This is true, but I want to comment on this. Indeed, the Osci is not used like other G-Spot sex toys. Finally, nearly, but not really. It sounds complicated like that. In fact, I think it's important to use it as a complement. In my opinion, the Osci lacks a little pressure and hardness, so your G-spot will not be stimulated as much as with a higher-density sex toy. I am thinking in particular of Njoy Pure Wand. For some, the Osci will be enough, for others, they will need more. More firmness, in particular.
The Osci, this sex toy that facilitates intense orgasm
Yes, Osci is for me, an orgasm helper! The stimulation it offers is targeted, different from other sex toys and can even be confusing. However, if the Osci does not bring you to a G-Spot orgasm, it will be formidable when accompanied by a clitoral stimulator. Take a Womanizer Premium or a Lelo Sona or a We-Vibe Tango and you will have many orgasms. It is really a companion to facilitate orgasm and especially make it more powerful, more intense and longer.
Other points to note
For the other elements that I can indicate to you, it is necessary to know that it is not silent. In any case, not as much as that. If a person sleeps in a room next to yours, it should be fine, but otherwise, it is a sex toy that one hears when its power one. It is also necessary to make attention to Osci's position. Its S shape facilitates its placement, but don't hesitate to try several positions to find the one that will be the most effective for your G-Spot.
The button on the Osci is not very easy to use. We get used to it, but at first, it's a bit weird to take in hand. Oscillations using stable modes are also more interesting than jerky/alternative modes, but this is also a personal appreciation from Kitty.
Lovense Osci final thoughts

To finish this Lovense Osci review, we can say that it is a special toy. Usually, with Lovense, the toy itself is enough to get an easy orgasm. But here, the Osci is very interesting when you pair with another sex toy. And there, the Osci becomes a real companion game that can be associated with something else.
It is therefore a sex toy that will find its place among those who are looking for a G-Spot stimulator they can pair with a mini vibrator or a clitoral stimulator. And there, your Osci will take all its interest. So it's a success, but it must be used in accompaniment more than as a main sex toy.
Pros
A studied S shape
A connected sex toy that works well
Its overall quality
A sex toy that oscillates
The ideal companion for a mini-vibro or clitoral stimulator
Unusual sensations
Cons
Not so simple button
Not enough pressure to use it alone on G-Spot
Summary
Reviewer
Review Date
Reviewed Item
Author Rating





Product Name