For this new review, we decided to talk about the Strap-on Me dildo Metallic Shine version! Yes, one more dildo in the collection and above all one more dildo on the website ! It's one of the sextoys I prefer to review. But, it is not the simplest sextoy to present you. Because finally, a dildo is not just a fake silicone penis, it's much more than that! Lately, we have had the opportunity to offer you several dildo reviews on the website! You could read the Silexpan dildo from the Magic Touch from Passage du Désir or the Dragon dildo review from Mr. Hankey's Toys. But that's not all because not so long ago, it was the Clyde dildo, the Buddy, the Cucumber dildo or the Cactus dildo that we presented on the site.
On top of that, this Strap-on Me dildo directly echoes the Strap-on Me vibrating Bendable, a strap-on dildo without a belt or harness, since it is a product from the same manufacturer. This will be one of our next reviews. On the one hand, it is a dildo for couples to practice pegging and/or strap-on. But here, with the Strap-on Me dildo, we have a simple dildo, also rather oriented for the pegging practice, but not only, since it can be used for several things. In short, we will see all this in the Strap-on Me dildo review in Metallic Shine version!
Strap-on Me dildo packaging
Let's start with the box, which is actually quite similar to the Strap-on Me Vibrating Bendable box! At the same time, it is the same manufacturer. So we find a cardboard box, white and light brown, with the dildo in the picture that allows us to quickly see the product. On the slice, we discover some information about the dildo, but also the other products of the range. On the back of the box, there is also information about the key points of the dildo.
Once the box is opened, we discover a plastic mold that contains our dildo! Too bad, because plastic isn't fantastic. But on the other hand, we have the right to a storage pouch, which is really rare for a dildo. Then, we have a small basic booklet. Everything is there and even more than usual with the pouch.
Strap-on Me dildo physical details
Basically, it's a pretty basic dildo! Already, it is rather beautiful, with its metallic color which differentiates it a little from the mass! It's a semi-realistic dildo, with a heart-shaped base, a slightly curved shaft and a penis tip, a bit pronounced, but not too much either. For example, the dildo tip is less pronounced on the Strap-on Me dildo than on the Max Yoru dildo from BS Atelier. It is therefore a rather simple dildo, without texturing, without much variety in the shaft or diameter.
Les dimensions du gode
In terms of the size of this dildo, it is a modest model, neither too big nor too thin. Indeed, this one displays a length of 18 cm (7.08″) for a maximum diameter of 3,3 cm (1.29″). But as you know, I take my own measurements to check this. Everything is good at this level, knowing that the insertable length will be around 15 cm (5.90″).
There are two other versions of this dildo in terms of size! This is the medium size model. You also have a model S which is 17 cm long (6.69″) and 2.7 cm (1.06″) in diameter. But also an XL model, with a length of 20 cm (7.87″) and a diameter of 4.5 cm (1.77″).
Other visual elements
I don't really have anything else to tell you about this dildo, except that it's a "Metallic Shine" version, a version with a metallic color. As you can see, we have chosen the metallic blue version, but you can also find it in metallic pink and purple! Concerning the weight of the dildo, I don't have it, but it is quite light, even rather light, which is perfect to make it fit well on a harness.
Strap-on Me dildo materials
At the moment when we offer double density dildos, such as the Max O2 or Cush O2 from Tantus or the Maverick and Bandit from VixenCreations, here, it's not the case! Indeed, we have a quality silicone, but mono density! In short, the density of the silicone is the same on the whole product. There are no areas with a softer or harder silicone, it is really the same density everywhere! And that changes several things!
Otherwise, the base material remains the same, it's silicone, quality, quite flexible, with a rather soft texture. One feels on the other hand that silicone is a little bit fragile, especially at the nails blows, because the density of the dildo is not very important. For example, if I compare Tantus Raptor dildo, which has a high density of silicone, and this Strap-on Me dildo, it's day and night. The first one is very hard, while the other one is softer and more flexible.
Strap-on Me dildo use
I sure that most of you know how to use a dildo or what to do with it! But I'm thinking of all my readers, especially those who are coming for the first time on a product review! I have to remind each time, the basis of the use of such or such sextoy. So I'm going to make another point for this occasion!
What can be done with?
Even if this dildo is rather designed to practice pegging or strap-on, you can do a bit more than that! You can use it by hand, for vaginal or anal penetration. It is also possible to suck it, to use it in a sitting or standing position, in short, I'm not going to draw a picture about that either!
Harness compatibility
This is surely one of the most important points of this review, because as I announced, this dildo is still designed and intended for the practice of pegging and/or strap-on. With a diameter of 3.3 cm (1.29′), the Strap-on Me dildo will be compatible with a large number of harnesses on the market! It is already compatible with the whole range of SpareParts harnesses. I am thinking of the Tomboi, Tomboi 2, Bella, Sasha and Deuce, already review on the french website. It is also compatible with the Strap & Bound harness from Fun Factory. But you have other compatible harnesses such as the Magic Strap from Passage du Désir, Doc Johnson's Harness Pants or other harnesses reviewed on the french website!
Which lube to use with?
As always, when using a silicone dildo, if you want to keep it alive for a long time and not damage it, you should already avoid any silicone-based lubricants. This is because the silicone in the dildo and the silicone in the lubricant can mix and this is not a good combination, except in rare cases. So choose a water-based lubricant! As for me, I have my little favourites, like Sliquid H2O, Sliquid Satin, Buck Angel's or Organics Sensation, but that's not all! I also like Pjur Aqua Lubricant, Sliquid Sassy, UnisX Anal Lubricant and many others!
How to clean it?
To clean your dildo, it's just ultra-simple, perhaps the easiest sextoy to clean. Here, a dildo is necessarily waterproof, with rare exceptions, which means you can immerse it in water. So you'll just have to use lukewarm water and a little soap to clean it. You can also use a sextoys cleaner, like the Sliquid Shine that I still use today.
Strap-on Me dildo efficiency
Once again, we find ourselves in the most important section of a sextoys review! Indeed, this is the moment to tell you if this dildo deserves your attention and if yes, for what kind of activities, for what level of users and how it stands in relation to the market! For that, I tested the Strap-on Me dildo with my dear and tender Kitty. We tested it in her pussy, but also in my ass! So you'll get a complete feedback on this dildo!
General handling
On this side, the Strap-on Me dildo is pretty good. With its base that allows you to hold it in the palm of your hand, it's easy to go back and forth. You can easily insert it, bend it a little to stimulate a specific area and remain quite stable. Even if the base is not a suction cup base, it is flat and allows it to be held vertically. It can also be easily slipped into a harness, I'll tell you more about that later!
Feedback on vaginal penetration
The first test we did with this dildo was a very simple hand test for vaginal use. Indeed, I was with Kitty, doing a cunnilingus with her because I like it and she likes it too and that's when I decided to test this new toy.
For the grip in this case, it's pretty good. The shape of the suction cup in heart allows to grip it well in the palm of the hand. The back-and-forth movements are simple to make and the flexibility of the dildo ensures the possibility of stimulating the G-spot. However, according to Kitty, the dildo is correct, but not for vaginal use. It is too simple, too standard, with no change in diameter and no pronounced texturing. In short, correct, pleasant, but there are really better ways to do it.
In double vaginal penetration
We also tested this dildo in a double vaginal penetration. For the occasion, I pulled out my Tomboi 2 harness, a first for Kitty. I was able to place the dildo on the top O-ring and my penis in the bottom O-ring. After getting Kitty excited so that she was wet, I took the dildo and my penis in my hand to hold them together and insert them into Kitty's pussy.
Frankly, I had no trouble inserting my penis and the dildo. It was even pretty easy, even though I started off slow. I was able to doggy-style Kitty, to my great delight and hers. I could feel the dildo on top of my penis going into Kitty's pussy at the same time. After about ten minutes, I took off my harness to use only my penis, because a double penetration is still two penises / two dildos at the same time, you have to be able to hold them! In any case, it's a dildo that adapts very well to double vaginal penetration. I have the impression that its texture with only one density is the element responsible for this comfort of use.
What does it give in anal stimulation?
Last but not least, its anal use! Here, it's not bad at all! With its "mono-density" side, it is neither too firm nor too soft and adapts rather well to the morphology. With its curvature, it stimulates the prostate, but without too much pressure. It's quite light, subtle and it's very good to start with. As much its use by hand or on a harness remains easy. For my part, I find that it is not bulky enough to my taste, without being too small. It is not a dildo that I will use alone, but on a harness, controlled by Kitty, it will be perfect for pegging, with a dildo neither too big nor too rough. Once again, it's a perfect dildo to start with, while still having a little volume!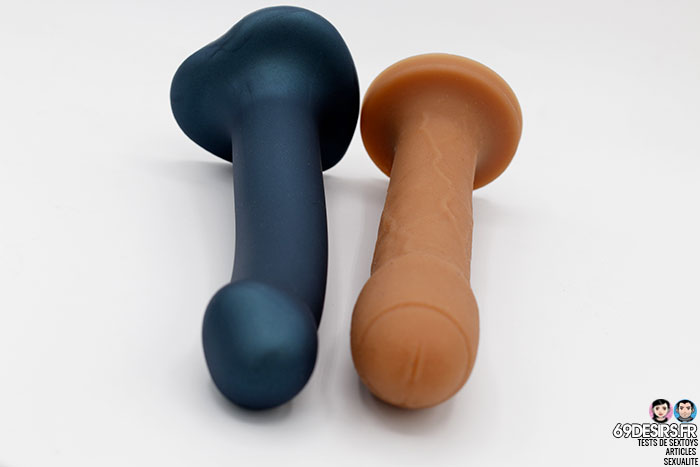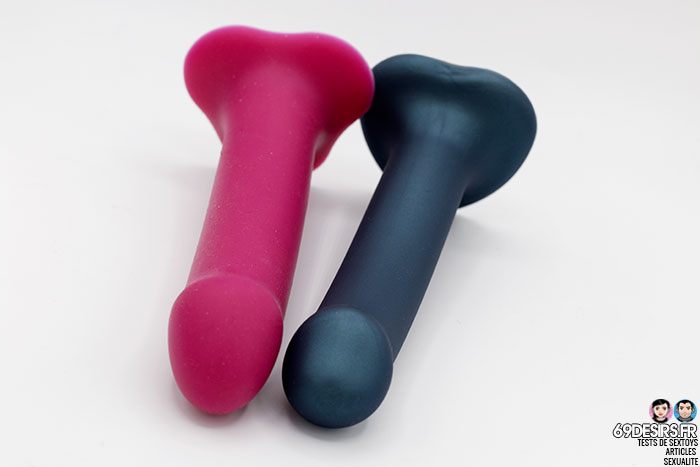 Strap-on Me dildo final thoughts
If you're looking for a dildo to stimulate your vagina or G-spot, clearly, there are better ones on the market. It's okay, but you're not going to be transcended by this one. You will have understood it, it is above all for anal use or for the practice of pegging/strap-on, that this dildo deserves your attention! It is also not bad at all for double vaginal penetration, leaving enough room for the penis. Kitty wasn't in a painful or uncomfortable situation at the time, it's a dildo that does its job well in this respect. For my part, I know that it will be a dildo for pegging, double vaginal penetration and why not, in the future, double vaginal/anal penetration!
Pros
A single-density dildo is different…
Compatible with many harnesses
Oriented for pegging
Perfect for double vaginal penetration
Metallic Shine version quite nice
A storage pouch with it
Cons
Average for vaginal stimulation
A little small for experienced users
Summary
Reviewer
Review Date
Reviewed Item
Strap-On Me Mono density dildo
Author Rating





Product Name
Strap-On Me Mono density dildo