Do you know the new Limba Flex M dildo from Fun Factory? To find novelties on the sextoys market, you have to get up early! Indeed, one morning, I was browsing the websites of the partner stores and I saw a novelty at Fun Factory that intrigued me. A new dildo? Yeah, another one. However, when I started to read a little more about the particularities of this dildo, I immediately understood that it could be really good!
Indeed, its concept is to propose a dildo with a metal rod inside to give it the shape you want at the time! I must confess that I am very curious to see what he gives to the review! It reminds me in a certain way, the Fun Factory Bouncer with its internal balls that bounce and create a kind of very interesting reaction! It was a very good novelty and so I hope this Limba Flex M dildo will be too! But it directly echoes the Strap-on Me double density dildo, which also twists in all directions!
Recently, in the Fun Factory sex toys we reviewed, there was the Stronic Surf, the pulsator to stimulate the vaginal walls with brio! The Stronic G for the G spot and to finish, the Be One, this vibrating finger that works very well, despite the flaws that we found! Anyway, I can't wait to try this dildo with Kitty, I think it can be really good, but we'll check this in the review of the Limba Flex M dildo from Fun Factory!
Limba Flex M dildo packaging
I must admit that I didn't expect anything from Fun Factory in terms of packaging and I did well! At the same time, Fun Factory has kept the same type of packaging for years, despite some changes! So it's once again a rectangular cardboard box, golden in color and surrounded by a cardboard sleeve. On this sleeve, we can see the dildo on the front part, while on the back, we can read some information about the Limba Flex M.
Once the box is opened from above, a cardboard plate is uncovered which contains a small marketing booklet. Underneath, we have the dildo lying in the box, with its base held by a piece of foam. Once again, we have no trace of plastic, it's really good for the ecology. On the other hand, for the user, it's a little less good because we don't have a storage pouch. You'll have to make do with the box to protect your dildo from dust.
Limba Flex M dildo physical details
Already, there is no mistake on the merchandise, it is indeed a dildo! Indeed, with a name like this one, one could have expected to receive a kind of bar to dance the limbo. What do you want, that's what comes to my mind. More seriously, it's a dildo, with a rather tapered shape and a rather peculiar tip. It's a kind of mix between a pointed, flat and textured shape. It's quite unconventional, but I think the shape can be quite nice at all!
This kind of head has two edges and a flat part that will surely be able to come and put pressure on the G or P spot. As for the shape of the shaft, it's rather straight, but that's when the dildo arrives! You have understood it, it is a dildo that bends! Suddenly, one time, the shaft can be straight, another time, twisted, C or S shaped ! In short, this dildo will never have the same curvature!
You can also see that it has a suction cup. This is the Fun Factory suction cup that I don't like too much! Let's just say that the suction cup by itself doesn't grip all surfaces and doesn't hold as well as other suction cups. But what I like is that you can use this dildo with a harness. And that's always good news! To finish, we can also notice at the shaft, that there are two slightly curved lines to add stimulation during the back and forth!
The size of the dildo
Small or big dildo, that's the question! Good news, the Limba Flex M dildo is not the only version you can find for this dildo. Finally, to be more precise, you also have the Limba Flex S! On the side of the M model, this one is advertised as being 18 cm long (7.08 inches) with an insertable length of 16.8 cm (6.61 inches). And for its diameter, this one is 3.2 cm (1.25 inch) at the widest. The S version has a total length of 12 cm (4.72 inches) and an insertable length of 11 cm (4.33 inches) with a maximum diameter of 3 cm (1.18 inch).
The other details
So I don't know if it's a good choice on Fun Factory's part to have done that. I'm talking about colors, of course. In fact, the color of your dildo won't really depend on what you want, but on the model you're going to take! Indeed, if it's size M, you'll have a dildo in blue and green, it's the "Caribbean blue" choice. And if you take the S version, you will have the "Deep Sea Blue" version which is in turquoise. Finally, it is quite light, even lighter than I thought!
Limba Flex M dildo materials
Silicone from Fun Factory, it's a great story! It is surely one of the silicone that clings the most to dust, even if some models in their range are silkier and less attractive for cat hair or dust. Before answering you on this point, know that you have of course silicone for the majority of the realization of this dildo.
As a reminder, silicone is a healthy material for the body, containing neither phthalates nor latex, and on top of that, it is a hypoallergenic material. But you also have something else inside this dildo! It is a metal rod! It is besides this rod which makes it possible, of course, to bend and give shape to this dildo! Beware, at the level of the glans, you don't have a stem! Be careful when you are going to bend it!
So, does silicone still catch dust as much or not? Yes, still a bit too much! With Fun Factory, you have to know that silicone really does catch dust. Their silicone catches a little bit, so that cat hair or the rest of it is attracted, like a magnet! You'll have to be careful to pass it with water before and after use.
Limba Flex M dildo use
As I always say, to use a dildo, you don't have to tie a knot in your brain. It is a phallic shaped piece of silicone that fits into the anus, vagina or mouth. But you can still do a little more than that. And you have to know how to maintain it to keep it as long as possible. Here's what's important to know!
What can be done with it?
I'm not going to tell you to leave it on your table and throw your bracelets on it to try to put it on! Nor is it an object to knock out your partner when he snores too much, nor to defend yourself against an aggressor! However, it could be an idea! No, it's a dildo and you know very well where it will end its life! But let's be realistic, it's above all its metal rod that interests us!
If we can bend it to adapt it to our morphology but also according to our desires, it's still very nice! Moreover, this rod makes it possible to preserve the shape that the dildo will take! It's not just a temporary shape, it's definitive, until you decide to bend the metal stem differently. We will see a little later, depending on where you insert it, if it keeps its shape in all circumstances.
It can therefore be used for vaginal or anal penetration. It will be possible to try to stimulate its G or P spots depending on the people who will use it. And if we are lucky with the suction cup, we may be able to use it on the walls of the shower! I have a small doubt on the subject because I remember the Fun Factory Magnum dildo, one of the first who used this triangular suction cup which was not effective everywhere. We'll see that a little later in the review.
Compatibility with a harness
With the diameter of this dildo and the suction cup shaped base, the Limba Flex M is compatible with most harnesses on the market! For example, you can use the Tomboi from SpareParts, but also the Sasha, Bella or the Deuce. It will also be compatible with the Strap & Bound from Fun Factory, the Doc Johnson harness panties without the Vac-U-Lock part. And finally, it can also be used with the Theo or Joque harness, again at SpareParts.
And it will also be compatible with the Magic Strap of Passage du Désir and the Lovehoney harness panty! Just check the size of the O-ring to find out! And if I go further, it's compatible with the F-Machine Gigolo Pink and its accessory to place dildos with a suction cup.
What lubricant can be used with?
It's no secret that with a silicone sextoy, if you don't want to damage it, you have to use water-based lubricant. If you have an old silicone sextoy, you can try to put some on it, you'll see what I mean when the materials will mix. So it's important to use a water-based lubricant!
For example, the Sliquid Organics Natural that we recently reviewed. But you also have the Sliquid Satin or Buck Angel's, the water-based YES or the classic Pjur Aqua.
How to clean it?
As with all silicone dildos, to clean it, simply wipe it with warm water and a little soap. That's the basis! You can rinse it with clear water afterwards. It is also possible to use a sextoys cleaner like Sliquid Shine. And to finish, you can sterilize it with PureSan, it fits in!
Limba Flex M dildo efficiency
So is the Limba Flex M as flexible as it claims? Being able to twist the dildo in all directions, give it a desired shape and enjoy it this way, it makes you want to. And I also feel like inserting it into Kitty to give her pleasure so it's time for us to give you a full feedback on this new Fun Factory dildo! It's time to have some orgasms with it! Here is our complete review of the Limba Flex M dildo from Fun Factory!
The grip of the dildo
With the suction cup, you can easily hold it in your hand, in the palm of your hand. It is not large or long, which makes it easier to move it and to move back and forth by hand with it. When I used it on Kitty, I was able to lick her clitoris while moving back and forth with it.
The fact that it folds also makes it possible to give it the right shape according to its use. In particular, I folded the dildo to make it suitable for G-spot stimulation. This way, it can be shaped to best place it so that it is the easiest to use.
The suction cup of the dildo
If I had doubts about the power of the suction cup of this dildo, I must admit that this new version of the suction cup in triangle or heart is much more effective than at one time! Indeed, on a table, it holds well in place. If you try to remove it by hand, you can feel well that the suction cup holds it. If I place it horizontally, on a wall or the bathroom tile, it also holds in place. On this point, I'm quite happy because I've always found that Fun Factory's suction cups weren't really efficient.
Vaginal stimulation
So this is a good surprise! Indeed, one cannot say that it is an imposing dildo! It is neither very long, nor thick, it is even a rather thin dildo. But there are two important things! On the one hand, on the sides of the dildo, there is a kind of edge which at the time of the back and forth, on each side of the vagina, will slide on the vaginal walls!
And on the other hand, the glans is rather long and rather flat, but above all, the shaft bends! So I was able to give it the most adapted shape to Kitty to stimulate her G-spot and I can tell you that it is efficient! Kitty was really wet whereas it is a smaller dildo than she is used to. You can easily slide the dildo against the G-spot, but you can't apply a lot of pressure. Enough to stimulate the G-spot, but it's not steel either.
Anal stimulation
To go further in this review, I tested the Fun Factory Limba Flex M dildo in anal! If I wasn't sure that it keeps the desired shape during anal penetration, I was able to verify that this was the case. The suction cup works quite well, even if I find that it is not as powerful as other suction cups that grip the walls very well.
In prostatic stimulation, I liked the fact that I could give it the desired shape, but I must say that I am not a fan of the two edges on the sides of the dildo shaft. In comparison, I also prefer the Strap-on Me double density dildo on anal stimulation and even the system for folding it.
Double penetration
Yes, this dildo is also really good for double penetration! After using it by hand to stimulate Kitty's G-spot, I placed the dildo against my lower abdomen, above my penis to perform a double penetration on Kitty! It was a double vaginal penetration! As a missionary, I made sure to insert my penis in first, then the dildo curved over it to apply more pressure on her G spot as it moved back and forth. The dildo held quite well in place, even though sometimes my penis or the dildo would come out of the vagina! But each time, I was able to put it back on without any problem.
Then I put Kitty in doggy style to continue my double vaginal penetration. In this position, I folded the dildo to put it straight, which was preferable in doggy style. Once again, I was able to take Kitty in double and as much to tell you that her pussy was more than soaked! I could hear the wetness in her vagina every time I fuck her with back and forth! Finally, I got on top of her, crouched down, to fuck her like that before coming! Kitty had already had two orgasms during the double penetration! Mission accomplished!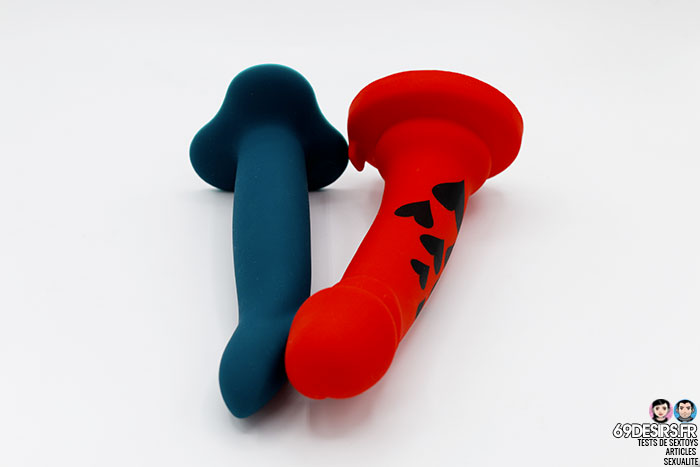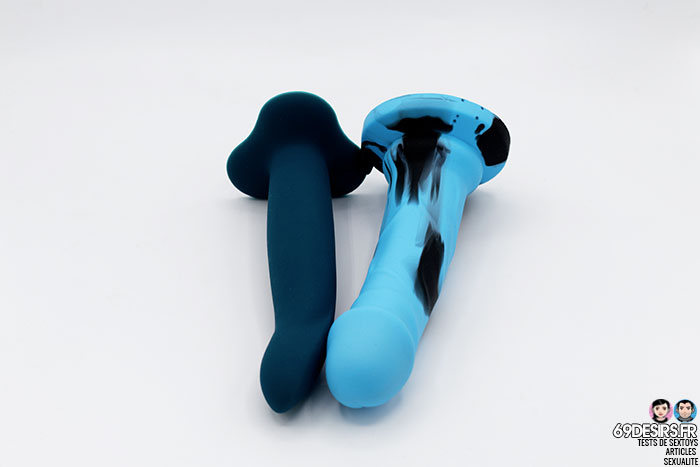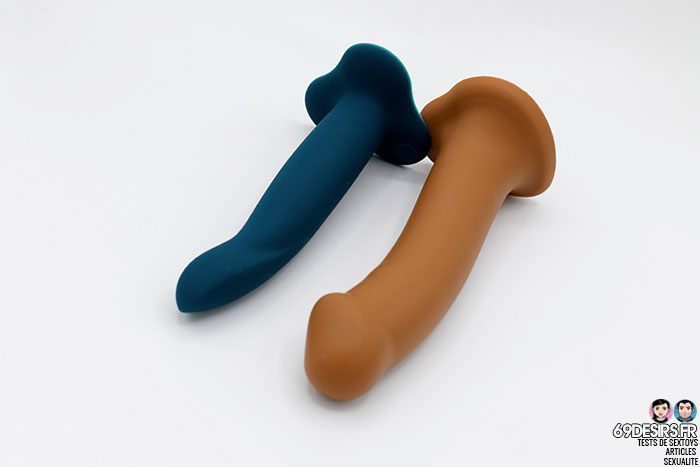 Limba Flex M dildo final thoughts
All in all, the Fun Factory Limba Flex M dildo is pretty good! It offers something different, its metal stem that allows you to bend it to give it the desired shape! And it works well! It can stimulate the G spot as much as the vaginal walls with its edges. For double penetration, its modest size makes it possible to practice double vaginal penetration without a harness! Its suction cup is really practical to be stuck against the lower abdomen.
At the anal level, I'm a little less pleased by it, even if for pegging, it's a dildo that will offer interesting points, again, mainly because it can bend. I also think it's a dildo that's really good to start discovering the internal erogenous zones of your body by exploring the different possible angles. It's a dildo that allows to better understand the curves of the body! All in all, it is a dildo that really has qualities! A good surprise on the whole!
Pros
A dildo that folds
Good G-spot stimulation
Double penetration possible and without harness (vaginal)
The suction cup is much better than it was at one time
Perfect to start discovering your body (internal)
The edges in vaginal stimulation
Cons
It still catches too much dust
The edges in anal use
Slightly small in diameter depending on the person
Summary
Reviewer
Review Date
Reviewed Item
Author Rating





Product Name