Here is the We-Vibe Vector review! A prostate massager at We-Vibe? Good news! At the moment, the manufacturer is quite active. There have been a lot of models recently, including the Pivot, the Verge, the Gala or recently, the Moxie. And I'm sure to forget some. This time, it's finally a sex toy dedicated to prostate and perineum, usable at remote distance! A competitor at the Lovense Edge? A way to forget the We-Vibe Ditto? This is what we will see in this We-Vibe Vector review!
We-Vibe Vector packaging
Once again, We-Vibe uses the same type of packaging as its previous products. We have a rectangular box, using black and neon blue for Vector. We find on the front, the prostate massager and also behind. On the slices, there is some information about the product. On the upper part, a tab is located, allowing to lift the lid.
Once this is done, we discover the Vector in a foam mold, all surrounded by a plastic protection that must be lifted to access the contents of the box. Inside, there are, of course, the Vector, but also a wireless remote control and USB magnetic charging cable. In addition to that, we have a satin storage pouch, a multilingual manual and a 2 ml We-Vibe Pjur lubricant sample.
We-Vibe Vector physical details
Here is finally a form that looks like a prostate stimulator. It must be said that when the Ditto was released, I was happy about testing a We-Vibe anal butt plug, but its shape was just very poorly thought. This time, we have curves that leave no doubt to its function. Moreover, We-Vibe highlights the fact that the design of the Vector has been designed in collaboration with prostate experts to offer an ultimate prostate massager. Well, it's a good thing overall, but we'll have to see what it's all about.
We notice that there is a stimulating head thought to stimulate the prostate. There is also a part for the perineum, a button under the base and two points of contact for charging the We-Vibe Vector. Otherwise, what we also notice is the product flexibility. Indeed, the head is adjustable and will fit better to the morphology of each. Then, the perineum base is also flexible, in order to position this part well.
We-Vibe Vector size
Now, let's talk a bit about the prostate massager size. I admit that at this level, I saw a little bit of everything. At We-Vibe, a total length of 10.9 cm (4.29″) is announced and a head with a diameter of 3 cm (1.1″). The base (perineum part) is 10 cm long (3.93″).
When we take a closer look, we can calculate the insertable length, which for me is closer to 10 cm (3.93″) than 9 cm (3.54″). This remains a slight difference. On the other hand, at the prostate diameter part, the shaft is smaller than I thought, since the head shows 2.83 cm (1.11″) in diameter, decreasing thereafter. This allows you to easier realize the We-Vibe Vector size.
Other things to tell about the Vector?
What I can tell you more about the Vector is that on the one hand, it is guaranteed 2 years and on the other hand, the latter is "Slate" or "Gray slate" color and it will be the only choice available. In my opinion, it's a good choice, it changes from the usual black color that we often find on products to be inserted in the buttocks.
We-Vibe Vector materials
Nothing changes, since the We-Vibe Vector is made of soft, matte silicone that does not catch much dust. It's a quality silicone and it is a healthy material  for the body and hypoallergenic. No latex or phthalates are present. As for the remote control, it is ABS plastic, a material also healthy for the body. So again, it's a good thing, we have quality at this point.
We-Vibe Vector use

Before telling you if this We-Vibe Vector makes my prostate vibrate in a good way, we will see the basic elements of its use. Know already that it has two motors that can be controlled independently, one in the head and the other at the perineum. Vibrations are said to be deep and powerful, just like what We-Vibe usually does. So we will look at all this together!
How to charge the Vector?
To charge the Vector battery, use the USB magnetic power cable in the box. Clip the magnetic part to Vector and connect the USB part to a USB port or AC adapter. When charging, an LED will flash. While it's flashing, it means the Vector is charging. When the LED is fixed, your massager is fully charged. During use, if the LED flashes again, it indicates that you are near the end of the battery and will need to be recharged again. It takes 90 minutes of charging time for an average usage time of two hours.
How to use the We-Vibe Vector in manual mode?
To use the Vector in manual mode, you have a small button under the massager. This is the only button available to use the Vector without a remote control or smartphone. This button will allow you to turn on, turn off, connect the remote control / smartphone and change the vibrations. This is clearly not the optimal mode of use or recommended one.
How to use the Vector with the remote control?
If you want to use the We-Vibe Vector with the remote control, it will be necessary to couple it to your toy. To do this, you must press the button below the prostate massager for 5 seconds. The Vector will pulse twice to be ready to be paired with the remote control. Then do the same on the remote control while holding the left or right arrow for 5 seconds to make the connection. The range is about 10 meters in a straight line and 6 meters at 360 °.
Then, to use the remote control, four arrows are present. The one that points upwards makes it possible to turn on the Vector but also to increase the vibrations intensity. The bottom one can turn off the device but also lower the vibration intensity. Then you have a "left" arrow and a "right" arrow to go to next mode or return to the previous one.
How to use Vector in connected mode?
The most interesting part is to use the We-Vibe Vector in online mode using a smartphone or tablet. To do this, you must already have your device compatible. You must be on iOS 10 or above, but also on Android 5 or higher. And your device must also support Bluetooth 4.0. Logically, the Vector is also compatible with iOS 9 and Android 4.4 systems, but We-Vibe has not tested its application on these systems. Knowing that these systems were previously supported by the application, there is a good chance that it works.
As for the Moxie, if the Vector is already associated with the remote control, it will need to remove the previous pairing to connect your smartphone or tablet to it through the application that will guide you in the steps to achieve that the connection is made. It can be used later in short distance or long distance.
What are the We-Vibe Vector modes?
Like the Moxie and other We-Vibe sex toys, Vector has by default 10 vibration modes that you can see above. There are four constant modes, named "low", "medium", "high" and "ultra". Then, six other alternative modes are present. You have the "pulse", "wave", "echo", "tide", "crest" and "surf" mode. So we find the usual modes that we are used to know, especially on dual-motors models.
However, if you go through the We-Connect app, you can create your own vibration modes, which allows you to mix two kinds of stimulation and play with the engines.
Which lube to use with the We-Vibe Vector?
As always, to avoid any possibility of damaging the silicone of your new sex toy, I advise you to use a water-based lubricant, oriented for anal or not. It is a prostate massager, so no need to put a lot of lubricant or have a thick lubricant specifically. Afterwards, it's up to you to see what you prefer too! I recommend the Sliquid range, as always! Sliquid Sassy or Sliquid H2O. But why not a classic Pjur Aqua too. In short, make your choice!
How to clean the We-Vibe Vector?
Like many products nowadays, the We-Vibe Vector is advertised as being 100% waterproof. In addition to allowing you to use it under water, it also allows you to rinse with water more easily. You can use soap and warm water, but also a toy cleaner, such as Sliquid Shine for example.
We-Vibe Vector efficiency

So let's see what this Vector has in its engine, because once again, I remind you, the Ditto butt plug had disappointed me. Here, the Vector looks better on paper, but is it as good on paper as it really is? So I decided to do several experiments with this one to offer you my feedback!
A well-made prostate massager
Yes, finally, We-Vibe understood that we should not just create a shape that fits in the anus to make a good product for anal use. It's more complicated than it seems. In terms of its shape, the We-Vibe Vector is well thought out and for several reasons.
The first is the shape of its prostate shaft. We have a rather round head with a semi-flat, tapered shape, which facilitates insertion, but also stimulation. The second is its size, which is still quite small (diameter level), allowing to be used by a beginner without any worries.
Comfort and again comfort
Yes, the Vector is well done and this is felt when it is in place. Frankly, once inserted, it fits well, but above all, remains comfortable. The Lovense Edge is much more prostate-based, which is good at stimulation level, but less easy to keep in place. Here, Vector is positioned to tickle the prostate without really pressing on it.
In addition, it holds well in place with its studied form, which allows to keep it in place by walking and even sitting on it. Moreover, in sitting mode, the masseur has not changed to another mode alone or has turned off. Yet, the button is located under the massager, which can, on some models, activate modes all alone. We can even keep it during a penetration, like the Aneros Helix Trident and other models of this kind.
Connectivity and usability
To use Vector, it's pretty easy. I mainly used this one with the integrated remote control, to not only test it via smartphone as a remote controller. Here, it works well. Admittedly, there are fewer possibilities than with the application, but it is quite functional for local use. For the connected part, I had about the same disconnection problems. Either for a low battery reason, which generates a lot of disconnection, or from time to time, but that I manage to fix it most of the time by activating the Bluetooth scan mode in the application.
The vibrations quality
We-Vibe is still well known for the quality of the vibrations it offers in their engine. The Vector is an example. The vibrations are quite deep, which propagate rather well, bringing a slow but successful stimulation. If we start to press on the perineum part, we feel that these vibrations propagate well in the perineum. It's nice and very pleasant.
The noise
Like the Moxie, the Vector is pretty quiet overall. However, to use it in connected mode in public, it is more delicate. In short, either you use it in a continuously noisy place. Either the place is not so noisy and there, it is better not to go beyond the second intensity level to not let other people noticed that you're using a prostate massager.
And the stimulation as a whole?
Well, it's really not bad at all! Frankly, We-Vibe goes back in my esteem. The Ditto was really messed up, I was disappointed, but here the Vector catches up with the past mistakes. Once inserted, at the  maximum continuous level intensity, playing with my PC muscles, the vibrations come to wake up my prostate with ease.
The shaft comes gently to vibrating it, without applying a strong pressure. It's well balanced. The silicone quality makes it all comfortable and without any inconvenience. The work of the PC muscles also allows you to move the Vector slightly to stimulate the prostate even more.
Is this the model that I need?
I find it nevertheless, a little small in its width, but I must say that I like large sex toys in general. Without penis stimulation, I get a very good pleasure level, without bringing me to prostate orgasm. Over a longer period of use, I could go at the stage where i feel tickling sensation on my groin and my prostate, which begins to spread in my body, with a good level of pleasure, but without getting to orgasm with only this stimulation. Rest assured, for me, this is the case with a large number of prostate massager, even very good, everyone is not so receptive.
My preference
I prefer a stronger, more powerful stimulation, more of everything in fact, what I get with bigger models or applying more pressure on my prostate. But with a penis masturbation at the same time, it does not take long before orgasm arrives. I must admit that I also liked the "echo" mode, which creates a kind of "ping-pong game" between the prostate and the perineum.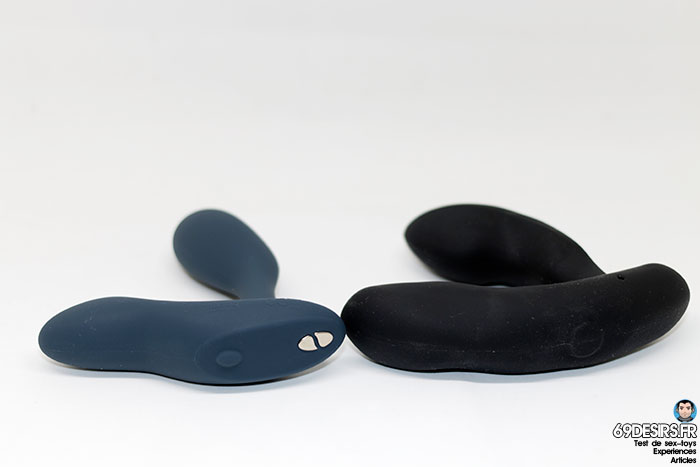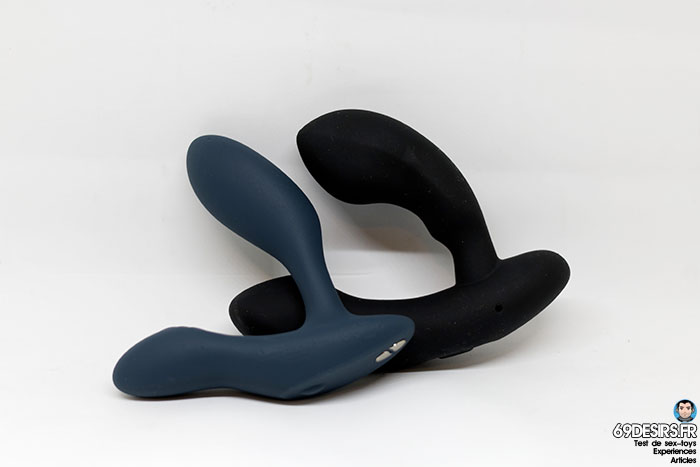 We-Vibe Vector final thoughts

In the end, this We-Vibe Vector is a nice connected prostate massager! Finally, We-Vibe did not make the same mistake as on the Ditto! This is the first time We-Vibe has offered a men's sex toy that is anything other than a cockring. But above all that is effective. Vector has few flaws and fits a lot of users. For a beginner, it's a very good choice.
Indeed, it can do a lot of things and is clearly not the size of an Aneros Vice for example. The vibrations are qualitative and spread well. It is comfortable and can be used remotely. I think it is a little small for me, let say that I would have liked a "Large" version of this Vector. But that's a personal preference matter. If you are looking for a connected prostate massager, thinner than the others, the Vector is a deserved choice!
Pros
Qualitative vibrations that propagate well
A soft and quality silicone
Several ways to use it
Suitable for beginners and more
Studied and stimulating form
Comfortable in any situation
Cons
A little expensive maybe?
For the greediest, it will be too small
Use in public possible, but not its maximum intensity
Summary
Reviewer
Review Date
Reviewed Item
Author Rating





Product Name