Back with a Fun Factory sex toy, I named the Fun Factory Stronic Surf! Maybe you know the Stronic range of Fun Factory? No? This is an opportunity for me to make a small reminder. Fun Factory released, a few years ago, a pulsator range. This type of sex toy is particular, since it does not vibrate and pulse. Basically, it moves back and forth instead of offering vibrations. There were three models originally. The Stronic Eins, Zwei and finally the Stronic Drei. I had the opportunity at the time to review it. And finally, the Bi Stronic Fusion, a rather special mix.
Then, a few years later, a new model was released, the Stronic G, dedicated to the G-Spot pleasure. Then there were the Stronic Surf and Stronic Real. So this is the Fun Factory Stronic Surf that I will review today with my dear and tender Kitty. Maybe the Stronic Real will be reviewed later on the website. In the meantime, place to the Pulsator II, the new generation of sex toys in the Stronic range! Place to the new version of one of their best-seller!
Fun Factory Stronic Surf packaging
I'm not going to tell you that there is a change at Fun Factory, because you can imagine, it does not move at all. We always have the same cardboard box and gold with its sleeve. We always find the same marketing, with on one side, the product and on the other, a picture on which the Fun Factory toy is presented.
Once we open the box, we always discover the same principle. A quick start, a Click'n Charge charging cable and, of course, the Fun Factory Stronic Surf. There is also a warning for pacemaker users. If this is your case, do not use the Fun Factory Stronic Surf. I will explain later why. Of course, with Fun Factory, the storage pouch is an extra. You have to buy it separately. In short, still no storage pouch integrated in the box.
Fun Factory Stronic Surf Physical details

How to talk about Fun Factory Stronic Surf without talking about its specific form? Indeed, if the Stronic Surf is called this way, it's not for nothing. Here, we immediately notice the very special shape of the pulsator shaft. This shaft is shaped like a wave, hence the name "surf". The upper part shows large ridges in the form of waves while the part below, uses waves but a little less pronounced. Casually, they remain more pronounced than the average sex toys on the market that use similar forms.
We can also note the presence of a zig-zag shape on both sides of the shaft. It looks a bit like a big vein running all over the shaft, a bit like a dildo. Needless to say, these two zigzags will stimulate the vaginal walls during its back and forth movements.
We can also note a tiny anal brake, not very big, to use it in anal. It's up to you on this point. For my part, it does not bother me to use it this way, but we can't say that it is really thought for that. We can also notice that the head is not quite right, maybe to come to stimulate the G-Spot. We will see that further.
Fun Factory Stronic Surf size
The Fun Factory Stronic Surf is part of the new generation of the Stronic range, a finer range with more discreet dimensions. Indeed, Fun Factory Stronic Surf is 20.3 cm long (8″) and 12 cm insertable (4.75″). Its maximum diameter is 4.5 cm (1.75″), but only 2.7 to 3.8 cm (1″ to 1.50″) are insertable. If I compare Stronic Surf to Stronic G, we can actually see that it is more modest. Indeed, the Stronic G measures 20.8 cm in length (8.1″) for 14.6 cm (5.75″) insertable. Its diameter changes from 3.6 to 4.2 cm (or 1.41″ to 1.65″). So we can see that Stronic Surf meets its commitments.
Other details on the Fun Factory Stronic Surf
Apart from the elements I have already given you, we can also note that the Fun Factory Stronic Surf is available in three colors. In black, for sober, in "orange neon" to make a little more flashy or the very pretty "blue oil" that I particularly like. It should also be known that this sex toy weighs 323 grams, which is not light for this kind of toy.
Stronic Surf materials
Like the majority of Fun Factory sex toys, Stronic Surf is no exception. Two materials are used to build it. The first is the main one, the silicone. This material is one of the most used components nowadays in the sex toys realization. Silicone can vary in quality according to the manufacturers. Here is a good silicone quality, non-porous, hypoallergenic, containing no phthalates or latex. It is a safe material for the body.
The second material is ABS plastic, a hard and cheap material. It is used here for the handle and control part. ABS plastic is also a healthy material for the body. In short, we have two materials that are quite healthy for our body.
But wait, I did not miss anything? Of course, did you notice the particularity of the silicone used this time? We see it pretty well in the pictures. Here, the silicone is really very dull, which is quite unusual at Fun Factory. It hangs a lot, so it will use a lot of lubricant. And we feel that the silicone finish is almost sandy. A bit like the Fun Factory Calla. It therefore quite easily catches dust.
Fun Factory Stronic Surf use

Here's the time to explain how Fun Factory Stronic Surf works! As a reminder, this is a sex toy that pulses by doing back and forth movements. It can be used alone, with two or even without hands. It is part of the Pulsator II line, the Stronic range with slender and lighter curves. I also remember that this sex toy can be dangerous for pacemaker wearers because it has an internal magnet system. But let's see how to use this Fun Factory Stronic Surf in detail!
How to charge the Fun Factory Stronic Surf?
To charge the Fun Factory Stronic Surf, it's the same process for a few years, you have to use the Click'N Charge cable system from Fun Factory. This is a magnetic charging induction  cable to recharge the pulsator battery. So just connect the USB port to an AC adapter or a computer. Then, we have to wait. Indeed, the Stronic Surf charge requires 6 to 8 hours for a continuous use of 45 minutes in the most intense mode. It's not much, it will have to do with.
During charging or in use, you have LEDs that will start to flash or blink. Rest assured, it's normal. These are indicators charge and low battery alert. When charging, the charge indicator will be more or less red. There are three levels of indication. The first indicates that the battery is charged between 0 and 33%. The second indicates that the charging is between 33 and 66% and finally, the last will indicate that the charging is between 66 and 100%.
How to handle the Fun Factory Stronic Surf?
Never change a winning team ! The Fun Factory Stronic Surf has taken the same buttons as the previous models of the Fun Factory range for several years. Indeed, you have three buttons to control the sex toy. There is a "Fun" button, a "+" button and a "-" button. Here, the "Fun" button is the "Power" button that we usually find.
The first thing to do is to unlock the Fun factory Stronic Surf. Why ? Because it has a "Travel-Lock" system to travel safely without the sex toy being activated by accident. To unlock the sex toy, press the "Fun" and "+" button for 0.5 seconds. And if you want to activate the Travel-Lock again, press the "Fun" and "-" button for 0.5 seconds.
Subsequently, to turn it on, it will press the "Fun" button for 0.5 seconds. When the Fun Factory Stronic Surf starts, the "Perfect start" mode is selected. If you press the "Fun" button for 0.5 seconds again, the engine will stop.
To switch to the available modes, once you have reached the "Perfect start" mode, the "-" or "+" button will take you to algorithmic, constant or dynamic modes. You do not understand everything? No worries, we will look at the available modes more closely.
What can be done with the Stronic Surf?
We can do a lot of things to be honest! Of course, we can introduce it into the vagina, that's the base. You can hold it in place with one hand or even block it between your thighs to use it in free hand mode. One can also do Kegel exercises, even if it is not its primary goal. It will be enough to tighten and release your PC muscle on the Stronic Surf shaft. At the same time, it can be done with other sex toys with long and wide shaft.
It can also be associated with another vibrator and that's nice. Indeed, we can block the Stronic Surf between thighs or hold it with one hand and use a small vibrator for the clitoris. For example, a We-Vibe Tango, Lovense Ambi or a vibrating pebble, like the We-Vibe Wish.
It can also be used in anal, but it is not recommended. There is no real anal brake on this sex toy, so it could be sucked fully into your anus, so watch this kind of use. As previously stated, for me, the size of the "light brake" does not bother me.
What are the pulse modes of Fun Factory Stronic Surf?
On the Stronic Surf, you have at your disposal, 10 modes. The first is the "Perfect Start" mode that I have already presented. It's a constant mode and it's the weakest mode. Then, you have other constant modes, whose intensity varies upward. There is the "samba", "rumble", "quicky" mode for that.
Then you have three dynamic modes, "roller ball", "Vienna waltz" and "rumba". And finally, there are also three algorithmic modes, "dirty dancing", "gallop" and "rattle". Which gives us 10 modes in total. For a simpler understanding, you will find above, a diagram of the manufacturer explaining these modes.

How to lube the Fun Factory Stronic Surf?
Like all other Fun Factory sex toys! That is, with water-based lubricant. Indeed, the Fun Factory Stronic Surf is made up almost entirely of silicone. Therefore, silicone-based lubricant should not be used as this may cause incompatibility. It is therefore preferable to choose a water-based lubricant. I recommend my favorites, such as the Sliquid H20, the Sliquid Satin, the Yes Bio or the Sliquid Organics sensation.
How to clean the Fun Factory Stronic Surf?
Good news, Fun Factory Stronic Surf is 100% waterproof. It can be immersed under water to play with or to clean it. Warm water and soap will help you take care of it. But you can also use a toy cleaner, like Yes Cleanse or Sliquid Shine.
Fun Factory Stronic Surf efficiency

This is the final verdict moment for the Stronic Surf! Yes, this is the perfect time to know if this new sex toy from Fun Factory deserves to pay some hard-earned coins. Announced as silent and discreet with deep stimulation. It stimulates the erogenous zones along the anterior and posterior vaginal walls, including the perineum sponge, located along the posterior wall. So we'll see what it gives on the field with my dear and tender, Kitty.
What about the different modes?
For once, I'll tell you a little more about the pulse modes present on the Stronic Surf! Because it is true that in general, I explain the different modes, without telling you more about them. At the same time, it must be said that it is the constant modes which are the most appreciated, but for once, you will have a little more explanation on this point.
Samba mode: It's a quick and punchy back and forth
For Rumble mode: It's similar to Samba mode, but even faster
Quicky mode is so fast that you might think it's vibrations and not pulsations
Roller Ball mode: Fairly average, it starts quickly and deeply then slows down
Then there is the Vienna Waltz mode: A mode that starts slowly and then faster before going back and starting again
Rumba mode: It looks like small shots, then a fast machine gun
Then we arrive in the algorithmic pulsation modes composed of "dirty dancing", "gallop" and "rattle" mode. These are a few special modes.
First algo mode: It is a very slow mode, a constant heart beat rate that goes back and forth every two seconds. Not really good.
Second algo mode: Gallop, which is a slightly faster mode and slightly out of step with the heart beat rate
Then the third algo mode: A pretty weird mode that looks like jerks
Here, the classic modes are rather nice, but the algorithmic modes are quite strange. I think we have to get used to it, even if the proposed effects will not be suitable for everyone.
Is it well studied in terms of its shape to insert and move it?
Already, to insert it, it is quite easy, provided you have used water-based lubricant. Do not forget that the Fun Factory Stronic Surf measures 4.2 cm (1.65″) in diameter at the widest and it must be inserted. Everything depends on you. The insertion is pleasant, because we feel the waves on the sides of the toy at the vaginal walls.
Since its texture grips, I advise you to use a certain amount of lubricant anyway. You can also try not to over-tighten your vagina on the Fun Factory Stronic Surf, to let it act and move. Otherwise, the silicone texture will tend to rub against your walls, blocking its movement. It's up to you, but I advise you to use a little more lubricant than usual.
Stimulation, what does it give?
We also realize that the slightly curved head can gently stimulate the G-spot, but without reaching the Stronic G level. In this area, the latter is much better. G-spot stimulation is still possible, but the Stronic Surf head must be pointed upwards at the right angle. In this case, do not insert it completely, depending on your anatomy, the last wave of the shaft will be located outside for it to place where it is needed. But again, the Stronic G will be more suited to this.
The sound of a Fuck Machine?
Yes, at 69desirs, we always have things to say about a sex toy! There are so many websites that claim to do reviews with two sentences to describe whether the product is good or not that it becomes laughable. Stop taking people for hams! At the level noise, we can't say that it is silent, but it is not too noisy. The sound it generates should not disturb you.
For those who think Fun Factory Stronic Surf is a portable Fuck Machine, I'll stop you right away. Certainly, it's a sex toy that pulsates, that goes back and forth, but we are far from a sex machine. Do not mess around anyway. The grip is good, as the Stronic G, since there are no changes at this level.
Unusual and pleasant stimulation
It should also be noted that the Fun Factory Stronic Surf seems to go to places that are often not very solicited. The part of the perineum sponge and the posterior walls of the vagina are stimulated here. We feel that the perineum is well stimulated, in any case, more than on other sex toys. Obviously, the Stronic Surf shape is not only there to be beautiful, it is also there to provide quite intense orgasms compared to other more standard products. It is in particular the waves and streaks of the shaft that play in its favor, accompanied by pulsations.
The hands free mode
What's also interesting is the hands-free mode. By wedging the Fun Factory Stronic Surf between your thighs, you can let it do it while taking care of other things. For example, you can use a small clitoral stimulator or the Womanizer Premium, the Satisfyer Pro Traveler or the Lelo Sona 2, there is plenty of choice. You can use both hands to do something else too, it's up to you!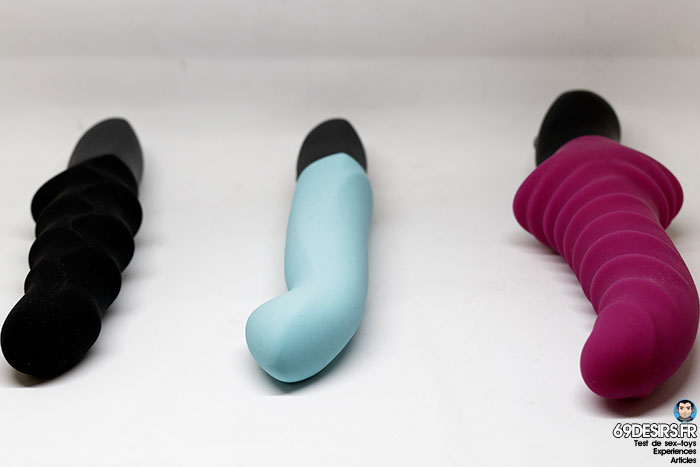 Fun Factory Stronic Surf final thoughts

In the end, the Fun Factory Stronic Surf completes the range of pulsators offered by Fun Factory. Here, the Stronic Drei was appreciated in its time, but the Stronic G has managed to dethrone him, at least for those who seek a G-Spot stimulation in priority.
The Fun Factory Stronic Surf model is there to bring different sensations of penetration, take care of your perineum, with a very good level of power. Your vaginal walls will also be more stimulating than Stronic G. So this is a good model, with few defects and is placed quite clearly in the line of Fun Factory pulsators! You know what you have to do if you want a sex toy like this, save a little because it is an investment. But the Fun Factory Stronic Surf will return the favor!
Pros
German quality
The shape of the shaft to stimulate the vagina walls
Powerful pulse modes
Complementary with a clitoral stimulator
Possibility to use it without hands
Cons
It's a certain investment
Dust that hangs silicone
The dispensable algorithmic modes
Summary
Reviewer
Review Date
Reviewed Item
Author Rating





Product Name