Now let's get to the Britney Lovedoll masturbator! That's right, Kitty had fun and continues to have fun with the Male torso masturbator Edward, I get to have fun with Britney too! In fact, not long ago we reviewed our first masturbator with a penis and I must say it was a great experience! Edward has become a regular. But when we received Edward, we also received Britney, a full torso masturbator with a big pair of breasts, the best-seller from Tantaly, our partner in this operation.
Of course, I agreed to review both and so here we are with this second product! So, unlike Edward, our first male torso, for Britney, I already had the opportunity to review this kind of masturbator. The first one was the Kyo Torso, still the biggest and heaviest torso I've ever reviewed. Then there was the Real Body 3D Maria Nordal before the Real Body 3D Anna Kiljan! Of course, I also reviewed some asses, like the Kyo 7 Sins, the Chubby Narumi's Outrageous Ass, but it's not the same to have a complete bust! And now it's time to give you our verdict on the Britney Lovedoll masturbator!
Britney Lovedoll masturbator packaging
Unlike Edward, Britney didn't arrive directly in a plastic mold in a package. No, here we have the right to a real box! It is a big black box with on the top, the mention "Do Real . Be Real", on one of the slices, a woman showing her backside and the mention "Tantaly" and on the other slice, the Britney Lovedoll masturbator showing us what it looks like and the two available colors.
Once we open this box, we discover a big piece of polystyrene that we just have to lift to discover Britney. In this first block of polystyrene, we also have two elements, a small guide of maintenance of the product, but also a rod to be inserted in the masturbator to make it dry as well as a tube to be fixed on a tap in order to clean the inside of the masturbator with a very practical long rod.
Inside, we have Britney, wrapped in a plastic bag, resting on the second part of the polystyrene mold. I think it's pretty nice to have some material inside to make it easier to maintain and clean Britney, it's really rare.
You can feel that Tantaly is specialized in torsos and masturbators of this type, as there is everything you need to properly maintain the masturbator. Again, it is really nice to discover this.
Britney Lovedoll masturbator physical details
So this is one of the most beautiful masturbators torso we have ever received! As you can see on the pictures, we have a rather imposing bust, without being huge. So it is a torso, with several details, like the navel, some skin features and interesting shapes.
We quickly feel, as soon as we lift it, that it is rather heavy, notably by the presence of an internal skeleton which comes to give her this relative rigidity in certain places. When we compare Britney to Edward, we feel the difference. When we lift Edward, he folds in two, while here, Britney remains perfectly aligned.
At the level of her buttocks, we can see that Britney has a well rounded ass, raised with a realistic anus. Of course, the orifice is still a bit peculiar, but we see all the folds outside the anus, which is far from being the case on other models! And when I look at the other side, the vagina part with the clitoris, the labia minora and majora are really well done.
So yes, it's a bit too "red/pink", but on the other hand, in terms of details and rendering, I must say that I have never seen that before! It's really a nice surprise to have so many details and a certain fidelity to reality.
And the last point is of course Britney's chest! It is a particularity that we do not usually find, since her breast is made with a fusion of silicone and TPE. Indeed, inside each breast, there are silicone implants in order to hold the breasts in place, while having a layer of TPE to have this soft side. It is frankly a success, we feel the difference with a pair of breasts only made of TPE. In short, visually, it is a beautiful object that gives envy!
Britney's size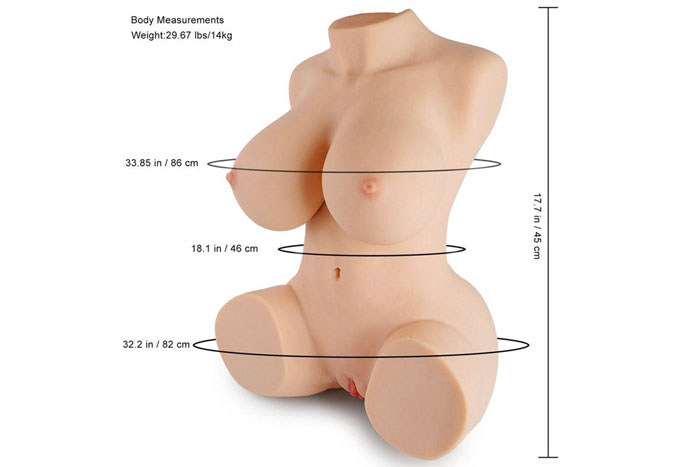 Britney Lovedoll masturbator doesn't look very big at first glance in the pictures. And yet, it is a good size masturbator! When it is placed standing (well, sitting) because Britney has no legs, it measures 45 cm high (17.7″) ! Her chest is 86 cm (33.85″), with a waist of 46 cm (18.1″) and a hip or should I say ass of 82 cm (32.2″)! It's not bad at all and quite realistic overall.
Other details
To tell you a little more, you should know that Britney weighs 13,15 Kg! Yes, that's a lot of weight! Usually, the masturbators of this kind that I had the opportunity to review are more around 8 to 9 Kg, there, it's another thing. And you should also know that this Britney lovedoll masturbator comes in two versions, two different colors actually. You have the version that we received, with the color "fair" which takes the color of Caucasian skin. And the other version is called "wheat" which offers a skin a little more tanned.
But I still have to tell you about the two penetrable tunnels present! The first one is the vaginal tunnel, which is reduced in the shape of an S tunnel, then a narrower zone before reaching a friction zone composed of striations allowing to reach the Cervix. On this tunnel, we find pads, striations to stimulate the penis during its passage. Then we have the anal tunnel, which expands to reach spheres in the form of bumps, a wide passage with a large bump and to finish on a wider area which corresponds on the diagram to the negative pressure zone.
Britney Lovedoll masturbator materials
Again, as you may have understand, we have quality materials! The first one is the TPE which is of medical grade. I must say that it doesn't sticks quite a bit, less than others, without any particular smell, which is not the case on all masturbators.
We also find, silicone implants in the chest and an internal metal skeleton and not plastic as is the case on other masturbators of this type. The quality is there, it is all good! To give you a comparison, the TPE is of better quality on Britney than on Edward.
Britney Lovedoll masturbator use
Now that we've seen a lot of the things you need to know about Britney, I'm going to tell you a few other things! I know that using a masturbator has never been complicated, at least not for the manual models, because for the automatic ones it's a bit more technical. The goal here is to inform you on the best ways to use it, but also to take care of it! Let's have a look at it.
What can be done with it?
We won't hide it from you, the first thing you can do with Britney is to penetrate her vagina or her anus! This is the basic element of a masturbator. But as you can see, it's not just a masturbator, it's a complete bust! With its big chest, you can also practice "Boobs Job"! It will also be possible to dress it with sexy lingerie! It will be necessary to choose lingerie in size S (in particular for the panties) and 85B for her chest!
But you can do many other things too! It's all a question of imagination! For example, with Kitty, we imagined a "foursome" with Edward and Britney, but also a "threesome" with Britney only, so you get the idea, it all depends on your desires!
Which lubricant to choose ?
Of course, with TPE, you should not use just any lubricant! You should absolutely choose a water-based lubricant. Otherwise, your Britney Lovedoll masturbator won't last long! According to your desires, you can take a standard water-based lubricant, without particularity, but also thicker lubricants for example, if you decided to take Britney's ass! But a simple water-based lube will be sufficient.
How to clean Britney?
So for this step, which is not the most fun, you should know that you have an accessory that allows you to use a hose to be inserted into the masturbator in order to clean the inside of it. Then you have a stick to insert to facilitate the absorption of water. But otherwise, it's the same principle as usual. For my part, I place Britney in the bathtub, clean the inside, then with the shower jet, I clean the outside with a little soft soap. Then I dry Britney by putting her on a towel. Once this is done, I put Britney back in her box, in her Styrofoam mold, with her chest up so as not to crush her.
Britney Lovedoll Masturbator Efficiency
Now let's get down to business! For the occasion, I reviewed the Britney Lovedoll masturbator alone, but also with Kitty! We tried to mix a bit the possible uses in order to make you a complete report! So let's see what we think about Britney to tell you if it's worth the detour!
Handling
I think you've figured it out, the Britney Lovedoll masturbator is imposing, but mostly quite heavy! However, despite its size and weight, its internal skeleton makes it easy to use, without too many complications. Indeed, this last one allows to hold Britney in several positions, without her being in "Flamby" mode. It is a bit what we could see with Edward, who has no internal skeleton and who looks, indeed, like a flamby as soon as he has no more support.
Here, on Britney, the internal skeleton allows to stay in place, in several positions. Whether it's doggy style, cowgirl or other, this one stays in place and doesn't move. So yes, it adds extra weight to the whole thing, which won't allow you to penetrate her while holding her at arm's length, without any support (unless you have really good muscles). But in use, it's still much more convenient to have this internal skeleton.
Another point, I liked the fact of having a part of the thighs, because in missionary, we can hold on to them and even spread them a bit, as if we were spreading Britney's thighs to push our penis even deeper!
Using Britney and her breasts
To try a bit of everything with Britney, I try a "boobs job", her breasts being in good shape to do it easily. I have to admit that with her soft pair of breasts which contains silicone implants, the result is not bad at all. I'm not going to say it's the same as with a real pair of breasts, but the result is convincing. The sensation when the penis passes between the two breasts is pleasant. It slides well and you can clearly cum this way.
Another test, the fact of slapping Britney's breasts! You can do it without worrying about hurting her, but above all, you can go quite frankly. The breasts move rather well when the hand taps on them, it is an additional point which allows to reinforce the feeling of realism. In hand, the grip of each breast is good, fills rather well this one and allows to grab them, especially in missionary position. In short, on this point, I must say that Britney's breasts are very good!
Vaginal and anal penetration
Another test is of course the penetration! I tried both tunnels, in order to give you a report! Without surprise, the vaginal tunnel is more interesting! It must be said that it is often the case on masturbators. Usually, it is the best worked tunnel and here too, it is felt. When I compare the anal and vaginal tunnel, you can feel the difference in its narrowness. It is more difficult to penetrate Britney's ass than her pussy.
For the vaginal tunnel, it is stimulating, especially the last part of the tunnel, which I find quite well done to stimulate the penis head. This is especially the case when I go to the bottom of Britney's pussy. It feels like a more open area, with a nice air play. That's my favorite part. But otherwise, for this vaginal tunnel, there is some variation, some realistic feeling, although you can never really compare the sensations you get with a masturbator and a real person.
For the anal tunnel, it is tighter, quite straight, pleasant, but less stimulating than the vaginal tunnel. It's still a good thing that it's there, it's even a very good thing to vary the pleasures! In any case, for my part, I find it exciting to fuck Britney's ass! However, the vaginal tunnel is clearly the most successful and the one that gives the most sensations! If you have to cum, this is the tunnel that will give you the most effect (at least for your penis).
Foursome, with Britney, Edward and Kitty
Yes, we managed to find a moment to gather all these beautiful people to make a "foursome" plan! Indeed, I had made sure to put Edward on our bed next to Britney to surprise Kitty. Once she arrived in the room, she saw our two sidekicks of the day! That's when I ordered Kitty to take care of Edward, jerking my cock and his cock then asking her to ride him. I enjoyed the show and then let Kitty take care of Edward while I headed over to Britney.
While Kitty was still straddling me, I began to fuck Britney, facing her, watching her. The more Kitty tried to pleasure herself with Edward, the more I watched her while I gave Britney's pussy a hard thrust. By the way, I had also made sure to put the Lovehoney Mettalic Butt plug into Kitty's anus before the festivities. That's when Kitty stopped playing with Edward and asked me to take care of her. I then moved Britney to the side to face Kitty in the missionary position. While I was taking care of her, Kitty started playing with Britney, fingering her while I was going back and forth inside her! It was pretty explosive!
To go even further
In order to go a little further in the review of this Britney Lovedoll masturbator, I tried it again with Kitty! I had taken care to put Britney in our bed to surprise her. When she arrived, I revealed Britney's presence. I started jerking off in front of Kitty and Britney, stroking Kitty's butt and Britney's breasts. Soon, Kitty was busy having fun with Britney's breasts, even to the point of squeezing them together so I could place my penis in them for a "Boobs Job", with Kitty sucking my penis head on the way out.
Afterwards, I set Britney up to take her on a missionary position, starting to finger Kitty's pussy at the same time. Then I moved on to Kitty's pussy, fondling Britney's breasts in the process. But finally, I stood on the edge of the bed, Britney in front of me as a missionary and Kitty off to the side, fingering her pussy. Kitty was telling me to fuck Britney, which I did without delay. I spread her ass to fuck her, then took her pussy, still with Kitty on her side with fingers on her pussy and enjoying the show. Finally, when it was time to cum, I decided to pull my penis out at the last moment to cum on Kitty while she was still masturbating.
Britney Lovedoll Masturbator Final Thoughts
Once again, this is a nice surprise! As I said, this is the most qualitative torso masturbator and the one where the details are the best done! With a good pair of breasts and silicone implants, I must say that you can feel the difference with breasts only made of TPE. You can feel the presence of the internal metal skeleton, which not only gives Britney weight and stability, but also the possibility to lean on it more easily, while controlling its strength, without the risk of it breaking, which is not the case with ABS plastic internal skeletons, which are resistant, but more fragile.
It is a very good model, again, very detailed, realistic, satisfying, exciting, with a soft skin, without any smell that can be found on other models. Even the material is not oily, yes, a little, but still much less than the average model I could review! In short, if you're looking for a torso like this, Britney is a great choice!
Pros
A large chest
A good chest
Good dimensions
The quality of the texture
The vaginal orifice is good
For the anal, it's not bad too
Britney's breast
The cleaning accessories
The details
No paint that comes off as you go along
The metal skeleton
Cons
It takes up space
The cleaning
Small defect on the colorization
Summary
Reviewer
Review Date
Reviewed Item
Britney Lovedoll Masturbator
Author Rating





Product Name
Britney Lovedoll Masturbator