My first one is a vibrator, my second one is a sonic wave stimulator, it's the Lelo Enigma! I must admit that when I heard about this new sextoy from Lelo, I laughed a little! Indeed, as soon as I saw its shape, I told myself that it was a mutant Lelo Sona 2, which must have been hanging around Chernobyl with its protuberance. But I was still intrigued! Not because of his name, even if it's a good choice when you think about it! But it's mostly for its resemblance with other stimulators we reviewed! Indeed, how can we not think of the Womanizer Duo (or even the Womanizer I&O) or the Lora DiCarlo Osé 2?
There, we can say that Lelo did not look very far for its product, even if I must admit that at first sight, this Lelo Enigma seems not bad at all! We find the shape of the Sona with a rod for the G-spot that seems well designed, it is perhaps a success! But for that, you know as well as we do, it must be tested. Because it is above all at this time that we will if the Lelo Enigma deserves its place on the market! Will it end up in our Top Sextoy? Let's find out together!
Lelo Enigma packaging
Let's start with the box so as not to change. It is a classic Lelo box, all black with gold writing. On the front, there is a windowed area where you can see the Lelo Enigma as well as the Lelo logo and the product name. At the back, we have the description of this new sextoy as well as its capabilities, usual things that we find every time! Once the seals are removed, we can have access to the inside of the box!
Inside we have, first, the Enigma, installed in a mold and then under it, a satin storage pouch, a registration card and a lubricant sample. However, for the manual, it's still a mini-sheet that tells you to download the manual directly from the website. It's a shame, but it saves trees. And you get a sample of Lelo lubricant that you can use. Then in the cardboard compartment next to it, when you lift it up, you have a USB charging cable wrapped in a little plastic sleeve, which could be avoided, because plastic is not fantastic.
Lelo Enigma physical details
The Lelo Enigma is a strange sextoy! When I saw it for the first time, I immediately thought of a kind of Lelo Sona 2 Cruise on which was grafted an imposing rod for the G-spot! It's really a strange mix, but at the same time quite beautiful! I don't know how to express it! So we have a part that takes in every point the range of Sona, with a curved shape and three buttons that we know well, appeared in the first sex toys of the Insigna range! There is a "+" button, a "-" button and a "()" button.
The charging port is still in the same place, at the bottom of the stimulator. And to finish on this part, we have a little oval area, in ABS plastic with rainbow effects. Finally, it is really beautiful! I must admit that before, it was a golden part, which was a bit "bling-bling", but here, it's really nice and it gives all its appeal to this Lelo Enigma!
Then we have this rod, which is not a simple basic rod, but has a well-constructed design. The rod is quite thin at the beginning, then widens more and more, to be just above the clitoral part with a good flexibility. You can also see that the vaginal shaft has hollows on the sides, everything seems to be well thought out to properly stimulate the G-spot along with the clitoris!
Enigma size
Now let's talk about the dimensions of this stimulator! I calculated the dimensions myself, because I admit that it was not clear from Lelo and I always prefer to calculate myself to have the right measurements. Without unfolding it, the Lelo Enigma measures 16.5 cm (6.49″) in length and 10.5 cm (4.13″) in width, when laid flat. If I take the clitoral part, it is 5 cm (1.96″) wide for a length of 10.5 cm (4.13″).
The stimulating head is 2 cm (0.78′) wide but the hole is only 1.1 cm (0.43′) in diameter. The stem for the point is 12 cm (4.72″) long without being unfolded on its internal face and approximately 18 cm (7.08″) on its external face. At the insertable level, with the clitoral part placed on the clitoris, it is about 14 cm (5.51″) long. And finally, the vaginal stem has a maximum diameter of 3.5 cm (1.37″).
Other details
For this Lelo Enigma, the manufacturer offers two colors! You have the model in deep pink or black version! As you can see from the pictures, it is the deep pink version that we received. And for the other element to give you, know that it weighs 196 grams! Compared to the Sona 2 Cruise and its 125 grams, you can guess that it will not be very heavy and therefore, logically, as handy.
Lelo Enigma materials
At Lelo, if there is something I can never say no to, it is the materials used! It is always quality, with a very soft silicone! Just run your finger over it to understand it! This premium silicone has nothing grainy, nothing sticks, it's really soft, silky and pleasant in every way! For the rest of the product, we have just a little bit of ABS plastic, it's the part at the back of the product (as for the Sona 2) which this time has a rainbow effect and not gold!
Whether it's silicone, which is a phthalate-free, latex-free and hypoallergenic material, it's healthy for the body, just like ABS plastic! In any case, it is the silicone part that will be in contact with your body.
Lelo Enigma use
Another enigma! Is the Lelo Enigma complicated to use? Will it be ergonomic and instinctive? That's what we will see! Just in case, you should know that this stimulator will have two types of stimulation! The first one will be sonic waves directed towards your clitoris, either on the surface or in depth! And on the other side, you will have vibrations in the rod intended for the G spot! But first of all, you will have to charge the battery!
How to charge it?
As always, with Lelo, you'll have to use their little USB charging cable with a plug that looks like a Jack, but doesn't have one! I admit that since the time, Lelo could make an effort to offer charging by magnetic induction! I know they prefer to keep their system because it's more or less proprietary and it's a way to make you buy a new cable if you lose it or damage it. Fortunately, if you have other Lelo sex toys, the charging cable will be compatible!
You have to connect the cable to the bottom of the Lelo Enigma. When it charges, a LED will start pulsing at the control buttons. And when the charge is over, the LED will be glowing softly instead. It takes 2 hours to charge for a 2 hours autonomy. A 1:1 ratio in short. If you don't use it anymore after having one or more orgasms (that's what we wish for you), it will automatically turn off after 60 minutes of inactivity. And if you leave it in your bedside table (which we don't want you to do), it can stay in Stand-By mode for 90 days before being emptied.
How to use it?
Here, it gets a little more complicated, even if in reality, nothing is really complicated. As mentioned before, you have three buttons on the Enigma! There is the "+" button, the "-" button and the "()" button. First, you will have to disable the "Travel-Lock" mode which allows you to lock the sextoy during transport or a trip. In order to activate or deactivate it, you have to keep the "+" button and the "-" button pressed for 3 seconds so that the LED lights up.
Then, to turn it on, you have to keep the "+" button pressed for a short time so that it starts. And if you press it again, the intensity will increase. To lower the intensity, you have to press the "-" button and to turn it off, you have to keep the "()" button pressed for a few seconds.
There is one more detail! Indeed, the "()" button allows to change the current mode, to navigate through the 8 present modes! And you can't control the two motors independently! It is a pity, because some do it and it is a small lack on this point! Therefore, by pressing the "()" button, the effect will be to increase the intensity of the vibrations continuously or to switch to a particular mode for both motors at the same time and therefore the two types of stimulation possible.
What modes are available?
For this Lelo Enigma, you have 8 modes at your disposal! Ok, we have 8 modes, but 8 modes of what exactly? Of sonic waves, of vibrations? What are these modes? If there is something that annoys me a little with Lelo, it is that there is no more effort to present what it proposes!
On their website, to present the Enigma, we can simply read "from the teasing murmur to the pleasurable pulsation"! Honestly, it's not that good! It's like if I bought a food processor, which would tell me "from beginner mode to chef mode", while this robot has 8 modes! What do you really have? What is hidden between the "teasing murmur" and the "pleasurable pulse"? Anyway, thank goodness we're here to tell you a little more! It's about time Lelo went back to basics and came up with a diagram to detail their modes!
The first mode present makes the vaginal shaft vibrate in small jerks like the clitoral part. Then we have modes with rollercoasters, modes with moments of pause and resumption, fast jerks, slow and then fast rises, there are, in fact, quite a few different modes, including a continuous one. So it's 8 modes but also 8 levels of intensity!
Which lubricant to use ?
Whether it's to soften the stimulation on your clitoris a bit or to slide the shaft into your vagina at the G-spot, if you need to use lube, you should use a water-based one. Since the Lelo Enigma is made almost entirely of silicone, silicone-based lube could be fatal to it. In any case, we don't recommend trying it if you want to keep it intact.
Again, I love the Sliquid line, so I couldn't recommend anything better, but there are some really good lubricants on the market that are not Sliquid. Pjur lubricants are also not bad at all or even the YES range! In short, there are several that are worth a try!
How to clean it?
With a 100% waterproof product, it is a sextoy that will not be very complicated to clean. You just have to put it under warm water with a little soft soap. Then dry it, either in the open air or with a non-abrasive cloth! It is as simple as that!
This is the moment of truth! As we mentioned, it looks suspiciously like the Womanizer Duo and we can feel that Lelo is trying to gain ground and win back customers! It must be said that Womanizer offers very good products, so the fight will be tough! But at first glance, I am confident, because this Lelo Enigma seems to be well designed, but we still need to test it to know! Kitty, as always, is designated to test it and give me her feedback! Lately, she has tested a lot of stimulators like the Satisfyer Liberty Lily Allen, the Lelo Sila or the Womanizer X Lovehoney Pro 40 and so on! Here, it is a double stimulation that will be present, let's hope that it is not as catastrophic as the Ose 2! Here is our opinion on the Lelo Enigma!
The ergonomics of the Enigma
On this point, it is a matter of habit. Indeed, we are not very fond of the Insigna system, even if we are used to it now. Indeed, the fact that you have to press the "()" button for a few seconds to turn it off is a bit strange, when most other sex toys require you to press the "-" button for three seconds. This is only a detail, because in reality, with three buttons, you can do whatever you want, whether it is to change modes, increase the intensity or decrease it, there is nothing complicated.
Insertion and adaptation to the morphology
I must say that Lelo has succeeded! Indeed, to insert the vaginal rod, it is perfect! There is no problem to note to do it, it fits very well in the vagina and is located at the G-spot. The stem being really flexible, one can easily put it in place then position the stimulating head on the clitoris without having to make mathematical calculations. It is really this flexible stem which allows to have so much flexibility in its placement and no doubt that each person can find his way to place it.
In addition, the vaginal shaft has a suitable shape, with a slightly more rounded part to slide a little on the G-spot during the vibrations and spread them in a good way.
Use with Kitty
I must say that when we used this Lelo Enigma with Kitty, it was in the dark and with two of us. So I started by licking her clit to get her a little wet. Then I slide the rod into her vulva before inserting it. Again, I had no trouble doing this, this rod goes in by itself effortlessly, as long as you lubricate, either naturally or with lube.
The clitoral part came to be placed on her clitoris, in a rather natural way, because once again, in the dark, we do not see everything we do. With its double engine, it is therefore logical to reach mixed orgasms. When I started turning on the Enigma, the vibrations were really present, but not aggressive either. Although I can tell you that once I got the Enigma out of Kitty's pussy, it was really wet.
The sensations
From what I could gather from Kitty, it is that both parts work well. The clitoral part is not very strong according to her, let's say she prefers the stimulation of a Womanizer, which is different from the Sona. But when she was able to use it alone, she was able to concentrate more on it and it is true that this part remains powerful.
As a result, the G-spot part takes a backseat, bringing a good feeling to the G-spot and spreading the vibrations throughout the body! And it's true that the vibrations are powerful, even if in reality, it's the clitoral part that takes over. Some users may find that the G-spot part is a little small in width, in order to fill their vagina more, but it is still more imposing than the Womanizer Duo's shaft to name but one.
Besides, compared to the Duo, this one is a bit gentler on the clitoris, as the Sona is known to be a bit too rough. But the Enigma has a much more flexible vaginal shaft, which allows it to adapt to more different morphologies.
Anything else?
In terms of sound, it is not very noisy, it remains below 60 db, which is very suitable for a dual motor stimulator. It is not disturbing in any case when we used it. It will not distract you. And good surprise, you can use the Lelo Enigma without your hands, it is completely feasible. In fact, once it was well placed, I allowed myself to let it do its thing, so Kitty could wedge it between her thighs, without forcing it, while she gave me a blow job with her head in my hands.
I can also tell you that it is effective, because from the way Kitty was moaning, but also, when she was trying to push me away when the stimulation was too intense, there is no doubt that it was doing her good, even maybe too much. Several times, she tried to pull away the Enigma while I took a malicious pleasure to keep it in place, well stuck to her body so that she could not escape from the orgasms she got with it.
Lelo Enigma final thoughts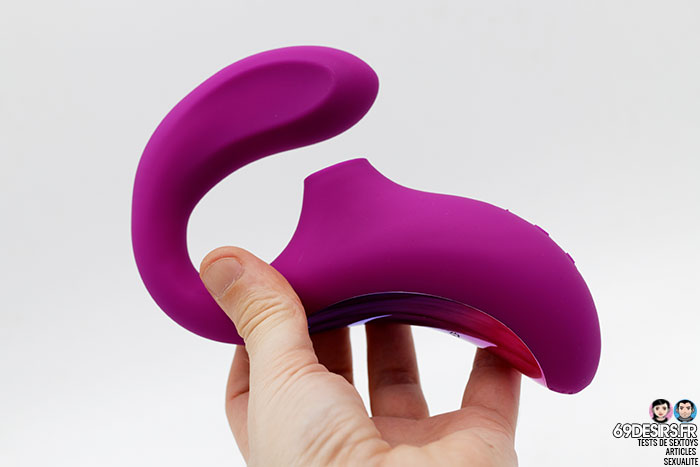 To conclude, finally, Lelo has managed to release a quality dual stimulator! I'm not saying it's the only one, but lately, between the Soraya Wave and the Sila, we were disappointed! Here we have a well thought out dual stimulator, which adapts very well to the morphology of each one, with power, good vibrations and the sonic waves of the Sona. It is a success!
Of course, I find it a pity not to have a management of the double motors in an independent way, that some will prefer the stimulation of a Womanizer to the sonic waves, because it is not the same thing, but apart from that, it is a success!
Pros
ABS plastic part with rainbow effect
Very flexible and adaptable G-spot shaft
Powerful vibrations and sonic waves
Adapts very well to the morphology
Powerful and mixed orgasms
A very good double stimulator
Cons
No details of the present modes
You can't control each part independently
Proprietary charging cable and still no magnetic induction
Summary
Reviewer
Review Date
Reviewed Item
Author Rating





Product Name