The Lelo IDA Wave has arrived on the market and it's time to see what has changed! Indeed, the Lelo IDA, the first one, must date back to 2013! I can tell you that in 9 years, there is a lot of change! Well, we hope so, because it is true that the first version was not really at the "rendez-vous"! Of course, it was a nice innovation, but it is true that the product was not the most practical to use. Today, the Lelo IDA Wave changes the game a bit, adding Lelo's WaveMotion technology, but also a connected part! And that's not all, again, in almost 10 years, you can imagine that other changes have occurred!
But we'll check it out! Because even though it's been almost 10 years, if I look at the We-Vibe Tango X, released 10 years later than the Tango, first of the name, there are no big changes, but enough to make it a better sextoy than the previous one. Will the Lelo IDA Wave perform better and be more interesting than the base model? That's what we'll see in our review of the IDA Wave dual connected stimulator!
Lelo IDA Wave packaging
To begin with, let's talk about the packaging! Certainly, compared to the first IDA, the packaging has changed! But in reality, this one has changed for several years! It is a big black box, cardboard, rather rectangular, with a windowed part that allows to see the IDA Wave before opening it. On this front, we also have the Lelo logo, golden, with the mention "IDA Wave", but also "Lelo App" to warn quickly that we can use it through the Lelo application.
On the back of the box we have information about the product, then once we open the box we find the IDA Wave installed in a foam mold, with a storage area on the side that contains various items, such as the Lelo warranty card, a small instruction manual, a storage pouch and a USB charging cable.
In short, this box is identical to that of the Lelo Smart Wand 2 Large or the Lelo Enigma! So we are in familiar territory! And although it is not indicated at Lelo, you also have a sample of Lelo lubricant available.
Lelo IDA Wave physical details
As soon as I saw it, I immediately saw the differences between the first IDA and this one! To tell the truth, I rather looked for the similarities between the two. Indeed, even if the IDA Wave looks a bit like the first model, you can notice some big changes! And it's a good thing actually! Indeed, instead of having a kind of flying saucer with a stem, we have now a kind of "rock" with a much more worked and adapted stem.
The main part, what I call, the "rock" is more "mastoc", less round in its shape, with a rounded tip that will be in contact with the clitoris. On the first model, it was more of an oval, but here, we can feel that Lelo was aware of the problem of the first model. On this "rock," we also have on one side, a hole to connect the charging cable.
Then, on the other side, a control button. Above this rock, we have a golden ABS plastic part, taking up the Insigna range like the Lelo ORA 3 for example. Finally, the vaginal stem has been redesigned. It is now more flexible, wider and with a shape that shows a hollow. A bit like a tongue that forms a small "U".
As you can see, here, the remote control in flying saucer mode is over! We're moving on to the connected part and it's true that it's all the better! However, Lelo could have left a remote control for those who do not want to use the connected part or who do not have a smartphone or no battery. It is a choice on their part, which is understandable, but for my part, compared to the price of the product, I would have liked to find a remote control separately.
Product dimensions
Obviously, since the Lelo IDA and the IDA Wave are completely different, the dimensions are far from being the same! Here, this new version measures 9.39 cm (3.69″) in total length for 5.58 cm (2.19″) and a thickness of 6.35 cm (2.5″). Concerning the "rock", this one measures 7 cm (2.75″) long for a thickness of 3 cm (1.18″) easy and a width of 5.5 cm (2.16″). And for the vaginal stem, this one displays 7 cm (2.75″) of length for a maximum diameter of 2,7 cm (1.06″).
Other details
To go further on the look and other details of this new version, let's already talk about the available colors! If the first IDA I received was all pink, here we have two other choices, Black or Coral Red. From memory, the first IDA was also available in black, but the coral version is the novelty of this edition. For my part, I chose the black version, more sober, especially since I'm not a big fan (nor Kitty) of this coral version. It's a matter of taste.
Another difference is the weight! The first model weighed 78 grams, while this new model weighs 102 grams! We can't say that there is a big change, just 25% more weight, but it is still a very light product! For information, the Fleshlight Madison Ivy Wonderland for example is around 800 grams!
Lelo IDA Wave materials
As is often the case with Lelo, the materials used are of very high quality! At the same time, considering the budget you need, it is the least you can do to have a robust product, made of quality materials. So we have silicone, soft, silky, rather matte, as we are used to have with this manufacturer. And on the side of the golden part, it is ABS plastic, which easily takes fingerprints, but which can be washed easily. Whether ABS plastic or silicone, they are both healthy materials for the body, containing no phthalates or latex. In short, the materials are of high quality, we have nothing to complain about on this point.
Lelo IDA Wave use
The first IDA was not the easiest to use, at least, during my first approach with the product. Well, it must be said that it was one of the first sex toys reviewed on the website, I was not necessarily as specialized in this field as I am today. Is this IDA Wave now simpler or at least more user-friendly in its approach? This is what we will see!
How to charge it?
As always with a sextoy containing a battery, it will need to be fully charged before first use. This is the time when you should wait before playing with it, so that the battery can last longer. For charging, you have a power cable included in the box! Don't lose it, as Lelo offers proprietary charging cables for Lelo products. Sure, a cable from another Lelo product will fit the IDA Wave, but otherwise, this type of cable is only compatible with Lelo products.
For its charging, it will be necessary to count two hours to charge it to the maximum, for a maximum autonomy of 2 hours. Here, I think that it is really the maximum duration that one can have in autonomy, if one does not use it at its maximum potential. We will have to count more on an autonomy of one hour to one hour and a half, I think. It was the same autonomy announced at the time, with also a standby up to 90 days. This means that if you don't use the IDA Wave for 90 days, its battery will be completely drained. While charging, you have a white LED that flashes to indicate whether the IDA Wave is charging or not. When this one will remain fixed, it means that the charge will be finished.
How to handle this stimulator?
As previously mentioned, the remote control of the first version is no longer used! Now we have only one button, just like the first model. If you want to use it without the connected part, you'll have to press it for 2 seconds to turn it on, then press it once to navigate through the 4 modes present. And finally, press it again for two seconds to turn it off. Honestly, this is not the best way to use it, unless you use the application to record other more interesting modes later on.
How to use the connected part?
To use the application, you will simply have to get it on the store of your smartphone, then activate the bluetooth and the position in order to make the pairing between your smartphone and the IDA Wave. Once this is done, you can now use the application, through the different control modes it offers. We'll talk about it later, especially in the efficiency section, to tell you what we think of this application.
What modes are available?
The IDA Wave, by default, has only 4 modes. This is not much. Moreover, through the application, we can see it! We have a "Boring" mode, then "Relaxed", "Daring" and "Stimulated". Frankly, it's a bit limited, because these are not the most interesting or "appetizing" modes. The first mode alone makes you wonder if Lelo did the right thing in naming it. Basically, it's the mode where you get "bored".
But fortunately, we also have other modes that we can use through the application and even program them to be used in the connected part. Among the other modes we have "Thrilled", "Delighted", "Overjoyed", "Exhilarated", "Ecstasy" and "Excited". This is already better and more appealing than the first 4 default modes. We'll tell you more about these modes when we get to the efficiency part of the review.
Which lubricant should I choose to use?
Concerning the lubrication which will be necessary for the comfort of both partners (if used so) or even alone, it will be necessary to opt for a water-based lubricant. It is preferable in order not to have bad surprises, especially if you are used to using a silicone-based lubricant! Because silicone mixed with silicone, it gives a silicone mixture. And it is not very pretty! To do this, you can use Lelo lube of course, but also those from Pjur, Sliquid and many others!
How to clean it?
The Lelo IDA Wave is 100% waterproof! This means that you can immerse it in water, but also, clean it without asking too many questions. On our side, we put it under warm water with a little soft soap, then we let it dry in the open air, no more, no less.
Lelo IDA Wave efficiency
I am very curious to know the result of the changes made on this version! It must be said that with Lelo, you can have nice surprises as well as less good ones! Most of the time, the WaveMotion side is not really there. I think for example of the very good Soraya 2, but the disappointing Soraya Wave or the excellent Mona 2 and the disastrous Mona Wave! What about this dual stimulator? We will tell you everything with Kitty about this new generation model!
Ergonomics and set up
It is true that the first IDA of Lelo was not great in this situation. And it was also a certain flaw, because it was not easy to set up. It could fall off, get "lost", and even be a bit annoying depending on the case. It must also be said that at the time, the IDA was proposed as a stimulator for couples, with a part for the clitoris, a rod for the vaginal part and the penis was also associated in the batch by being placed under the insertable rod. You might as well tell you that you should not move too much once the whole thing is in place. Here, it's another thing, because the IDA Wave is not proposed in this optics.
As for the placement, despite my fears and even Kitty's fears, in the end it held together well. Kitty wasn't sure, and even during the insertion and fitting, she had her doubts. However, once inserted, she was able to hold it in place while standing and even sitting.
At no point did this one fall out or fall out of place, except for the time I had fun sliding an extra finger under the rod to make it wet, but that's another story. When placed, the rod for the G-spot is right where it should be. Likewise, for the clitoris, the tip of the IDA Wave touches it, however, it needs to be tackled well and sometimes pressed back on. We don't have a perfect placement, but it's quite decent. In any case, for Kitty, the IDA Wave fits her well.
G-spot and clitoral stimulation
When we used it, it was for two. I had chosen several sex toys to review, including the Lelo IDA Wave, the Ina Wave 2 and the Cha-Cha-Cha vibrator. So we started with the IDA Wave. Once in place, I started to play with the application and especially to program a more interesting mode for Kitty so that she could use it without the smartphone. Already, Kitty was surprised by the vaginal stem that started to rotate, I had not warned her, it is more fun.
G-spot
On the whole, it's not bad. For the stimulation of the G-spot, the rotation is not unpleasant, does not disturb and remains pleasant. This sensation of rotation is surprising at the beginning, we feel it, but actually, once we are in the action, we feel more the vibrations of the rod than its rotation according to Kitty. It is a question of habit according to her, we do not pay too much attention thereafter. On the other hand, this rod works well, because once we took out the IDA Wave, it was still quite soaked. And I almost forgot that Kitty also told me that the stem was more interesting when standing and lying down, rather than sitting.
Clitoral
Regarding the clitoral stimulation, although the contact is not perfect and sometimes requires pressure on it to make good contact, the stimulation is quite wide. Even if the IDA Wave stays in place, its shape does not allow a true "Pin-Point" stimulation. According to Kitty, it is difficult for her to cum with it, at least only with the Lelo IDA Wave in place. However, some users will have no problem with it. Kitty needs a little more and especially something that fills her, which this sextoy does not offer.
The Lelo application
As you may recall, during my review of the Lelo F1S, the Lelo app was not working. I got chain crashes on my smartphone, based on Android 8.0 and had to switch to a slightly newer tablet. Now, almost two and a half years later, I'm thinking that the app must have been improved.
Well, that's not the case. Again, on the same smartphone as before, the app crashes every time I open it, no matter how much I reboot, uninstall and reinstall the app, it's impossible to get it to work on this device. So, yes, you'll tell me that Android 8.0 is an old system. But yet, whether it's with the Lovense app, We-Vibe, Satisfyer and many others, I don't have this type of crash every time I launch. I can use the application without any problem.
Upgrade to Android 12
As it was time for me to change my smartphone, I switched to a model running Android 12. Does the Lelo application still work? Yes, well, it launches and does not crash. However, I am quite disappointed with the application. First of all, when you get to it, you find yourself more on a kind of collection of articles of all kinds, than a real application. Honestly, even if the goal is understandable, I don't think it's a good idea to open an application for a connected sextoy and find yourself on articles about sexuality. If at least, we arrived on the menu to synchronize the toy rather than on the news, it would have been more judicious.
Features that lack interest
Another point, the features. I found it a little bit too little! Indeed, apart from programming modes that you can save in the IDA Wave, manipulate it by spinning your smartphone, shaking it or with a virtual remote control, it is really light. So, yes, there is also an autostart function, you can see the battery status and some other small parameters, but it is still light. For example, we don't have templates to download from the community. We can't use it at long distance, but only at short distance. In short, on this side, the Lelo application is still to be revised in our opinion compared to what the competition offers.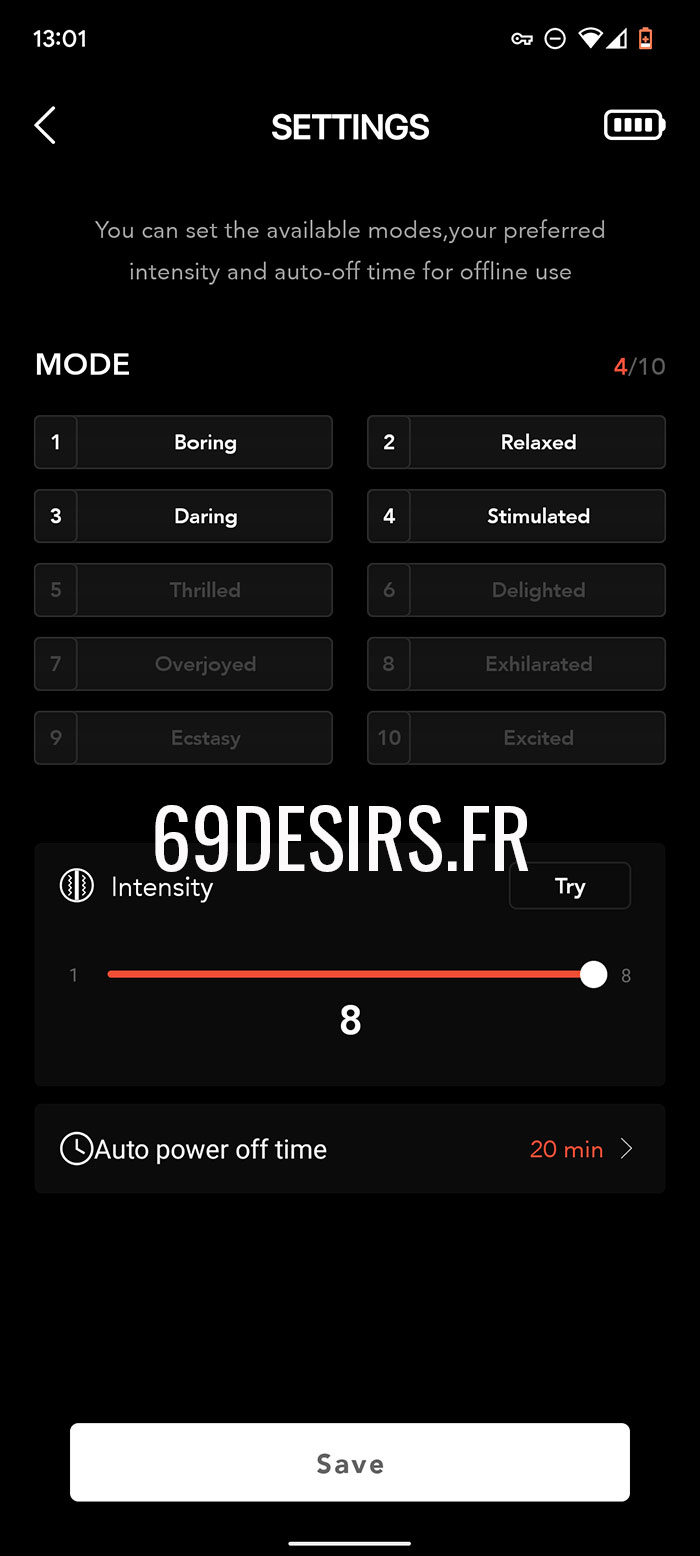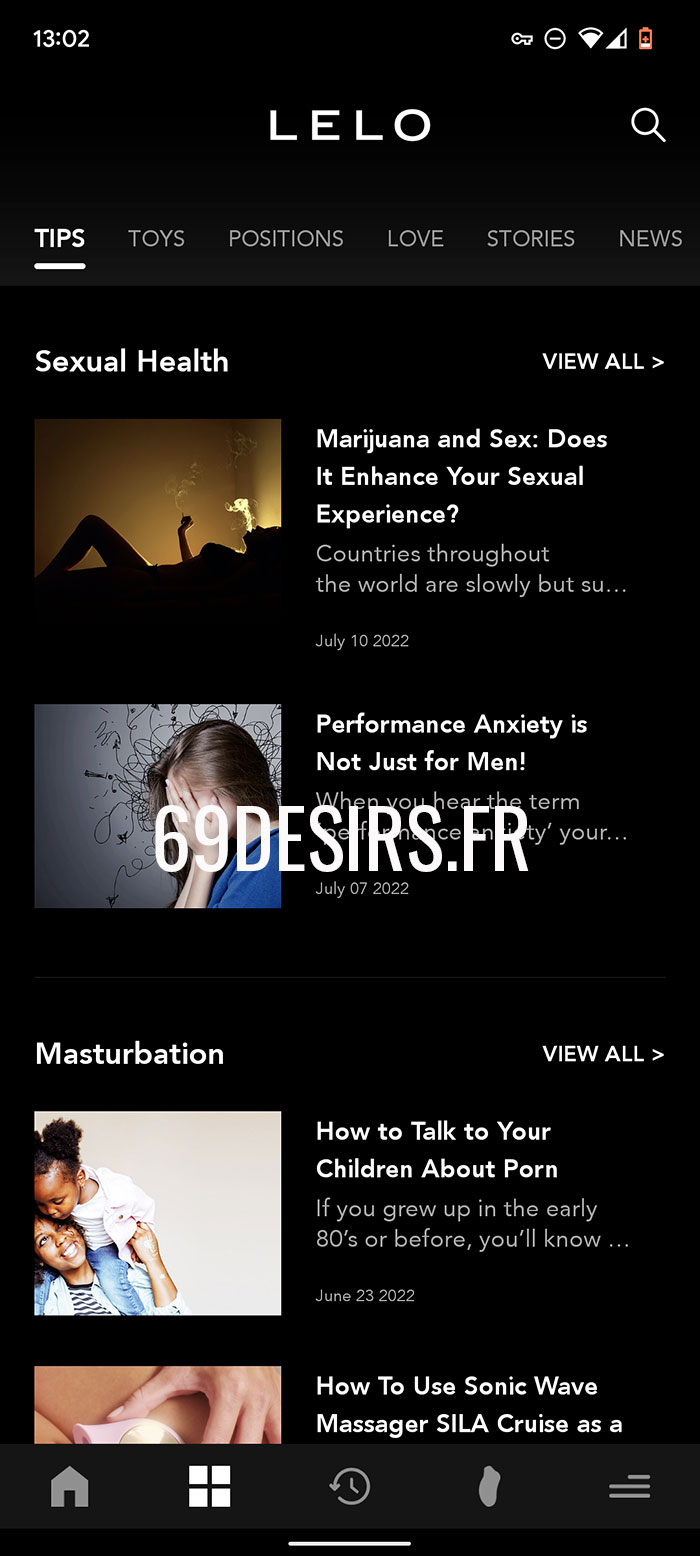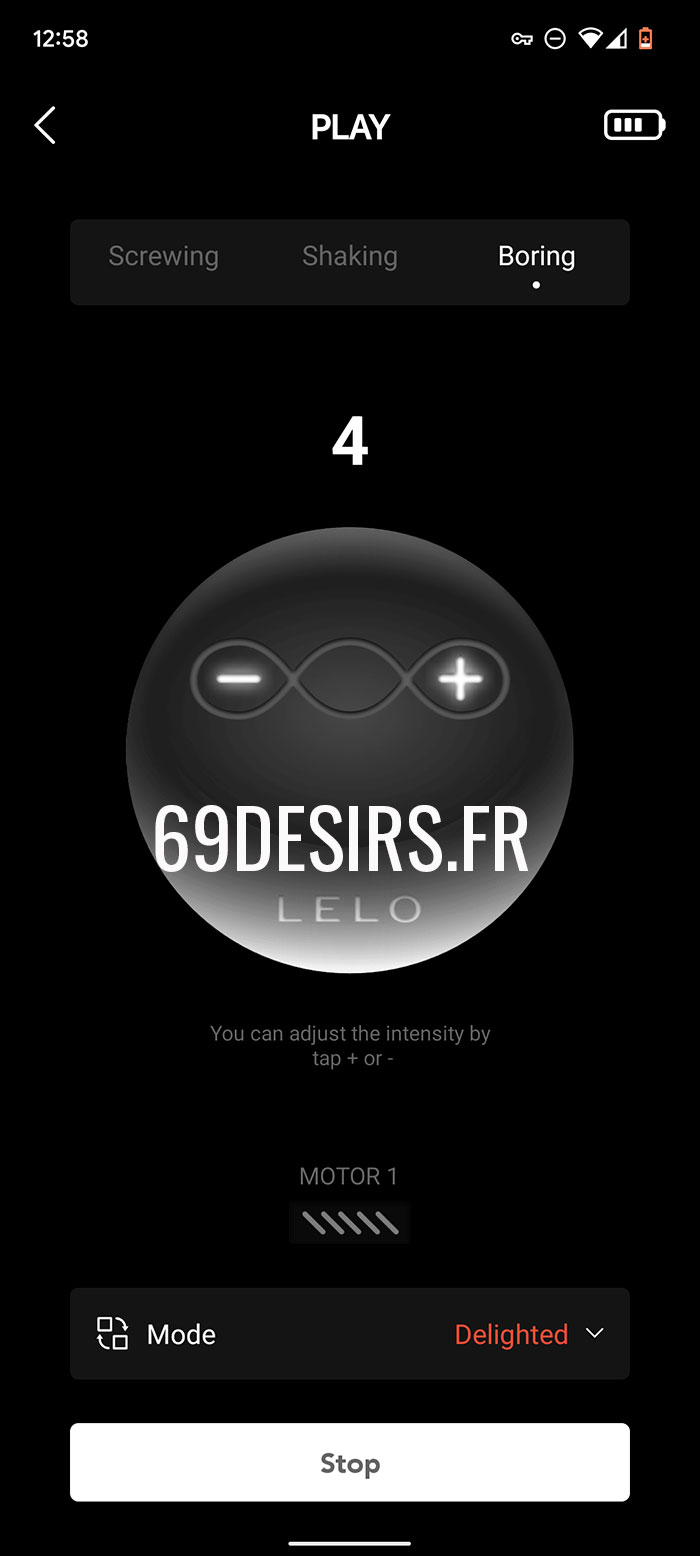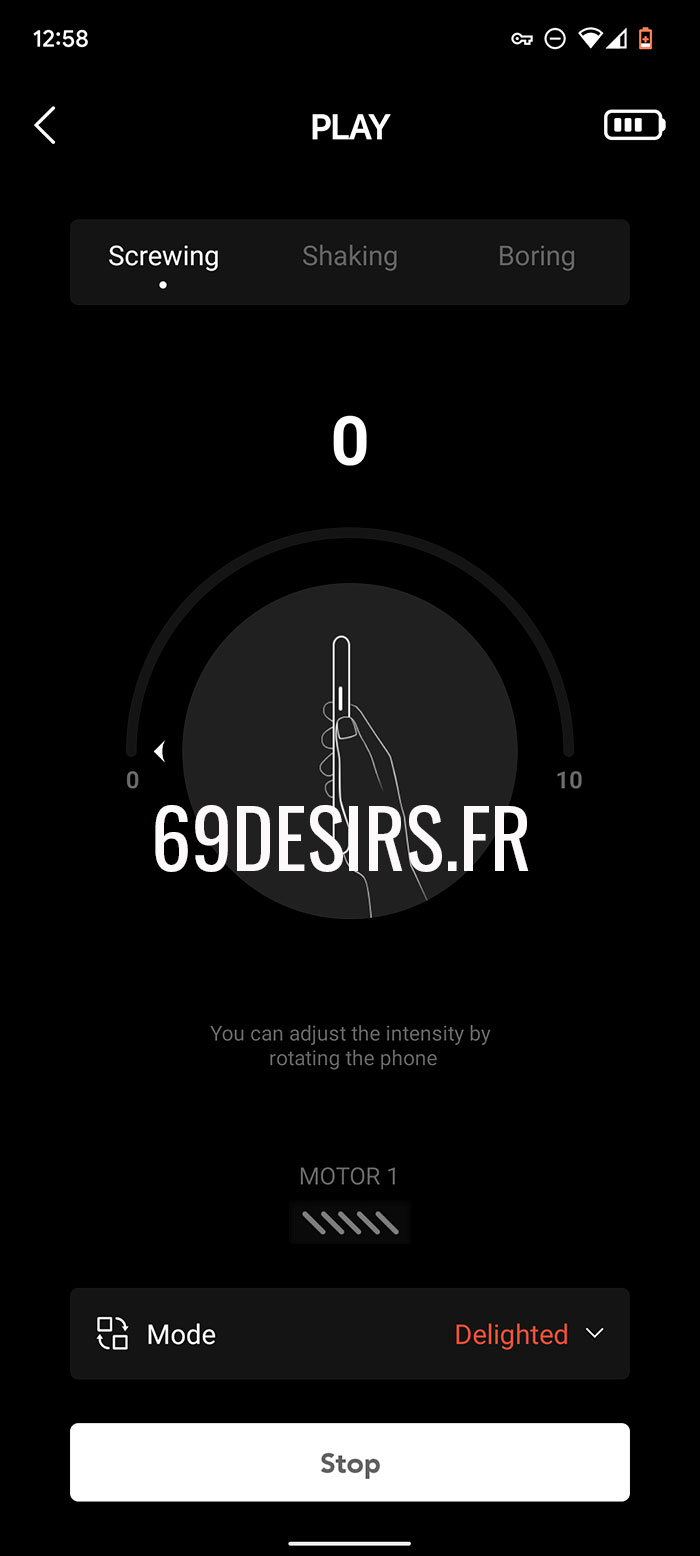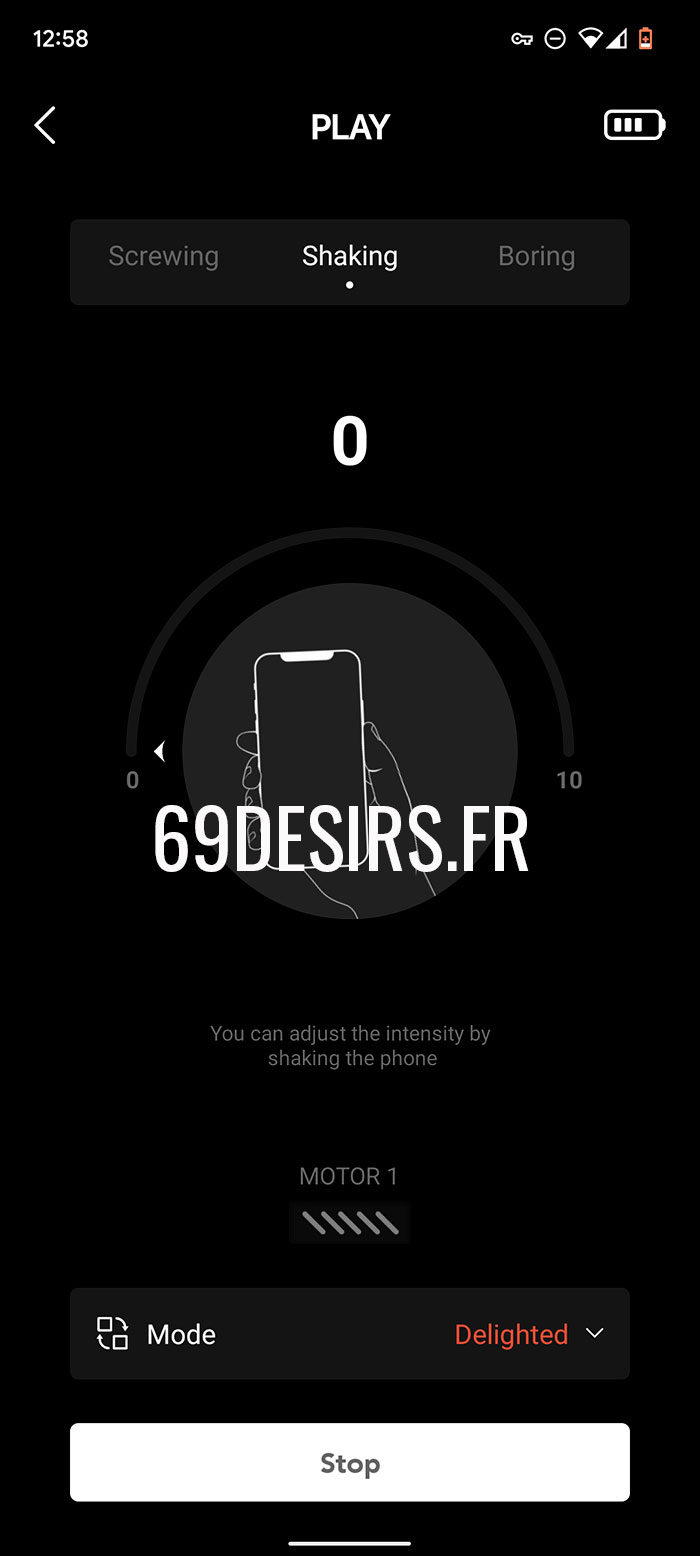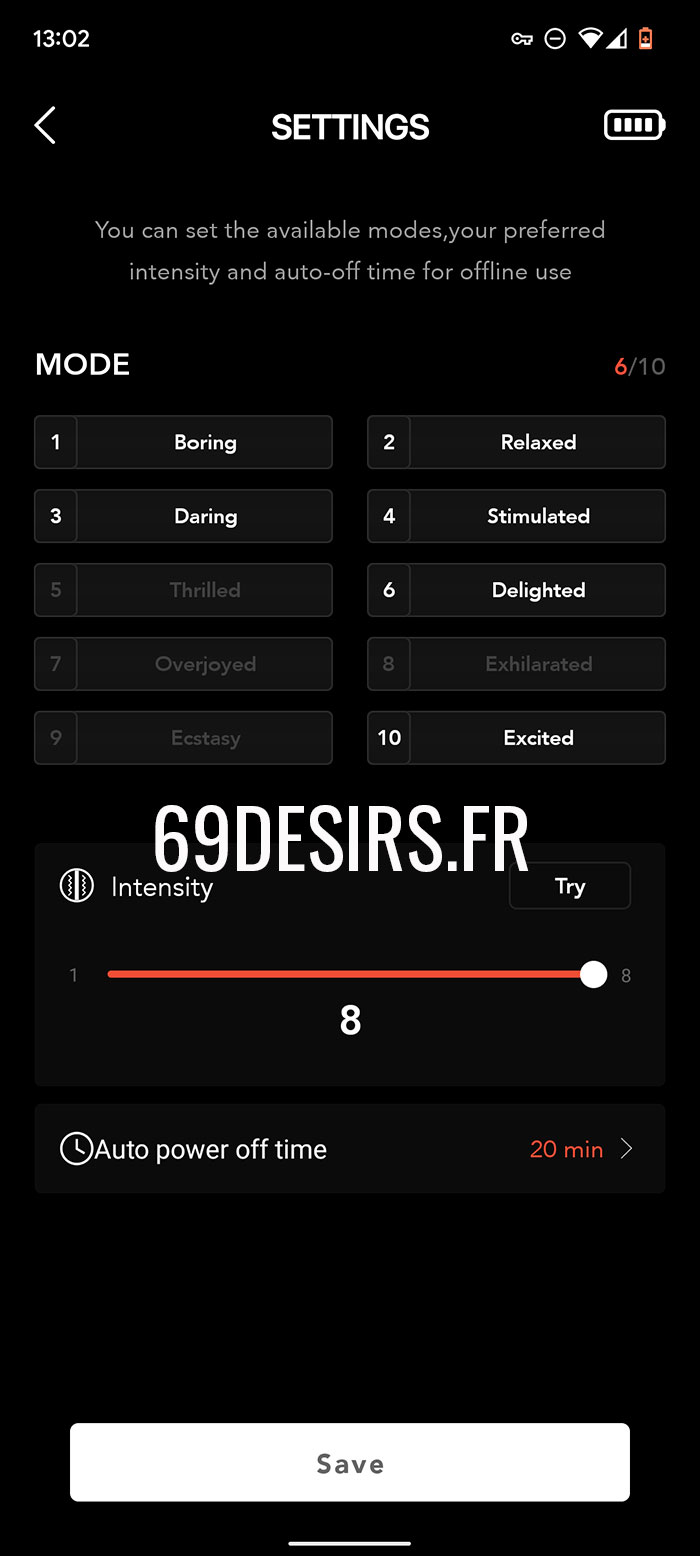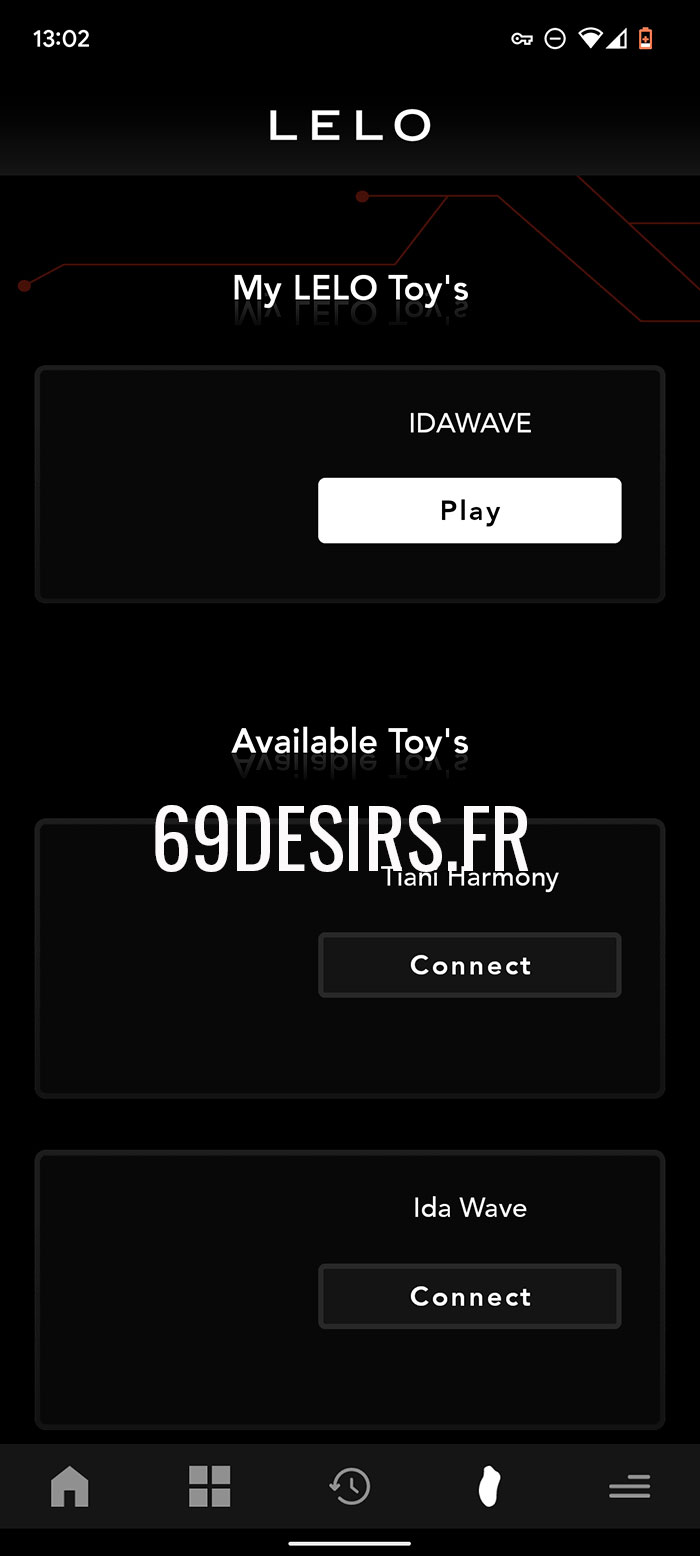 Lelo IDA Wave final thoughts
In the end, this Lelo IDA Wave is a good improvement over the Lelo IDA. On this point, it is a certainty. However, the Lelo application is really too late, poorly thought out, just the fact of putting the icon of the Sona to go synchronize his toy, it is incomprehensible, because no Sona to date is usable via the Lelo application! The functions of the application are too basic, it's almost uninteresting, except for the fact that you can add modes for use without a smartphone.
Concerning the rest, the improvements are there, it adapts better to the morphology, remains effective without bringing the orgasm easily according to Kitty. Some will manage to cum with it, others will flow with it, but without cumming, while some will regret the lack of filling effect. To conclude, the IDA Wave is better, powerful, but still not perfect on some elements.
Pros
The vaginal stem is quite effective
It holds well in place depending on the position
Use without hands
The overall quality of the product
A good level of vibration
Cons
The Lelo application and its functions to be reviewed
Lack of filling sensation
Not usable for double penetration (like the old one)
Summary
Reviewer
Review Date
Reviewed Item
Author Rating





Product Name